Jake Gyllenhaal shocked on the red carpet on Monday night, as he showed off a dramatic new look.
The actor revealed his new slimmed down self and his grown out hair at the 17th Annual Hollywood Film Awards, looking barely recognisable.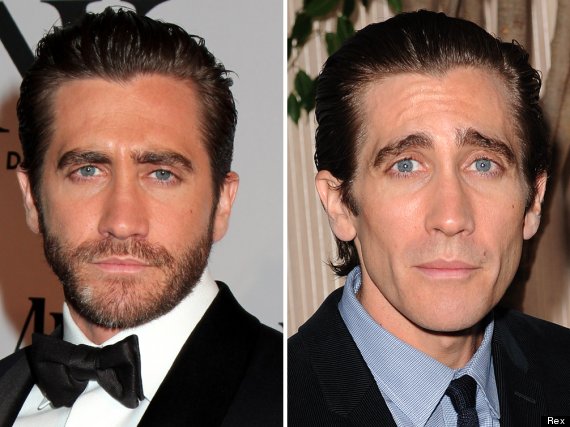 Jake Gyllenhaal last month (left) and pictured on Monday
The weight looks to be dropping off Jake, who was looking much more like his usual self just a month ago.
The 32-year-old's shocking transformation is for a new role in upcoming thriller 'Nightcrawler', in which he plays a crime journalist reporting on the seedy underbelly of Los Angeles.
But he isn't the first actor who's lost a dramatic amount of weight for a role - just check out these lot...
Actors Who've Gotten Skeletal For Roles
Movie: "Dallas Buyers Club" (2013) Role: Ron Woodruff, a Texas rodeo cowboy who is diagnosed with HIV and given 30 days to live Weight loss: More than 40 pounds, eliminated by cardio and diet

Movie: "All Things Fall Apart" (2011) Role: Deon, a celebrated football player battling cancer Weight loss: More than 50 pounds

Movie: "The Fighter" (2011) Role: Professional boxer Dicky Eklund, who suffered from a crack addiction Weight loss: "I never got on a scale. I didn't want it to be about the numbers; I wanted it to be about the look," Bale told "Access Hollywood."

Movie: "The Machinist" (2004) Role: A machinist with intense insomnia Weight loss: 63 pounds. "I had what could be called a kind of stupid feeling of invincibility, like, 'Oh I can do it. I can manage it,'" Bale said.

Movie: "Triage" (2011) Role: A photojournalist with PTSD Weight loss: 44 pounds, thanks to a diet of only tuna, coffee and diet soda

Movie: "Courage Under Fire" (1996) Role: An Army medic who goes AWOL Weight loss: 40 pounds, which was reportedly shed via daily running and a diet of chicken breast, egg whites and one plain baked potato per day along with large amounts of coffee and cigarettes

Movie: "Alex Cross" (2012) Role: Picasso, a professional assassin who participates in an underground ultimate-fighting ring Weight loss: "It was circuit training until I wanted to puke," Fox said of the 40 pounds he shed to play the chronically fit serial killer.

Movie: "Hunger" (2008) Role: Bobby Sands, who led a Provisional Irish Republican Army hunger strike in 1981 Weight loss: 42 pounds after adopting a diet of 600 calories a day, heavy on nuts and berries

Movie: "The Green Hornet" (2011) Role: Britt Reid/The Green Hornet Weight loss: 40 pounds with the help of a personal trainer

Movie: "Philadelphia" (1993) Role: Andrew Beckett, a lawyer dying of AIDS Weight loss: Nearly 30 pounds

Movie: "Cast Away" (2000) Role: Chuck Noland, a systems analyst whose airplane crashes and strands him alone in the Pacific Ocean Weight loss: Hanks gained 50 pounds to portray the pudgy Chuck and then had to shed the weight to depict his growing state of emaciation while stranded.
Former 'Loose Women' star Denise Welch lost over two stone after becoming the face of LigherLife and taking up a new fitness regime in 2013.

At her thinnest Natalie wanted the whole world to know she'd lost weight. An inevitable work out DVD followed.

The Steps singer managed to shed the weight she gained after the band split, but then she fell pregnant and battled to lose it since.

Gastric-band-gate swept the nation when it was revealed Fern hadn't exactly told the truth about her weight loss.

Dawn French was always been known for being a bit on the larger side, and that's why we loved her. Well, there's less of her to love now as since her split with Lenny she's shed a fair few pounds.

That picture on the left actually scares us. It's like she wants us to motorboat in that cleavage. Bleugh.

Bristolian comic Justin Lee Collins has gone from rock-sized to rock star after dieting.

Former Emmerdale actress Pauline Quirke lost several stone after being told she was morbidly obese.

It was revealed that Geri's dramatic weight loss was due to an eating disorder. Luckily she's settled back to a healthy weight now.

He's the man of the moment on The X Factor, but after the original Take That split Barlow ballooned.

James Corden's role in One Man Two Guv'nors helped him to shift over five stone.

TOWIE's Gemma shed four stone on a bid to win Mick Norcross. She gave up the bags of crisps but didn't manage to bag the bloke. Good job she's got Arg now then.

Pete's frame isn't the only thing shocking here. WTF is with that hair? Anyway, Pete shed the pounds when he split with Jordan. We didn't hear anything about that?

Eh up, don our Kerreh look slim. Must 'av been on t'Weight Watchers.

Jack Osbourne has struggled a lot with his size and is still yo-yoing with his weight now.

Gerard Butler has never exactly been a porker, but he's swapped his stocky frame for a much leaner one.

Jessie Wallace looked unrecognisable after slimming down, but since returning to Easties, Jessie has regained Kat's curvier figure.

Superbad actor Jonah Hill made jaws drop across the world when he unveiled his new look at an awards bash. He's hoping to lose more too.

The once teeny weeny, leather-chaps wearing Christina Aguilera got tongues a-wagging when she ditched her slight frame.