David Cameron has been urged to investigate why the Tory Party took over £420,000 from the telecoms group Lycamobile, which has close links to Sri Lanka's controversial President Mahinda Rajapaksa.
Labour MP Tom Blenkinsop told the Huffington Post UK: "The Prime Minister knows his party has received over £420k from a company closely associated with the Sri Lankan regime. He was obviously so concerned that his own MPs were recently prevented from visiting there.
The MP, who has written directly to the Prime Minister, added: "So in the interests of transparency I want to know if the Prime Minister is going to investigate why his party has received over £420k from this company so closely associated with the Sri Lankan government."
Telecoms giant Lycamobile has donated £426,292 to the Tories since 2011 and was "Gold Sponsors" of the Commonwealth Business Forum, which happened in the run up to the Commonwealth Heads Of Government Meeting (CHOGM) that took place last Friday.
My letter to @David_Cameron demanding investigation into donations from donor linked to Sri Lankan regime pic.twitter.com/v6B8ekOH4P

— Tom Blenkinsop (@TomBlenkinsop) November 18, 2013
TOP STORIES TODAY

The Rajapaksa government's human rights record has sparked international outcry as it is accused of committing war crimes in the civil war with Tamil separatists in 2009. The prime ministers of India, Canada and Mauritius all boycotted the CHOGM, while David Cameron was branded an "imperialist" for calling for war crimes allegations to be investigated.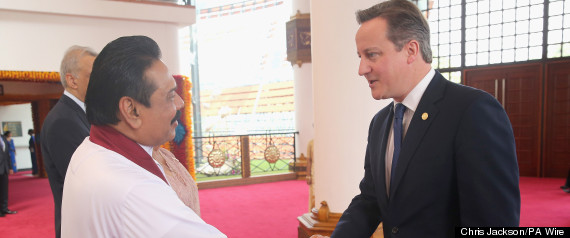 Sri Lankan president Mahinda Rajapaksa greets David Cameron at the CHOGM
Labour leader Ed Miliband called for President Rajapaska to not take over the chairmanship of the Commonwealth for the next two years due to "serious reservations" about his "suitability".
Hastings Trading e Serviços, a Portuguese company owned by the Lyca Group, bought a 95% share in a dormant firm registered with Rajapaksa's nephew, Himal Lalindra Hettiarachchi, in 2009, according to the Sunday Leader.
Lyca's travel agency Lycafly became the preferred partner of Sri Lankan Airlines, which is chaired by Rajapaksa's brother-in-law, Corporate Watch reported. Lycafly now promote themselves as Sri Lankan Airlines' "top agents".
The firm went on to win a major licence to manage cutting-edge "WiMax" broadband frequencies in Sri Lanka, which forced the state telecom firm that failed to get the licence to merge with it at a cost of $100 million.
Green Party leader Natalie Bennett told the Huffington Post UK: "It's no wonder that we have a crisis in confidence in our democracy when business interests and those of our politicians are so closely intertwined.
"The fact that our largest political parties rely on massive business funding draws questions about the motives for their actions."
In response to Blenkinsop's call to investigate Lycamobile, a Conservative Party spokesman said: "Donations to the Conservative Party are fully and transparently declared to the electoral commission and published on their website."
See also:
Ten Tory Donors You Need To Know
Hedge fund manager The Australian-British businessman made his £1.2bn fortune after launching his own hedge fund, CQS, in 1999. Hintze became of the Tories' biggest sugar daddies, having written out cheques for nearly £4 million in loans and donations. He has frequently offered the Tories the use of his private jet, with David Cameron and George Osborne jumping on board to fly back from the 2008 Tory conference and Liam Fox using it to travel with his chum Adam Werrity to the U.S in May 2011. And we all know how that journey with Werrity and Fox ended up - a ministerial resignation.

Job: Private equity tycoon - and now Lord and government minister Nash must have been honoured in January 2013 to not just be drafted into government but also given a peerage. He had been a faithful backer of the Tories, giving nearly £300,000 to the party since 2006. Nash's interest in education matters would have been developed by his management of the Pimlico Academy, which he took over in 2008.

Mining boss As chief executive of mining giant Xstrata from 2001 to 2013, Davis enjoyed a salary of $5,396,659. The firm has a registered office in London although is headquarted for tax in the little Swiss canton of Zug. The mining executive was also one of a couple of businessmen who funded Pargav, a not-for-profit group run by Liam Fox's former best man and close confidante Adam Werrity. Davis topped the Tory donor leaderboard in 2013, giving £50,000 to the party in the first quarter of this year. He previously gave £150,000 to the Tories in 2010/11, along with £7,500 to Education Secretary Michael Gove for good measure.

Banker and Tory co-treasurer Lupton was drafted into the Tory ranks to be their co-treasurer just this February. He has been a loyal party supporter, paying out £255,000 in the first quarter of this year. He's got a personal fortune of £130 million and is a partner at Greenhill bank. Lupton also has a stake in Vestra Wealth, which offers clients advice on "tax-planning vehicles".

Venture capitalist guru and Aston Martin afficionado Chairman of Dawn Capital, Beecroft shot into the premier league of Tory donors in giving £500,000 to the party since 2006. With controversial investments in companies like quick loan firm Wonga, Beecroft was tapped by Vince Cable in 2011 to lead a government review of employment law. His conclusions? Sort out the economy by making it easier to fire people. The review's "fire at will" conclusion did go down rather awkwardly with the govenrment, who had to try not to be seem too ungrateful for his work. Cable did let the side down though in branding Beecroft's work "complete nonsense".

JCB construction equipment mogul Businessmen don't come bigger than Sir Anthony Bamford, boss of digger manufacturers JCB. He's worth £1.2 billion and knows how to flaunt it. A collector of vintage Ferraris, Sir Anthony donated £1m to the Tory Party before the 2010 General Election. Cameron tried to recommend him for a peerage in 2010, but he withdrew his name. Sir Anthony's interest appears to have inspired a load of the Bamford brethren to come forward to offer donations. Totting up donations from the 2001 and the summer of 2010, all from Anthony Bamford, Mark Bamford, George Bamford, JCB Bamford Excavators, JCB Research, and JCB World Brands, you get to a princely sum of £3,898,900. No wonder Cameron was so keen to get him into the House of Lords - Bamford got his whole family on board to back him.

Businessman and ex-Tory treasurer and deputy chair International businessman and jetset philanthropist Michael Ashcroft was a rather big, if problematic, donor for the Tories. Lord Ashcroft gave the Tories over £4 million, sinking millions into marginal seats for the Tories' 'battleground' electoral strategy. Due to his business activities in Belize, his tax status did cause major headaches for David Cameron and ex-Tory leader William Hague. Hague had even more to worry about as he had recommended Ashcroft for a peerage, believing that the businessman was based in the UK. Years later, Ashcroft admitted he was "non-domiciled" in the UK for tax. After a spell as Tory Deputy Chairman from 2005 to 2010, Ashcroft stepped down and penned a blistering critique of how Cameron went wrong. Now he carries on in that vein as a major pollster, never shy of putting out results showing how Cameron isn't doing well as PM either.

Oil Baron As head of Tullow Oil, Aidan Heavey is sitting nicely on a salary of over £2.3 million. He also gave the Tories £10,000 before the 2010 General Election. The Foreign Office has been accused of leaking confidential documents to Tullow Oil, while lobbying on their behalf in a legal dispute over tax. Labour MP Cathy Jamieson asked Prime Minister David Cameron about the matter recently, saying: "Perhaps the Prime Minister could tell the House whether Mr Aidan Heavey's donations to the Conservative Party had any influence on the Foreign Secretary's intervention in his company's tax dispute?" Cameron dismissed such allegations, while William Hague seemed to be seen muttering "stupid woman" in response.

Financier and former Tory co-treasurer Multi-millionaire Cruddas made his fortune in the City at the head of CMC Markets. He grew close to the Tories, donating £100,000 in the last quarter of 2010 and £50,000 in the first week of the 2010 general election campaign. He got even closer, becoming their co-treasurer in 2011. It sadly ended in tears in March 2012 when the Sunday Times recorded him seemingly saying that you could get access to the Prime Minister or Chancellor for "Premier League" donations of between £100,000-£250,000. Despite resigning from his post as co-treasurer, Cruddas remained valiant and sued the Sunday TImes alleging libel.

Spread-betting mogul After making a fortune at the head of spread-betting firm IG Index, Wheeler had many millions sloshing around. He says he was worth £90m although the Sunday Times valued him at £40m. He made sure to put his money to use, at one point giving the Tories £5m in a single donation. Wheeler knows he was a big-hitter in the Tory ranks, once boasting to MPs that "a party is going to take more notice of somebody who might give them lots of money than somebody who won't". The Tories' big bankroller has now taken his fat chequebook over to Nigel Farage's team, becoming UKIP Treasurer in 2011.