David Cameron has come under fire after it emerged that one of the Tory Party's top donors, Lycamobile, has close links to the Sri Lanka's President Mahinda Rajapaksa's regime.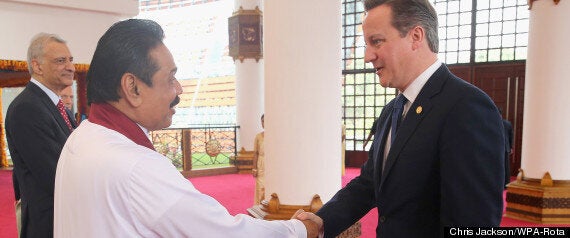 President Mahinda Rajapaksa of Sri Lanka greets David Cameron ahead of the CHOGM
Hastings Trading e Serviços, a Portuguese company owned by the Lyca Group, bought a 95% share in a dormant firm registered with Rajapaksa's nephew, Himal Lalindra Hettiarachchi, in 2009, the Sunday Leader reported. The firm went on to win a major licence to manage cutting-edge "WiMax" broadband frequencies in Sri Lanka, which forced the state telecom firm that failed to get the licence to merge with it at a cost of $100 million.
Green Party leader Natalie Bennett told the Huffington Post UK: "It's no wonder that we have a crisis in confidence in our democracy when business interests and those of our politicians are so closely intertwined.
"The fact that our largest political parties rely on massive business funding draws questions about the motives for their actions."
Labour MP Kerry McCarthy told Corporate Watch: "David Cameron has failed to make human rights a priority in the run up to CHOGM, both in terms of his own attendance and in terms of his apparent focus on drumming up business opportunities with little regard for the human rights context in which the meeting is taking place".