Mince pies, we've found are the Marmite of the Christmas table - you either love them or hate them. But if you are going to splurge on a mince pie, which should you choose?
Our HuffPost UK team sampled a selection from the high street and local delis in a blind taste test. Interestingly, the results did not match up with the Which? study that proclaimed Aldi and Morrison's to be the best...
Here are the results: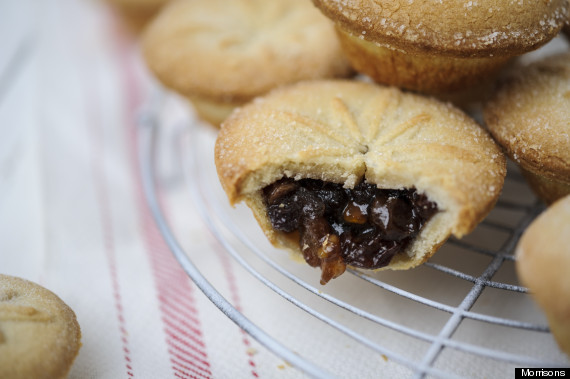 Morrisons, Deep Filled Mince Pies, £2.99 for six
"Too crumbly to be practical but the filling is nice..."
"Forms a claggy coating on the roof your mouth that could conceivably stay there for several months."
"Too much pastry, not enough filling. Definitely one to have with lashings of cream."
Verdict: 3/5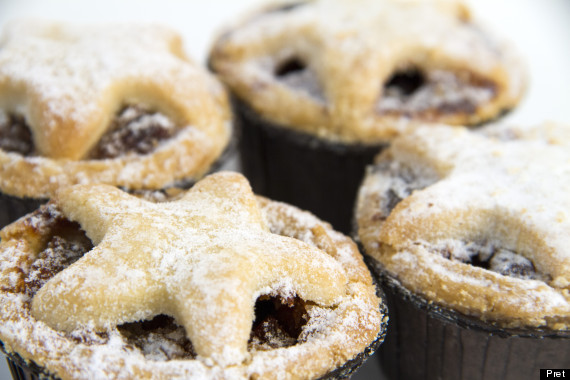 Pret a Manger, Mince Pie, £1.50
"Nice and chunky-looking."
"Crumbly, chunky and a fab taste."
"Much too crumbly."
"Fruity with a hint of ginger. Looks and tastes like a ye olde mince pie from a Dickensian Christmas."
Verdict: 3.5/5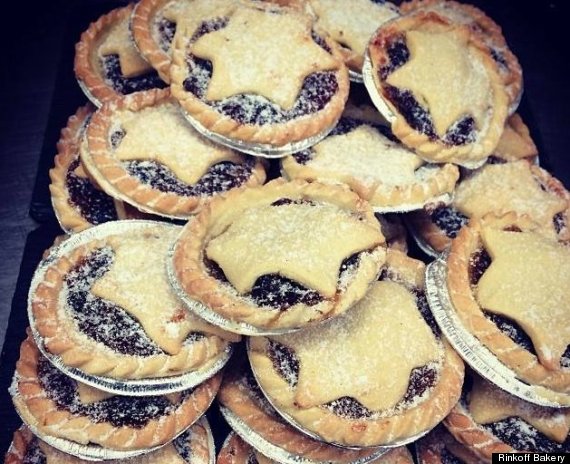 Rinkoffs Bakery, 70p per pie (Makers of the Cro-Dough)
"Nicely textured pastry, charmingly wobbly star. Looks homemade."
"Overly sweet, not a fan."
"A mince pie nightmare - a hard crust shell around a lethal amount of sweetness."
"The pastry is hard but the filling is nice - more jam tart than mince pie."
Verdict: 2/5
SEE ALSO:

Festive Winter Warmers For The Cosiest Christmas Ever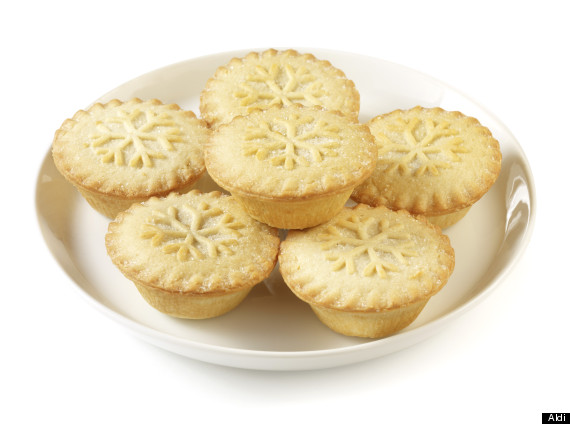 Aldi, Specially Selected Mince Pies, £1.69 for six
"Good pastry - consistent. But the filling tastes a bit cheap."
"Tastes like it was made last Christmas and frozen, until today."
"Surprisingly moist."
"Somehow manages to be too dry and too wet."

Verdict: 2/5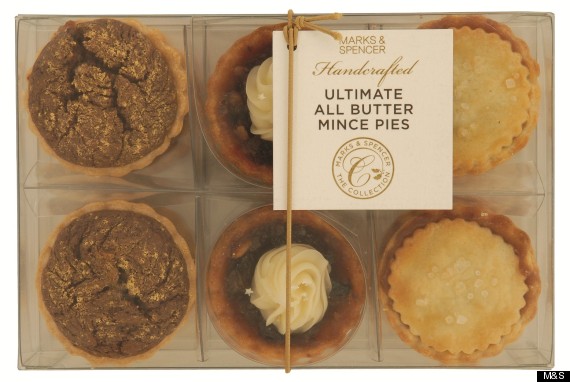 Marks & Spencer, All Butter Mini Mince Pies, £4.99
"The chocolate one is amazing - very pretty and an interesting twist on tradition."
"Buttery pastry, homemade looking. Very lovely."
"Looks stunning and a talking point at parties."
"Chocolate on a mince pie? What is this madness? Actually, it tastes really great."
Verdict: 4/5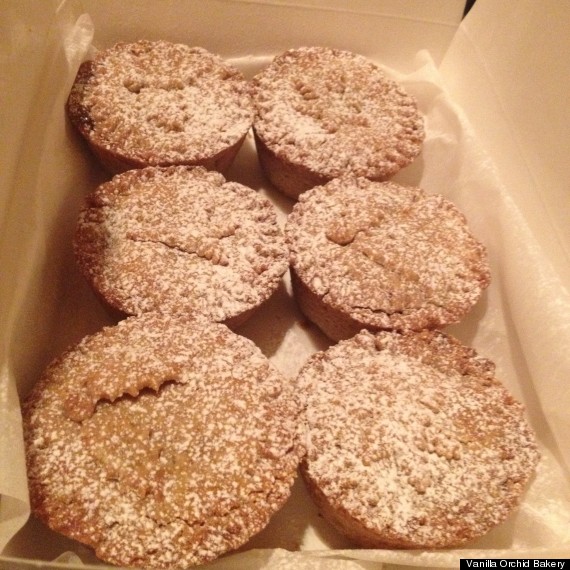 Vanilla Orchid Bakery, Spiced Rum Mince Pies, 6 cost £22.50 (£3.75 each)
"Nice pastry, deep-filed and boozy."
"Excellent pastry, texture and taste."
"Sickly aftertaste but hey, it starts well!"
"Delicate hint of cinnamon, spicy yet subtle. Light pastry."
Verdict: 4/5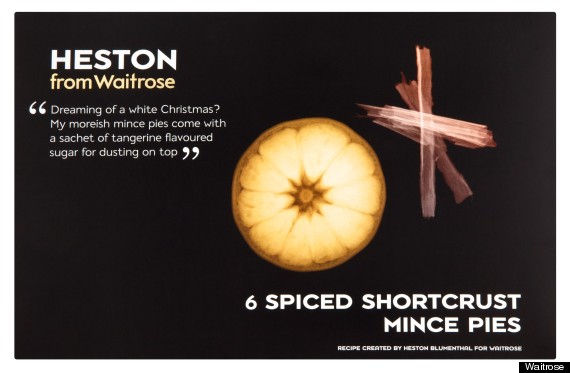 Heston from Waitrose Spiced Shortcrust Mince Pies, £3.50 for six
"Strong cinnamon flavour, this actually tastes like Xmas!"
"Like a 1960s hairdo - glossy and perfectly styled but overly perfumed."
"Outstanding. Different in style, really nice taste of ginger. Best of the bunch."
Verdict: 5/5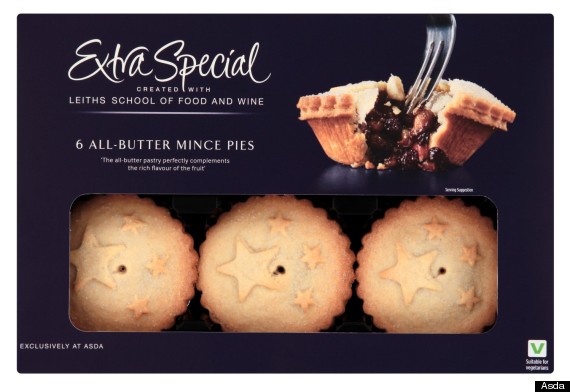 Asda, Extra Special Mince pies, £2 for six
"Looks really pretty and filling is tasty, if a little on the sweet side, but that works for me. Pastry was bit too crumbly and not very flavoursome, however sloshed down with a cuppa very pleasant.
"'I've had more mince pies than I care to remember and this one was average at best. The pastry was just about right, not too sugary, and there was plenty of filling. It just tasted rather fake."
"Looked ok as mince pies go, but a bit too sweet and tarty (I could only eat one). The pastry was a bit too crumbly for my liking, but a good effort."
Verdict: 2.5/5
Loading Slideshow
Battersea Power Station Model Kit

Bring out his inner architect with this slick <a href="http://www.ebay.co.uk/itm/Battersea-Power-Station-MONUmini-Mini-Architectural-Metal-Monument-Model-Kit-/141098700515" target="_blank">Battersea Power Station</a> mini architectural metal monument kit - only £18.50. Once finished will look great on any home office desk.

World's Hottest Chilli Powder Set

If he likes his food with a serious kick, this could be the perfect gift for him. Four <a href="http://www.notonthehighstreet.com/marvlingbros/product/hot-stuff-in-a-matchbox" target="_blank">super-hot chilli-powders</a>, £5, in tiny glass jars and packaged in a matchbox. Hot meets cool.

iStick Joystick

This <a href="http://bit.ly/1jfXXid" target="_blank">portable joystick</a>, £10, attaches to an iPhone or iPod Touch with a sucker so he can pretend he's in an arcade while he plays games on his mobile devices. For the big kid in your life.

Touchscreen Gloves

Having to remove your gloves to make a call is one of life's little annoyances. These <a href="http://bit.ly/1aIQT8w" target="_blank">specially-designed gloves</a>, £7, solve the problem with their screen-friendly fingers. Now he'll have no excuse for not texting you when he should.

whisky-gift-set

Four quality drams of <a href="http://www.marksandspencer.com/Marks-and-Spencer-Whisky-Selection/dp/B00EXV0BVK" target="_blank">single malt whisky</a>, £12, in one neat little package. You're welcome.

Hand Printed Handkerchiefs

If you're going to give hankies this year, make them extra special. We love this hand-printed, neatly packaged, stag emblazened <a href="http://www.johnlewis.com/thornback-peel-stag-handkerchiefs-pack-of-three-brown/p739680" target="_blank">set from Thornback & Peel</a>, £15.95. Blowing your nose just got sophisticated.

Bluetooth Speaker

Now he can get his fix of phat beats wherever he goes with this nifty little <a href="http://bit.ly/1d9G1bn" target="_blank">portable bluetooth speaker</a>, £19.95.

man-shed

His own private shed - every man's dream. Okay, so he won't be able to hide in this one to get up to whatever it is men get up to in their sheds but he can use this <a href="http://www.joythestore.com/man-shed-box" target="_blank">'man shed' box</a>, £15, to keep his private stuff safe from prying eyes.

Bobble Hat Beanie

A staple for hipsters and practical too. From the ski slopes to the streets of East London, no man should be without his <a href="http://www.topman.com/webapp/wcs/stores/servlet/ProductDisplay?beginIndex=0&viewAllFlag=&catalogId=33056&storeId=12555&productId=11110747&langId=-1&categoryId=&parent_category_rn=&searchTerm=TM56D25GNAV&resultCount=1&geoip=home" target="_blank">beanie</a>.

Paisley Pocket Square

This <a href="http://www.reiss.com/mens/gifts-for-him/stocking-fillers/vinton/moroccan-red/" target="_blank">paisley square</a> sits in the top pocket of any suit jacket or blazer. The perfect accessory for the modern gent.