Whether you're going through a divorce, are approaching your first Christmas as a divorcee, or have been divorced for a number of years, the festive season isn't always the easiest one.
HuffPost UK Lifestyle spoke to the experts to find out what they recommend in terms of handling the season and getting through it if kids are involved.
The first year is always the hardest, says Suzy Miller, divorce expert and HuffPost UK blogger, but that in itself will make it easier because once it's done, you don't have to go through it again.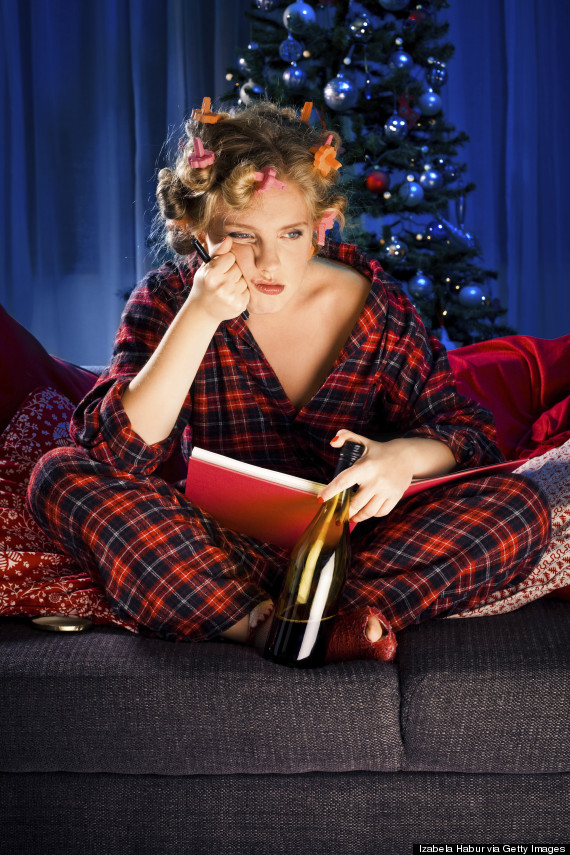 Don't forget that the perfect Christmas is a myth
"It's a challenge because you are facing all the memories of past Christmases," advises Liz Copeland, founder of The Divorce Mentor, "and the pressure of that mythical 'family togetherness' we are all supposed to experience. Have a go at creating a new seasonal ritual, which can be very simple - home-made popcorn, a cheesy movie, the Christmas playlist and all the family, your new family, involved.
"Trying to have the best Christmas ever is always doomed to failure, whether you're divorcing or not. Be organised, make it a good celebration but release yourself from the burden of perfection."
Don't spend it alone
Every fibre in your being may be saying that you want to be left alone, but fight this as hard as you can, advises Suzy.
"If you are not with the children, then invite yourself over to friends or other family members. If you are unable to see the kids during the day, Skype them if that is appropriate, or FaceTime them - but don't allow resentment to build up because it's not the way it used to be before the family split. The family form has changed - that doesn't have to be a bad experience, but it will take some adjusting."
If it's your first, set a new precedent
The worst mistake you can make, says Liz, is to try and keep everything the same. Instead, use it as an excuse to something totally different. Lots of divorcees find it helpful to travel or be anywhere apart from their own home, and that's fine. After the first year, you'll then figure out whether that works for you or if it doesn't, then you're richer for the knowledge.
if you do want to be around friends and family, she says: "Use this first Christmas to get others involved in creating a new type of celebration. Ask you children what they would like to do and let them help you."
Don't hit the bottle
It's a time when resentment and depression can really take hold - both of which can be exacerbated by alcohol and drugs. Try and avoid overdoing it, says Suzy. "It's easy to numb the pain of perhaps being without the kids, or feeling that somehow your family is no longer 'whole'. In time you will be freed from this illusion and realise that some of the best Xmas's you'll ever have lie in the future, not in the past."
SEE ALSO:

What Not To Say To Someone Who Is Remarrying
Your kids want your time, not your money
Kids do want shiny things, it is true, but given the choice between spending time with you and money, they'd choose you every time. Hold onto this thought when it comes to buying presents.
Suzy says: "Don't get into competition with the ex over who buys the best presents - it's a sad game which the kids will leverage to the full, but it really doesn't help build a healthy co-parenting relationship. So remember - you are a capable parent, as much as any of us are, and the children (whatever they may say) love you whether you spend all your money on them for Xmas or not. To be honest they want your time, not just big presents. And you'll be more fun to be with if you're not broke."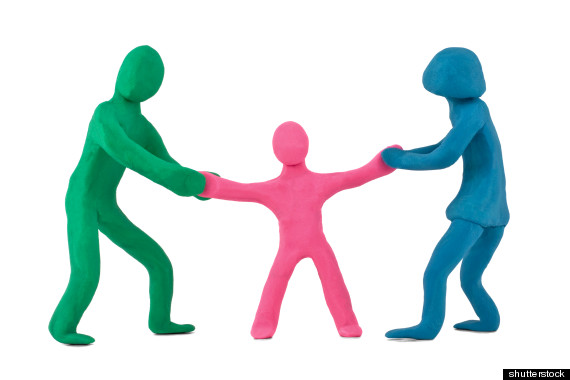 It's okay to have two Christmases
Lindsay Jones, family lawyer for Ultimate Law, says that if you don't get the kids this Christmas, get inventive. "So you don't feel like you've missed out on the Christmas day experience, replicate the day when the children come back to you. This means the children know that they will have one Christmas with their daddy and one with mummy. Even though it may feel strange to have a turkey dinner a few days later, the kids will really love it – especially if they're getting more presents!"
Take care when negotiating who has the kids for Christmas
Liz advises having this conversation early, and before you do it, have a clear idea of what you will accept and possible suggestions. "This suggests you are willing to compromise and have thought through the options. Ask you ex for other suggestions so that several possibilities are on the table. You can't split the kids in half or have them in two places at once but it is possible to share the day, alternate between having the kids on Christmas day or Boxing day, take them for a visit to the in-laws for part of the day and so on."
Both Suzy and Liz agree that using a third party to negotiate if communication isn't great with your ex is a good idea. Suzy says: "A mutual friend, or even pay a parenting expert or a mediator to help broker a long term deal that means Christmas doesn't have to become a battle ground for 'who has the kids' in the years to come."
What to do if your ex is being a toss-pot
"If you're situation with your ex partner is acrimonious," says Lindsay, "and you haven't reached an agreement as to where the children are to spend Christmas day, adhere to what are the court is likely to say. This is: a child should wake up in the bed that they normally would on Christmas morning. After this, it's a case of the parents reaching an agreement about what will happen for the rest of the day.
"Lastly, remember, it is just one day of the year. It's very easy to lose sight of this with all the media hype. Even though your Christmas may not be a very happy one this year, it's important the children still see it as a magical and festive holiday."

Earlier on HuffPost:
Loading Slideshow
Johnny Depp

They were young, in love and engaged before they weren't. While Johnny Depp and Winona Ryder were dating, the actor famously tattooed the <a href="http://tatoos-tattos.com/tatoos/tatoos-wino.htm" target="_hplink">words "Winona Forever" to his right upper arm</a>. Sadly the relationship did not last forever and when they broke up in 1993, Depp changed the tattoo to read "Wino Forever."

Kat Von D

She thought their love would last forever, so Kat Von D got a tattoo of then-fiance Jesse James as a young boy under her arm. While the artwork will last a lifetime, their relationship ended in July 2011 (though their romance was rekindled a month later).

Kathy Griffin

Tattooing a wedding band on your ring finger is a good idea in theory, but it makes it awfully hard when the marriage ends. When comedian Kathy Griffin divorced her husband of five years, Matt Moline, in 2005, she also removed her permanent wedding ring. We're not sure which hurt more.

Christina Aguilera

The "Voice" coach got the phrase <a href="http://www.people.com/people/christina_aguilera" target="_hplink">"I am my beloved's and my beloved is mine"</a> tattooed on her lower back in honor of her then-husband Jordan Bratman, along with his initials. While she was once her beloved's, she is no longer. The couple <a href="http://www.huffingtonpost.com/2010/10/21/christina-aguilera-talks-_1_n_771234.html?" target="_hplink">announced their split</a> in the fall of 2010.

Eva Longoria

The "Desperate Housewives" actress decided to get her wedding date (07-07-07) tattooed in Roman numerals on her wrist in honor of her husband, basketball star Tony Parker. While 7s are supposed to be lucky, the number wasn't on their side. The couple <a href="http://www.huffingtonpost.com/2010/11/17/eva-longoria-divorcing-to_n_784736.html?" target="_hplink">filed for divorce</a> in November 2010.

Rihanna

At least they didn't tattoo each other's names. Rihanna and former boyfriend Chris Brown decided to get matching tattoos of stars -- hers on the back of her neck, his behind his ear. When the pair ended what turned into a violent relationship, Rihanna decided to keep her tat, and added several more stars to the design.

Angelina Before

Angelina Jolie had "Billy Bob" tattooed on her left shoulder. She was married to Billy Bob Thornton from 2000 to 2003.

Angelina After

She has since had the tattoo removed and covered with the coordinates of the birth places of each of her and Pitt's children, <a href="http://www.people.com/people/article/0,,20488710,00.html" target="_hplink">adding an additional line</a> with Pitt's birthplace in spring 2011. Thornton turned his "Angelina" tattoo into an angel.

Blake Fielder-Civil

Blake Fielder-Civil got "Amy" inked behind his ear...

Amy Winehouse

And Winehouse's left lapel said "Blake's." However, the relationship didn't last. The pair split up in July 2009, and Winehouse passed away just two years later.

Levi Johnston

Bristol Palin's baby daddy, Levi Johnston, had her named inked around his ring finger. Palin and Johnston broke up for good in July 2010.

Denise Richards Before

Denise Richards had "Charlie" tattooed on the inside of her left ankle. She and Charlie Sheen were married from 2002 to 2006.

Denise Richards After

After their ugly divorce, "Charlie" became a colorful fairy -- on her leg.

Russell Brand

Russell Brand has reportedly removed or covered up the Sanskrit tattoo he got with then-fiancee Katy Perry in 2010. The couple divorced after only 14 months of marriage and Brand is reportedly erasing all memory of their romance from his life.

Jordan

British tabloid staple and former <em>Playboy</em> model Jordan has now-estranged hubby Peter Andre's name inside her wrist

Marc Anthony

When Marc Anthony and Jennifer Lopez called it quits after seven years of marriage, the singer was left with nothing but two adorable kids, memories of their love and a "Jennifer" tattoo on his right wrist. We weren't shocked when Anthony decided to <a href="http://bossip.com/434195/marc-anthony-has-all-traces-of-j-lo-removed-from-his-body30346/" target="_hplink">say goodbye</a> to the ink, but we were surprised to learn he got a <a href="http://www.tmz.com/2012/01/21/marc-anthony-new-tattoo-statue-of-liberty/#.T3N7U-zLxqt" target="_hplink">tattoo of the Statue of Liberty </a>as a tribute to his new girlfriend, Venezuelan model Shannon De Lima, and his newfound "freedom," right where his old tattoo used to be.

Megan Fox

A tattoo disaster avoided! Megan Fox got the first name of her now-husband, former "90210" star Brian Austin Green, inked on her torso. The on-and-off couple called off their engagement in February 2009 but were <a href="http://www.huffingtonpost.com/2010/07/07/megan-fox-wedding-day-pho_n_637881.html" target="_hplink">married in Hawaii</a> in July 2010.

Britney Spears

Britney Spears and Kevin Federline were once madly in love, and what better way to express those feeling than through matching tattoos! The couple got matching sets of dice on their wrists -- his in blue, hers in pink -- in May 2004. The couple divorced in 2006.