Science has good news for those looking to prevent the signs of premature ageing.
Newcastle University researchers have identified an antioxidant Tiron, a compound that not only offers total protection against some types of sun damage and may ultimately help our skin stay looking younger for longer.
"To discover that Tiron offers complete protection against UVA damage is exciting and promising," says author, Mark Birch-Machin, Professor of Molecular Dermatology at Newcastle University.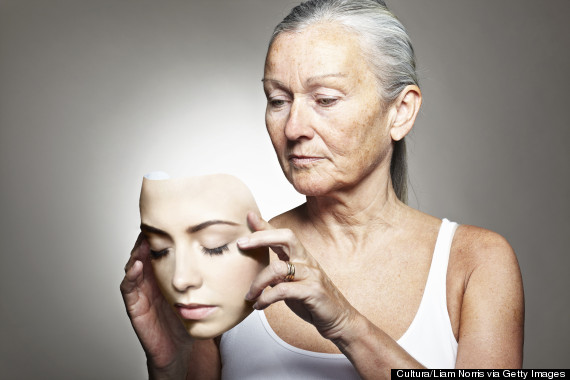 But before you chuck all of your anti-ageing serums and potions into the bathroom bin, he warned that more testing needed to be done before Tiron could be deemed safe for you and me.
"It is early days as Tiron is not a naturally occurring compound and has not yet been tested for toxicity in humans although there have been a few studies on rats," he added.
Researchers compared the protection offered against either UVA radiation or free radical stress by several antioxidants, some of which are found in foods or cosmetics. While UVB radiation easily causes sunburn, UVA radiation penetrates deeper, damaging our DNA by generating free radicals which degrades the collagen that gives skin its elastic quality.
See Also:

Non-Surgical Anti-Ageing Treatments: Turn Back Time Without Going Under The Knife

The Newcastle team found that the most potent anti-oxidants were those that targeted the batteries of the skin cells, known as the mitochondria. They compared these mitochondrial-targeted anti-oxidants to other non-specific antioxidants such as resveratrol, found in red wine, and curcumin found in curries, that target the entire cell.
They found that the most potent mitochondrial targeted anti-oxidant was Tiron which provided 100%, protection of the skin cell against UVA sun damage and the release of damaging enzymes causing stress-induced damage.
Co-author at Newcastle University Dr Anne Oyewole said: "This finding on Tiron provides us with a platform to study an antioxidant - preferably a naturally occurring compound with a similar structure which could then be safely added to food or cosmetics."
The work was published in The FASEB Journal, and was funded by BBSRC and Unilever.
Also on HuffPost:
Loading Slideshow
GenFab blogger Holly Parper (front row on the left as a child) reflected on the way her mother fought her age through drastic cosmetic surgeries, while her great-grandmother Claudia (pictured) embraced her age: "My grandma never wore make up or dyed her head full of white hair. She didn't fuss about wrinkles or the extra pounds she had put on in her midlife... To me, she was the most beautiful person on earth." To read more of her story, visit her blog, <a href="http://hmmmholly.blogspot.com/2013/03/what-growing-old-gracefully-means-to-me.html" target="_blank">"Hmmm... Holly."</a>

Reflecting on how age and accidents almost stripped away her identity as an athlete, Pat McKinzie says aging gracefully to her means "being myself, trying new things, traveling distant horizons, letting go of anger and forgiving others, because what the heck, we all say and do stupid things sometimes. Rage zaps too much energy." To read more visit her blog <a href="http://pattymackz.com/wordpress/?p=2912" target="_blank">"X-pat Files From Overseas."</a>

Hillary Chybinski, 45, wrote: "The biggest factor in aging gracefully to me, is attitude. A comfort with the choices you've made, where you are, and what the future may hold." To read more of her thoughts on aging gracefully, visit her blog, <a href="http://www.hacscrap.com/2013/03/aging-gracefully.html" target="_blank">My Scraps</a>.

Bonnie Dingus' mother (pictured) was a great role model for what it means to age gracefully, she wrote in her blog post, <a href="http://homeplaceblogger.blogspot.com/2013/03/how-to-age-grace-fully.html" target="_blank">"How to Age GRACE-fully"</a>: "To grow old as GRACE-fully and as lovingly as my mother did, would be one of the greatest accomplishments of my life."

"Being 50-something, the notion of aging gracefully is not yet well-defined in my mind," writes Sheryl Allen. "Bit by bit, I'm putting it together." Allen writes about witnessing a Valentine's Day celebration where several people danced and swam naked. Read her blog <a href="http://beingfiftysomething.com/2013/03/28/dancing-naked-with-the-hippies-or-not/" target="_blank">"Dancing naked with the hipp ies (or not)"</a> to learn the aging gracefully lesson she learned from the experience.

Sisters Karen (pictured) and Wendy Irving discuss the concept of aging gracefully via letters written to each other in their post, "<a href="http://afterthekidsleave.com/2013/03/27/what-is-this-aging-gracefully-of-which-you-speak/" target="_blank">What is this 'aging gracefully' of which you speak?"</a> on their blog, After the Kids Leave. Karen can't relate to the concept and wonders: "Do men our age have to think about this too? Do they dissect their responses to aging to determine whether they're doing it 'gracefully'?" "Like you, I have a quarrel with the expression 'aging gracefully,' Wendy wrote to her sister. "I think it means different things to different people and to be honest, I'm the type of person who doesn't care about whether I get older gracefully or otherwise. I'm just glad to be aging at all."

"Aging Gracefully, to me, means seeking opportunities to create and serve at every age," wrote <a href="http://www.joyweesemoll.com/2013/03/27/aging-gracefully-a-genfab-post/" target="_blank">blogger Joy Weese Moll</a> (pictured here at 26 with her mother (at the time of this photo, 51) and grandmother (then 93).

"I'm not embarrassed about my age and I don't think I look bad (the photo was taken a year ago this month -- I was 57)," writes blogger Walker Thornton in her post, <a href="http://www.awomanspage.com/aging-gracefully/" target="_blank">"Aging Gracefully? Bring It On!"</a> I find older women attractive and the more in touch they are with their age and their looks the more appealing they are. Give me a wrinkled Judi Dench over a unnaturally 'youthful' older woman any day."

"When I hear people say that they want to 'grow old gracefully,' I think, 'With all due respect, that's nice, but that's not what I want to do. My plan is to kick old age's ass,'" writes Amanda Fox on her blog <a href="http://thefurfiles.com/2013/03/26/kicking-old-ages-butt-figuratively-speaking-of-course-because-old-age-doesnt-have-a-butt/" target="_blank">TheFurFiles</a>.

<a href="http://www.huffingtonpost.com/janie-emaus/the-hands-of-time_b_2960438.html" target="_blank">Huff/Post50 blogger Janie Emaus</a> (the middle pair of hands in the photo to the left) wrote about her past anti-aging, wrinkle-free regimen and settled on this: "Sure, I will always worry about how I look. But when I'm 80, God willing, I hope that younger women look at me the way I now look at my 80-something mother. I'd like them to notice the laugh lines around my eyes and know that my life was filled with humor. And that for every wrinkle on my hand, well, there lies a story that only I could tell."

"I am so grateful to be healthy and to have a healthy husband," writes <a href="http://reciperenovator.com/sustainability/meditations/what-aging-gracefully-means-to-me/" target="_blank">Stephanie Weaver of the Recipe Renovator</a>. "I am so grateful to have been given 51-and-three-quarter-years. I am not going to pretend I'm younger or apologize for my age… I'm going to celebrate it."

"I am much more authentic at 55 than I was at 35," writes Nina Knox on her blog <a href="http://over50andhappy.com/aging-with-grace" target="_blank">Over 50 And Happy</a>. "I do what I want, say what I feel,and try to be considerate and compassionate."

The women in Pamela Lutrell's family weren't good role models for aging gracefully, she writes in her blog Over 50 Feeling 40, but they did teach her a lesson in how she wants to live her own life. "I choose to 'LIVE OUT LOUD,' with joy and contentment. I decided a long time ago to not be a victim."