A teenager who aspired to be a model has died from cervical cancer after being denied a smear test because she was too young, her family claim.
Sophie Jones, 19, was diagnosed in November and died on Saturday.
Doctors had put down the crippling stomach pains she had suffered for over a year to Crohn's disease. Sophie Jones died on Saturday
Sophie's family say she had pleaded for a smear test but was refused one because of her age – women under 25 may not request them.
They claim her life might have been saved had she been given one and have set up an online petition in her memory calling for the age one can have a smear test lowered to 16.
The petition, named Sophie's Choice, was set up by family friend Pamela Keelan who claims "our Sophie has been failed in the worst way". At time of press it had received nearly quarter of a million signatures.
She wrote: "A friend and amazing young girl our Sophie has had her life cut short after experiencing symptoms for over a year and being in horrendous pain and even asking for a smear. But because of her age, 19, she was refused time and time again. Out of loads of doctors it took that one to say on we will check you properly but then it was too late." The 19-year-old was an aspiring model
Sophie's sister Steph told the Liverpool Echo: "She was just the life and soul of everything, and just lit the place up. She was always a very calming influence on everyone around her, and she loved being with her friends.
"This should never, ever have happened to her."
A Department of Health spokesman told HuffPost UK via email: "This is a very tragic case. The issue has been debated in Parliament, but the best independent evidence still shows that routine screening of women under 25 does more harm than good.
"Instead we now vaccinate girls with the HPV vaccine which protects against 70 per cent of cervical cancers.
"Women with symptoms of cervical cancer, like unusual bleeding, are advised to see a doctor straight away for tests to investigate their symptoms.
"We have given doctors advice on what to do when younger people come to them with cervical cancer symptoms."
Cervical screening is not a diagnostic test for cancer; it is designed to identify abnormal cells that may one day lead to cancer. 1 in 14 women over 25 yrs, and 1 in 3 under the age of 25, have 'abnormal' smears.

The cervical screening age in Northern Ireland is 25-64, in Wales it is 20-64 and in Scotland it is 20-60.

To determine if there is indeed an abnormality, women will then have to have further tests which might involve a large biopsy of the cervix potentially leading to cervical incompetence.
Cancer Research UK's most recent statistics say no girl under the age of 20 died from cervical cancer between 2009 and 2011, making Sophie one of the youngest ever victims of the disease.
Professor Julietta Patnick, Director of the NHS Cancer Screening Programmes said: "This is a very sad case, however, cervical cancer in women under the age of 25 is very rare, and it's even rarer for a teenager to develop this form of cancer.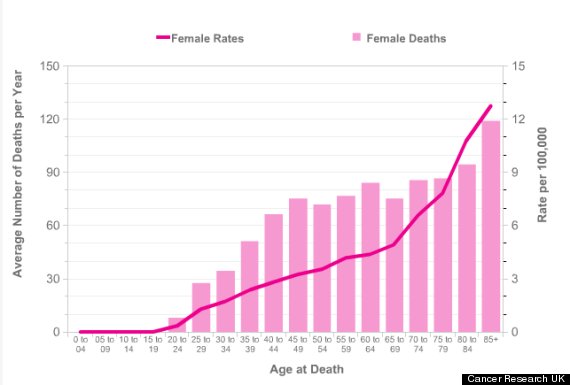 Average number of deaths per year from cervical cancer and age specific mortality rates for the UK 2009-11
"Younger women often undergo natural and harmless changes in the cervix that screening would identify as cervical abnormalities, and in most cases these abnormalities resolve themselves without any need for treatment.
"Evidence has shown that screening women under the age of 25 may do more harm than good as it can lead to unnecessary and harmful investigations and treatments which could have an adverse effect on their future childbearing. In women under 25, therefore, this risk outweighs any benefit."
Celebrities Who Faced Cervical Cancer
The founder of Liz Lange Maternity is now a vocal spokesperson for cervical cancer awareness after her own 2001 diagnosis. "The diagnosis terrified me," she told Health.com: I had a 2-and-a-half-year-old and an 8-month-old baby, and I was working on a fashion show and launching a new product line. On a personal level, I was afraid that I wouldn't be there for my children; professionally, I was afraid that if people knew about my diagnosis, they would think of me as sick and be uncomfortable doing business with my company. It was so upsetting that any time I talked about it I burst into tears. I kept silent about it for a long time." After a hysterectomy, chemotherapy and radiation, Lange has been cancer-free. "Now I feel absolutely compelled to tell my story, because it really shows how it can happen to anyone," she told the website.

The actress reportedly faced mounting medical bills for both cervical cancer and kidney disease before ultimately losing her battle with stage 4 cervical cancer in 2012. African-American women are most likely to die from the disease, compared to women of other races and ethnicities, according to 2008 data from the CDC, possibly because black women seem to have more trouble clearing HPV, which usually goes away on its own within a year or so.

In 2012, the beloved author shared in a blog post that she had recently been diagnosed with breast cancer. But, deeper into her post, she also revealed she had a hysterectomy 17 years earlier because of cervical cancer (caused by HPV). "No other treatment necessary," she wrote on her blog: Another story for another time. If I had a young daughter or son I'd talk to their docs about having the vaccine to protect them from getting or giving HPV. If only there was a vaccine to protect us from breast cancer we'd be lined up -- wouldn't we?

In 2001, the actress was diagnosed with cervical cancer after a Pap test, People reported. She opted for a hysterectomy, but doctors were able to preserve her ovaries, allowing her to welcome son Zev in 2008 via a surrogate. "I woke up after the surgery, and I asked what they took out," she told People in 2007. They didn't know what they would find beforehand. But it was just my uterus. I had my ovaries, and I didn't have to go through chemo. I thought, "Okay, now the cancer is gone. Let's get going." My doctors gave me the all clear, and I moved to New York City in January 2002. It was the best time of my life.

The 27-year-old British reality TV star died from cervical cancer at the age of 27, after publicly documenting her battle with the disease. Some questioned how the disease progressed in someone so young, and Goody admitted to ignoring doctors' urges for follow-up care, Health.com reported. Still, her openness and honesty about treatment did raise awareness for prevention. Experts noted spikes in the number of young women making appointments for Pap tests shortly after her death, HuffPost UK reported.

The former first lady of Argentina, more commonly known as Evita, was diagnosed with advanced cervical cancer in August 1951, according to an essay in The New York Times. At the time, it was common to keep the patient in the dark about her true condition, so Peron was told she had a uterine problem and then operated on in secrecy. (The doctor entered the room only after she was under anesthesia.) Radiation and chemotherapy (and a lobotomy "for the pain") followed, but she grew sicker, until dying from the disease in 1952 at the age of 33.

This "Real Housewife" of Orange County appeared on an episode of the "Dr. Oz" show and revealed she had been diagnosed with cervical cancer in 2012. "I go to the doctor and I have lumps in my breasts and I had cervical cancer that had to be removed... I'm talking to my doctor about... doing a hysterectomy," she said.