Ukip has been accused of hypocrisy and double standards for paying Eastern Europeans to distribute their election leaflets, despite the party's leaflets warning that immigrants from the EU pose a threat to British jobs.
Andrew Spalis, distribution operative at door-to-door distribution firm Fast Leaflet, told the Huffington Post UK that the company has been carrying out work for Ukip and that many of its employees are from Latvia, as well as other parts of Eastern Europe. He said that the firm had "only yesterday" carried out leafleting for the party.
"I've got my phone book full of names and telephone numbers of people who want to make lots of money, and I call them when I need people. Sometimes I take English people, but not very often."
Three Eastern European men, believed to be employees, were seen distributing election leaflets for Ukip in Croydon on Tuesday. Spalis said the firm, which covers Greater London and the Home Counties, had been set up in the last few months, but suggested that his relationship with Ukip has gone on for longer.
Fast Leaflet's managing director Armands Tkacenko later confirmed that it has done work for Ukip, but added: "We employ different people, no matter what race, nationality or political views they have, we treat everyone equally."
Gavin Barwell, Tory MP for Croydon Central, told HuffPost UK: "Ukip's hypocrisy knows no bounds. They say they are against Europeans taking our jobs and then, when they have a chance to offer some British people work delivering their leaflets because they can't find volunteers to do it, they employ European workers. You couldn't make it up!"
London Liberal Democrat MEP Sarah Ludford said: "I'm sure the irony will not be lost on those who've been duped by Ukip's misleading rhetoric on EU freedom of movement in recent months.

"Ukip can't deliver leaflets and they certainly can't deliver EU reform, in fact it seems the only thing they can deliver is a fatal blow to our economic recovery by pulling out of Europe altogether."
The revelation is politically embarassing for the party, as it has repeatedly warned against the risks of immigrants taking Britons' jobs.
Labour MP Mike Gapes accused the party of racism after unveiling a poster for their European election campaign which read: "26 million people in Europe are looking for work. And whose job are they after?" Ukip leader Nigel Farage defended them as a "hard-hitting reflection on reality".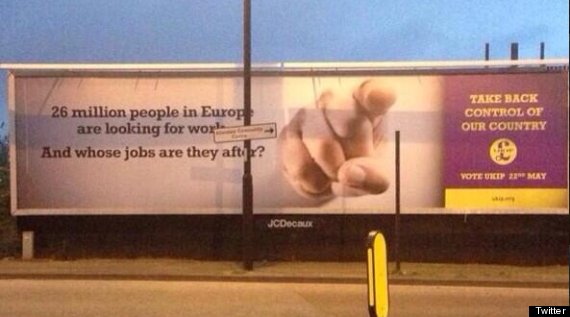 The party's posters also declared that "British workers are hit hard by unlimited foreign labour".
Another Ukip poster used Irish actor Dave O'Rourke to play an unemployed builder, warning that "British workers are hit hard by unlimited foreign labour".
Meanwhile, Farage himself caused controversy when he suggested that no Briton was good enough to work as his personal assistant, a job currently carried out by his German-born wife.
Farage was challenged by the BBC's political editor Nick Robinson, who asked him: "Is your wife taking somebody else's job?"
The Ukip leader replied: "No, because I don't think anyone else would want to be in my house at midnight going through emails and getting me briefed for the next day.
The Huffington Post UK contacted Ukip for comment on the story about their leafleting, but they had not responded at the time of publication.
Some interesting grammar on the leaflet from Ken Wight, candidate for Beaconsfield. (h/t @Hope Not Hate)

In 2010, Ukip issued a leaflet in Lancaster which compared immigration in the UK to the plight of Native Americans. The leaflet, uploaded on The Straight Choice, depicts a Native American in full head dress with the caption: "He used to ignore immigration … now he lives on a reservation".

A leaflet posted through letterboxes in Staffordshire, in support of Ukip candidate David Nixon's leaflet was illustrated a cartoon of a young boy holding a placard which said: "Rights for Bi-Sexuals We demand the right to marry With (at least) one man and one woman." Below it said: "Where will it end? – A child should have the right to a mother and a father."

The leaflet proudly announces Suffolk candidate David Reynolds' opposition to the high-speed rail HS2, even though the route does not go through Suffolk.. (h/t Jack Lay)

UKIP's 2010 manifesto promised to invest in three high-speed rail lines.. But now the party is staking its reputation on opposing HS2, which will run through Tory heartland areas

One rambling leaflet posted through letterboxes in support of Ukip describes "ordinary people" and "real people" who are against gay marriage. (H/T @LiamBowles_)

We couldn't resist including this one... for its sheer silliness. This is not a Ukip leaflet. This is a leaflet promoting Conservative Party candidate in the Eastleigh by-election, Maria Hutchings, in Ukip colours. Subtle.