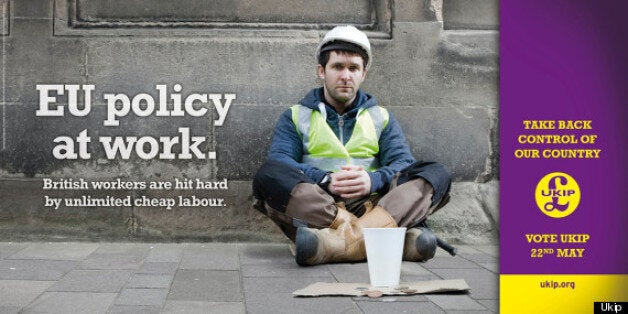 The actor who played an unemployed builder in Ukip's controversial election poster is worried the role may cost him getting good parts in the future.
Dave O'Rourke has also revealed he did not know he was destined to end up on a giant billboard for the anti-European Union and anti-immigration party.
"I am just trying to make my way as a full-time actor and if you are associated with something as controversial as this it can hinder your chances of getting castings in other things," he told the Irish Mirror.
Under the slogan "take back control of our country", other posters complain that 75% of British laws are made in Brussels and that UK taxpayers fund the "celebrity lifestyle" of EU bureaucrats. Political opponents called the posters "divisive", with Labour's Mike Gapes saying the slogans were "racist".
The revelation that the face of one of their posters, O'Rourke, was himself an immigrant, was somewhat embarrassing for Ukip.
"My agency got me a photo-shoot and I thought, 'great, it will help pay the bills'. They didn't tell me what I'd be doing and I didn't know who would be using the images. I knew it would be a political party using the photos but I genuinely thought they would just be used on their website," O'Rourke said.
Ukip has come under intense scrutiny over the last week following controversial statements by party members. One activist who played a prominent role in Ukip's recent election broadcast was revealed to have said, among other things, that Africans should "kill themselves".
Related