Gustav Courbet's 19th century erotic oil painting The Origin of the World features the genitals of an (until recently) faceless nude and is roundly considered a masterpiece.
Though at the time of painting it was considered too risqué to exhibit and could even have seen the artist sent to prison on charges of "affronting pubic and religious morals", it now hangs in Paris's Musée d'Orsay.
Last month artist Deborah de Robertis decided to incorporate Courbet's work into her own performance piece – which saw her take a seat in front of the priceless painting and expose her own genitals to museum goers.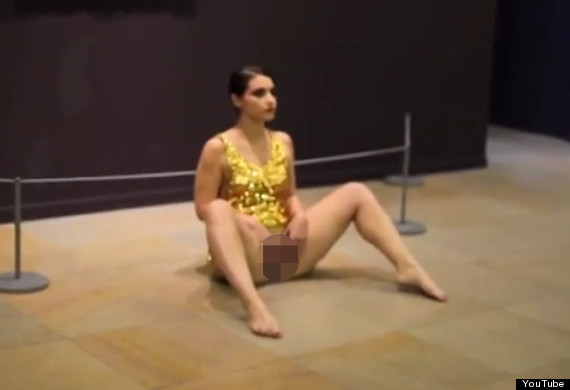 Deborah de Robertis exhibited her own version of The Origin of the World last month
In this NSFW video, Robertis is seen entering the strolling into the gallery barefoot and dressed elegantly in a sparkling gold dress.
She settles below the painting – believed to be of Courbet's then lover Irish model Joanna Hiffernan - splays her legs and holds open her vulva.
Panicked museum guards flutter around Robertis, occasionally standing in front of her spread legs, though the artist does not even appear to raise an eyebrow.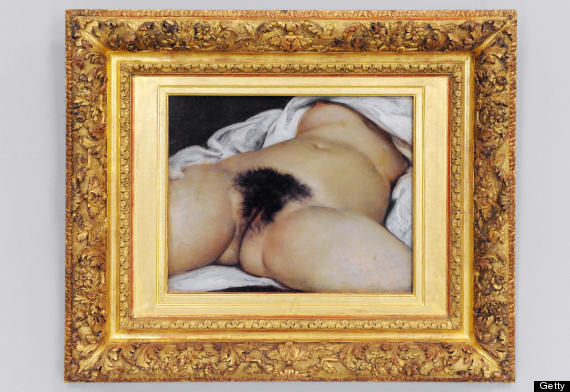 Gustav Courbet's The Origin of the World hangs in Paris's Musée d'Orsay
Spontaneous applause breaks out during the impromptu show which ended with Robertis eventually being escorted away by police.
Artnet reports two of the museum guards have filed sexual exhibitionist complaints against her.
A spokesman for the museum said: "This is a typical case of disrespecting the museum's rules, whether for a performance or not.
"No request for authorisation was filed with us. And even if it had been, it's not certain we would have accepted it as that may have upset our visitors."
SEE ALSO:
Robertis tells Luxemburger Wort: "If you ignore the context, you could construe this performance as an act of exhibitionism, but what I did was not an impulsive act.
"There is a gap in art history, the absent point of view of the object of the gaze. In his realist painting, the painter shows the open legs, but the vagina remains closed.
"He does not reveal the hole, that is to say, the eye. I am not showing my vagina, but I am revealing what we do not see in the painting, the eye of the vagina, the black hole, this concealed eye, this chasm, which, beyond the flesh, refers to infinity, to the origin of the origin."
The entire matter is summed up brilliantly in a comment posted to Robertis's Facebook page, which asks:
"When we look at a picture of a naked female, we're in a safe place, we're voyeurs and often happy that our gaze is not being returned. Once the portrayal comes to life, however, we're dealing with a hell of a lot more. We become awkward, embarrassed and nervous — stripped of the confidence we boasted when we were merely peeping. What is de Robertis saying about the way society looks at women?"
Over to you, readers.
PS – ArtFido points out YouTube earlier removed a video of Robertis's performance, claiming it "contained content in violation of [YouTube's] guidelines."
But the channel reconsidered after an appeal from ArtFido, reinstating it with the message: "After further review, we've determined that while your video does not violate our Community Guidelines, it may not be appropriate for a general audience. We have therefore age-restricted your video. This does not negatively impact your account standing."
Well done ArtFido!
11 Shocking Acts by Artists
Italian artist Piero Manzoni created an unexpected work of art called "Artist's Shit" in 1961. How'd he do it? The brazen soul filled 90 cans with feces and sold them for auction at Sotheby's. Rumors circulated that Manzoni had not actually filled the cans with human feces, a rumor which was quickly quelled when one of the cans began leaking in a Denmark museum.

A slideshow of shocking artists wouldn't be complete without including at least one of Marina Abramovic's many startling and sometimes dangerous performance art pieces. In "Rhythm 10," the artist played a Russian game that involved rapidly jabbing knives between her outstretched fingers, switching between large and small blades when she accidentally sliced herself. She recorded her first run and then tried to mimic its exact movements in a second trial, even copying the sounds she made when she nicked her hand. Painful to watch, though we imagine by the size of the blades that "nicked" might have been an understatement.

British artist Amanda Feiding (who is now married and goes by the name of Charteris) once performed a trepanation on herself as part of a short art film entitled "Heartbeat in the Brain." What's a trepanation? It's a procedure that involves drilling a hole into someone's skull. The skull boring continues. NYU professor Wafaa Bilal implanted a camera into the back of his head as part of a surveillance art project called "The 3rd I." The extreme body modification eventually came to an end when his body physically rejected one of the titanium posts used to keep the device in place on his skull.

Chris Burden probably deserves several slides, as he's shot at a 747 airplane, taken a bullet to the arm and been nailed to a volkswagen all in the name of art. Here is Burden's infamous "Shoot" from 1971, when he allowed an assistant to shoot him from a distance of 5 meters.

Voina, the guerilla art group that graffitied a St. Petersburg bridge with a giant penis, once threw live cats at a McDonalds as part of a subversive performance that celebrated International Workers' Day. You can see a photo of the cats mid-air and likely terrified here. But the throwing of cats is not as bad as Tom Otterness' decision to shoot an adopted dog in 1977, an act he later regretted. Come on guys, let's the leave the animals out of it. Photo: Members of Voina courtesy of Getty Images.

Marni Kotak stated that giving birth was the "highest form of art." And she wanted to make that art public. So she decided to give birth in a gallery in a performance called "The Birth of Baby X." We just hope that she didn't get too caught up in the performance and forget to pick a better name for her offspring.

In "Eating People," Zhu Yu claimed to be cooking and eating a human fetus that he stole from a medical school. And later performances by the Chinese artist involved grafting his own skin onto a pig. All in all, Zhu Yu's entire body of work is pretty shocking.

Andres Serrano is the king of using bodily fluids to create art. He's sacrificed his own blood, urine and semen to make works like his super-controversial photograph of a crucifix submerged in urine titled "Piss Christ." Talk about blood, sweat and tears going into your work.

Like Andres Serrano, Franko B was not afraid to shed some blood for his art. He was interested in the ritualization of his own body, so in 2002 he turned the Tate modern into a catwalk and strutted down the aisle while bloodletting in front of an audience.

This Bronx-born and Brooklyn-based artist got very, very comfortable at Sonnabend Gallery in 1971. For his "Seedbed" performance, he masturbated in a hidden compartment underneath the gallery and vocalized his sexual fantasies over a loudspeaker that gallery goers could hear. Like most of these shocking exhibits, we're just glad we we were not there to witness it.

Lady Jaye Breyer and Genesis P-Orridge underwent a series of surgical procedures in order to look like each other, hoping to achieve a third being called Breyer P-Orridge. Their gender bending experiment was called pandrogyny and spurred several mixed-media exhibitions including "Painful But Fabulous."

Equipped with animal carcases and spiritual iconography, Viennese "actionist" Hermann Nitsch organized bloody performances that played out like pagan rituals. For 30 years, he and his 'Orgiastic Mystery Theater' troupe carried out shocking art performances just like these. Enough said. We think this trumps nude breast painting.