An artist who tied a live rooster to his penis in the name of "performance art" has been found guilty of sexual exhibitionism.
Steven Cohen paraded in front of the Eiffel Tower with the farmyard animal in a performance entitled 'Coq/ Cock' September last year.
Cohen was dressed in platform heels, a corset, elbow-length red gloves and a headdress, and tethered the cockrel to himself with a ribbon.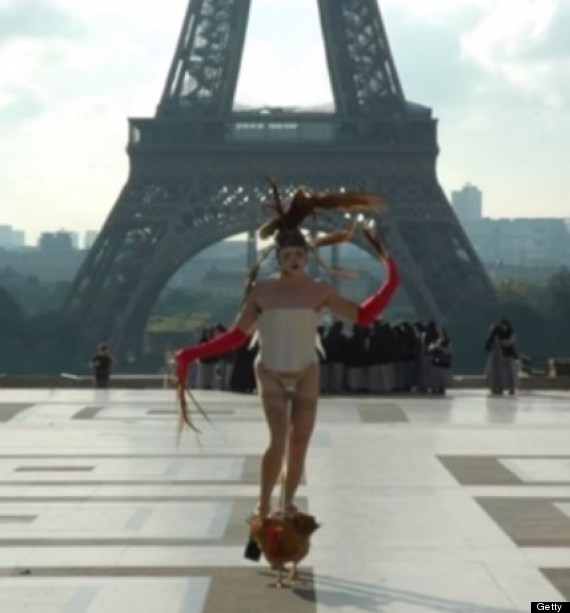 Steven Cohen's performance lasted around ten minutes before he was apprehended by police
Cohen was convicted by a Paris court on Monday, but no penalty was imposed against him. Prosecutors have asked for a €1,000 (£822) fine, Le Figaro reports.
The Telegraph writes the rooster – named Franck – was not harmed during the performance and was chosen "because it's the emblem of France."
SEE ALSO: Just A Woman Laying Eggs With Her Vagina In The Name Of Art (NSFW VIDEO, PICTURES)
According to Cohen's website, the artist is considering appealing.
After the verdict, he told Citizen: "I think the victim is art. I'm not saying I'm going to, but my desire is to complete what was incorrectly halted by the authorities."
He had earlier told the court his performance had "nothing to do with sexuality" and that no one - not even a group of passing nuns - had complained about it.