Shia LaBeouf reportedly chased a homeless man around Times Square, shortly before he was arrested for "disorderly conduct" during a performance of 'Cabaret' in New York.
The star was allegedly seen yelling at the homeless man and demanding that he hand over what appeared to be McDonald's bag, just hours before he was seen being led out of the Studio 54 theatre in handcuffs.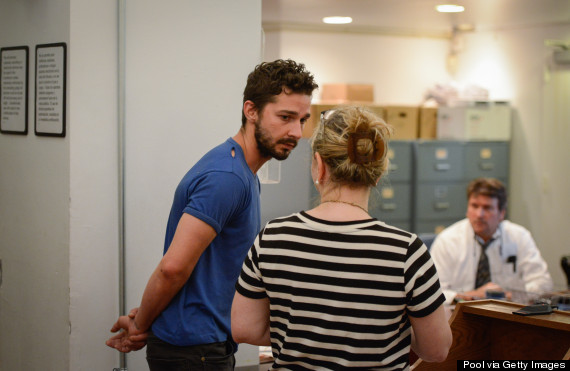 Shia in a ripped t-shirt at a police station following his arrest
A bystander, who claims to have seen the actor "dodging pedestrians" in Times Square to catch up with the homeless man, told the New York Post: "At first I thought the bum had stolen something from him. But the bum was responding in almost a joking manner."
Another witness added: "He really wanted whatever was in that bag. He had so much focus … If there were French fries in the bag, maybe he really wanted to eat them.
"He was dodging people and yelling, 'Yo, come on!' … He was on a mission. It was so bizarre."
The newspaper claims that Shia then headed to the Studio 54 theatre, where he sat through the first half of 'Cabaret' but just couldn't seem to keep his mouth shut, to the annoyance of those around him.
A fellow audience member said: "Shia was being lewd, grunting and yelling in a lascivious way, 'Oh yeaaaaaaaaaaah.' It was really odd and creepy."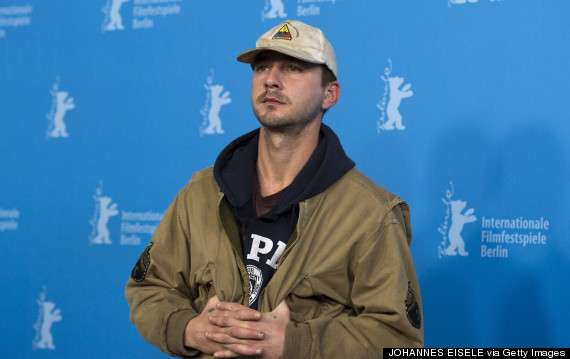 Shia LeBeouf
The actor was reportedly then seen smoking a joint and even falling out of his chair during the star of the show Michelle Williams' solo, prompting security to call the police and have him removed.
The New York Post reports that the actor was then held in custody, where he attempted to spit at police officers and yelled "f*** you", "do you know who the f*** I am?" and even allegedly came up with an impromptu rap on the spot about how he wanted to be freed.
Well you've got to channel your frustration somehow, haven't you?
This isn't the first time that Shia's erratic behaviour has made the headlines, as earlier this year he arrived at the premiere of his film 'Nymphomaniac' sporting a bag over his head with the message "I am not famous anymore" scrawled on it.
This followed a scandal where it was alleged he had plagiarised someone else's work for a short film that he had produced.
This Monday, March 16, 2015, booking photo provided by Summit County Sheriff's Department in Park City, Utah, shows Actor Emile Hirsch. Hirsch made his first court appearance on Monday, after being charged with assault after putting a studio executive in a chokehold and dragging her across a nightclub table while he was in Utah for the Sundance Film Festival. (AP Photo/Summit County Sheriff's Department)

Justin Bieber was arrested in Miami on Jan. 23 for alleged DUI and drag racing.

Mugshot of Reese Witherspoon after she was reportedly arrested and jailed in Atlanta for disorderly conduct.

This photo provided by the Santa Monica Police Department shows the most recent booking photo of Lindsay Lohan, taken March 19, 2013. The troubled 26-year-old actress accepted a plea deal on March 18 in a misdemeanor car-crash case that includes 90 days in a locked-down rehabilitation facility that she won't be able to leave.

Actress Daryl Hannah was arrested in Winnsboro, Texas on Oct. 4, 2012, along with a 78-year-old northeast Texas landowner while protesting construction of a pipeline designed to bring crude oil from Canada to Gulf Coast refineries.

Sunny Cross, who appeared on the first episode of MTV's "Catfish," was arrested at the end of Jan. 2013 on suspicion of driving while intoxicated.

Actor Edward Furlong is seen in a police booking photo after his arrest for alleged domestic violence on January 13, 2013 in Los Angeles, California.

Fiona Apple was arrested on drug possession charges on Sept. 19 at a border stop in Sierra Blanca, Texas. When officers searched her tour bus they allegedly found hashish.

Amanda Bynes was arrested on April 6, 2012 and charged with a DUI after she sideswiped a police car.

In this handout photograph supplied by the Aspen Police Department, 34-year-old Brooke Mueller poses for her mugshot after being arrested and charged with assault and possession of cocaine with intent to distribute on December 3, 2011 in Aspen, Colorado. The ex-wife of American actor Charlie Sheen was arrested in the early hours of December 3, 2011 after a woman reported an assault identifying Mueller as the assailant. (Getty)

In this police mug shot from the DeKalb County Sheriff's Office, Pittsburg Steelers' receiver Hines Ward poses for a mug shot, on July 09, 2011 in DeKalb County, Georgia. According to reports Ward was arrested for driving under the influence of alcohol. (Getty)

In this booking photo provided by the San Bernardino County Sheriff's Office, Samantha Ronson poses for a mug shot August 1, 2011 in Barstow, California. Ronson was arrested for DUI after being pulled over for speeding near Baker, California. (Getty)

In this booking photo provided by the the Brunswick County Sheriff's Department, Jenelle Evans poses for a mug shot August 8, 2011 in Oak Island, North Carolina. Evans, of MTV's 'Teen Mom 2', was arrested Monday for violating the terms of her probation after testing positive for Marijuana and opiates. Evans was placed in jail on USD 10,000 bond and later released. (Getty)

In this booking photo provided by the Los Angeles County Sheriff's Department, Lindsay Lohan is seen in a mug shot October 19, 2011 in Los Angeles, California. Lohan was arrested for probation violations and released after posting USD 100,000 bail. (Getty)

In this mug shot released by the 2011 Hillsborough County Jail, Michael Lohan, 51, poses for his mugshot after being arrested for battery domestic violence on October 25, 2011 in Hillsborough County, Tampa, Florida. Lohan, was also previously arrested in 2009 in New York for allegedly violating a protection order against him. (Getty)

Here is actor Nicolas Cage after he was arrested for domestic battery in New Orleans at 6.33am on Saturday April 16. Police charged him with domestic abuse and disturbing the peace. Booking photo and report courtesy of Orleans Parish Sheriff's Office. (Splash)

Andy Dick smirks in his mugshot after being arrested at a restaurant in Temecula, California, for allegedly being under the influence of drugs or alcohol. The 45-year-old comic was listed on the booking sheet as 5ft 10in and weighing 155lbs. He was apparently at 9.20pm on May 2 at a Marie Callenders, not a restaurant chain known as a celebrity hotspot. (Splash)

Russell Brand was arrested on March 15 after allegedly throwing and smashing a photographer's iPhone in New Orleans. (New Orleans Parish Sheriff's Office)

The DUI arrest that continues to haunt her! Lindsay Lohan was first arrested for a DUI on May 27, 2007 but was arrested again -- and this time for cocaine possession, too -- after a brief car chase in Santa Monica on July 24, 2007.

The actor was pulled over on California's Pacific Coast Highway on July 28, 2006 for speeding, but ended up being busted for a DUI.

The former "OC" star was arrested for a suspected DUI, drug and controlled substance possession and driving without a valid license on December 27. 2007.

The former "Simple Life" star was popped for a DUI in the early morning of December 11, 2006 after she was spotted driving the wrong way on a California speedway.

The E! reality star was busted in March 2007 for a DUI -- and it was all caught on camera for her family's reality show, "Keeping Up With The Kardashians."

The heiress was busted for a suspected DUI on September 9, 2006 in Hollywood.

The "24" star was picked up in the early hours of Sept. 25, 2007 in Hollywood for a suspected DUI.

The Motley Crue singer was arrested for drunken driving near the Las Vegas strip on June 27, 2010.

Charlie Sheen's porn star pal and former "goddess" was picked up for a suspected DUI in Fort Wayne, Indiana on February 3, 2011.

He might have seen dead people in "The Sixth Sense" but he was probably seeing double when he was picked up for a DUI -- and misdemeanor marijuana possession -- on August 18, 2006 after crashing his car into a tree.

The former "Partridge Family" star wasn't singing a pretty tune when he was arrested on suspicion of DUI November 3, 2010 in Florida.

The "American Pie" actor was arrested in 2005 (pictured above) for drunken driving, and faced a second DUI charge on June 16, 2010 after being arrested in Los Angeles.

The actress was arrested on January 5, 2011, where she registered a 0.22 blood alcohol level, which is almost three times the legal limit.

The "Melrose Place" actress was busted for a suspected DUI on September 27, 2008 near Santa Barbara, Calif.

The Black Eyed Peas singer (real name: Jaime Luis Gomez) was arrested on March 27, 2007 near Los Angeles for driving under the influence.

The former "Lost" star was arrested on December 1, 2005 for drunk driving in Hawaii.

The actor was arrested on February 11, 2009 in Malbu, Calif., for a suspected DUI.

The boxer was arrested in Scottsdale, Ariz., on December 29, 2006, for driving under the influence.

Mickey Rouke was arrested for driving under the influence -- on a vespa -- on November 8, 2007.

The "Hills" star -- and sister to Spencer -- was arrested on October 18, 2009 for a suspected DUI in Hollywood.

Flo Rida was busted in Florida on June 9, 2011 for a suspected DUI while driving a million-dollar car. Yikes.
href="http://www.facebook.com/HuffPostUKEnt"target="_hplink">LIKE US ON FACEBOOK | FOLLOW US ON TWITTER