A woman's diet nearly ended in divorce after her husband of 13 years became convinced she was trying to attract a new man - so she remarried him to prove she only had eyes for him.
Lindsey Groves, 32, was 17 stone five years ago, and her husband, Alan, 41, had only ever known his wife to be overweight and insecure.
Mrs Groves, of Knutsford, Cheshire, finally found her confidence when she shed six stone last year, but Mr Groves became convinced his hot wife would leave him for a younger man.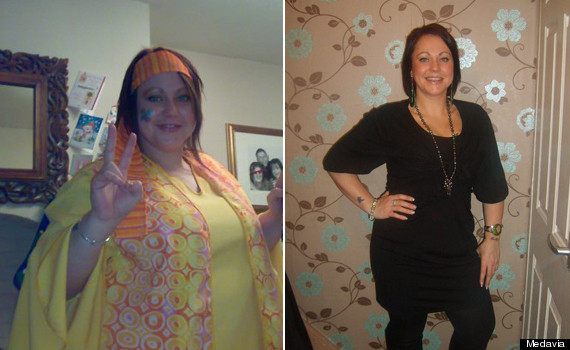 Teetering on the brink of divorce, Mrs Groves had to resort to extreme measures to prove to her husband she loved him - so last year she remarried him.
Mrs Groves, a kitchen-assistant, said: "My diet nearly ended in divorce - my husband was convinced I would leave him for a new man when I slimmed down. I knew I had to prove to him that I loved him, so we remarried last year and that convinced him that he is still the only one for me."
SEE ALSO:
This Amazing Fruit Is Packed With Gluten-Free Carbs And Protein
Mrs Groves struggled with her weight from a young age.
"I was always the biggest in my group of friends - even at primary school I stood out," she said.
"I was a slightly tubby size 14 when I first met Alan in a local pub and we instantly hit it off - by 2001 we were married and had the first of our three children on the way."
Shortly after giving birth to her youngest daughter, the mother of three weighed in at a whopping 17 stone.
On a typical day Mrs Groves lived on a calorific diet of junk food, crisps and chocolate bars.
Mrs Groves said: "I didn't really eat three meals a day, I just grazed. I'd eat everything I could at all hours of the day. Alan always said the right thing - he loved me whatever size I was, but I was so self-conscious.
"I couldn't bare to be touched by him, I hated the thought of him feeling all my fat through my clothes. The more I hated myself, the more I nagged Alan. I was certain he was going to leave me for someone else."
Story continues below the slideshow:
Celebrity Diet Advice We Want
"I've never counted calories. I go by how I feel," she said. "I still eat the same things. If there's a dessert and I really want to have it, I'll say I just have to work harder in the gym tomorrow."

"I came up with dance aerobic routines that we do a few times a week to a 45-minute playlist," she said. "They have funny names like the One-Night-Stand and the Ex-Boyfriend ... It's so much more fun than the alternative workouts my friends plan. They always ask me if I want to go for a hike. And I'm like: 'No, why would I do that when I've got TiVo?'"

"I don't own a scale, and [her ex-husband] banned the word fat from our house."

"When I indulge, I try to do it in the morning so I can burn it off. It's my responsibility to be healthy and, no, I'm not going to starve. I'm sorry -- I can't be full on salad."

"I don't care about being stick thin. I don't want stuff to jiggle. Really skinny actresses make me hungry. I see them and think, 'Honey, you need to eat!'"

"There's no regimen. There's no personal trainer. I love to go hiking because it's an experience. If I need to gain stamina for a tour, I will run every single night on the treadmill, but I don't necessarily like being at the gym."

"I absolutely adore Trader Joe's. I can get cookies and candies without hydrogenated oils and without artificial flavors/colorings."

"People are built the way they're built. And you know that Kate Moss quote, 'Nothing tastes as good as skinny feels'? I can name a lot of things that taste better than skinny feels. Potatoes! Bread! A Philly cheesesteak and fries!"

"I always try to sleep for at least eight hours a night and, of course, water, water, water! ... But occasionally I just have to have a Diet Coke -- there's nothing like it!"

"I do have a splurge day once a week when I can eat whatever I want." Her splurge? "Dark Chocolate Peanut M&Ms are kind of the best thing that's ever been made. And lemon cupcakes from Buttercup Bake Shop, near my house. I also love hot, melted cheesy sandwiches. And sweet-potato fries."

"I don't diet. There's going to be barbecue and macaroni and cheese -- but I'll have broccoli and salad the next day."

"Chocolate is not cheating! After a salty meal, you need a little bit of sweet. This is living, not cheating."

"I have no diet tricks, I have no 'I never eat carbs' or 'I never ... ' I eat a little bit, and as soon as I feel full, I stop. Then I don't eat again until I'm hungry."

"I like to stay fit and challenge myself. But I'm not going to try to be a certain size, or weigh a specific amount. I don't own a scale. My goal is to feel good and look healthy ... I'm always going to be the kind of person who treats myself."

"I have to admit that lately I've been on a roll with food -- eating whatever I want. Even when I'm being strict, though. I always treat myself to one meal on Sundays when I can have whatever I want. Usually it's pizza, which is my favorite indulgence."

The "Hot in Cleveland" star enjoys a hot dog and french fries for lunch ever day. And that's not her only indulgence; Betty snacks on Starbucks blueberry muffins when she arrives at work and makes a point of keeping her dressing room stocked with Red Vines.
Desperate to shift her belly, Mrs Groves signed up to a local slimming club in 2011. She finally lost six stone through diet and exercise.
She stuck to a strict diet eating Weetabix with semi-skimmed milk for breakfast, lean meat and vegetables for lunch and a pasta salad for dinner.
Mrs Groves stopped snacking between meals and shunned junk food in favour of fresh fruit and vegetables. She also started exercising, going to the gym for high intensity cardio classes three times a week.
"I was at the gym most days, and jogging on the others," said Mrs Groves.
"I've swapped comfort eating for exercise. The pounds were quickly dropping off and before long I was a slim 11 stone. It was the best I'd ever looked."
Finally proud to show off her slender figure, Mrs Groves started going out with friends more frequently.
But while she was on cloud nine, her marriage was entering a storm.
Mrs Groves said: "I was expecting Alan to be chuffed with his new hot wife, but if he was he certainly wasn't showing it. He always seemed to be spoiling for a fight, accusing me of fancying other people.
"Every time I went out he'd throw me a snide comment about what I was wearing, or how many times I'd been out that week. I knew we couldn't go on like that and I snapped, demanding to know what was going on in his head.
"That's when he admitted that after 12 years of living with a wife without any confidence, he was struggling to adjust to the new me. He was convinced I was looking for a new man to go with my new body. Our marriage was on the brink of collapse - I was devastated."
Mrs Groves decided to prove to her husband that, despite her new figure, she was still the same woman he married 13 years ago.
She asked him if he would marry her again.
Mrs Groves said: "It was a wonderful ceremony, we got married in a church in front of 60 friends and family.
"I was able to wear a proper wedding dress this time around - as at our first wedding I was too large."
Mr Groves, a handy man, said: "After she lost weight Lindsey started to go out more. She found a new group of friends who she loved to socialise with, meanwhile I would have to stay at home to look after the kids.
"She had a gorgeous new look and fresh confidence, so I did worry she'd meet another man. But when Lindsey asked me to marry her again, I realised that she wanted to show off the fact that we're still together and in love.
"When I saw her walk down the church aisle I was so proud to call her my wife. She looked beautiful, and I finally believed it was me she wanted."