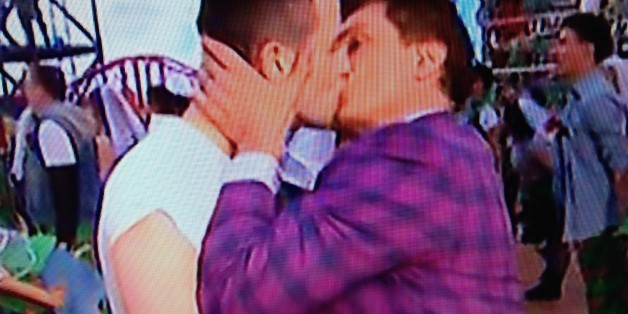 John Barrowman delivered a stunning rebuke to the 42 nations of the Commonwealth in which homosexuality remains illegal – by kissing a man during the opening ceremony of the Glasgow games.

The gay actor, who was born in Glasgow, sang "Welcome to Scotland" as part of the opening act with comedian Dunbar, the pair entering the stage from beneath a giant kilt. Barrowman then kissed a male "bride" at a mock Gretna Green before being whisked away on a sea of "heather".

Politicians have voiced their concerns over the plight of the LGBT communities across the Commonwealth leading up to the Games, with Deputy Prime Minister Nick Clegg telling campaigners in Glasgow that it was unacceptable that almost 80 per cent of the countries involved practise some form of LGBT discrimination.

"The Commonwealth core values and principles which all Commonwealth countries sign up to are clear. They say that 'We are committed to equality and respect for the protection and promotion of civil, political, economic, social and cultural rights'. Yet almost 42 out of 53 countries of Commonwealth countries that are represented here in Glasgow this week criminalise homosexuality in some way."

Clegg, who attended the opening ceremony, added: "We've come a long way in this country towards achieving the genuine equality that LGBT people have always wanted and deserved. This includes last year's landmark equal marriage reform. Yet there's still a huge amount to be done across the world.

"As we celebrate the bravery of Olympians who have come out - Tom Daley, Ian Thorpe or Nicola Adams for example – some countries are taking backward steps; putting their LGBT Olympians so far back in the closet that they can't ever imagine their day in the open. We can't dictate how other nations behave but we can promote the principles we believe in – of a fair and open society both in the UK and abroad."
Speaker of the House John Bercow also voiced his opposition ahead of the opening ceremony, calling for an end to the "shameful" criminalisation of homosexuality in the vast majority of the Commonwealth countries.
Did you know that it's illegal to be gay in 42 of 53 Commonwealth countries. #Glasgow2014 #2014Ceremony pic.twitter.com/wf4vRgwvzM

— Stonewall (@stonewalluk) July 23, 2014
Commonwealth Games Opening Ceremony
23/07/2014 23:44 BST
The Games are on
That was a truly impressive evening's entertainment and as Daley Thompson told Gary Lineker, whatever happens next "Scotland has already won". And he's right. If ever there was an opening ceremony that reflected 'The Friendly Games', Glasgow 2014 was the one. Let's hope the sport matches it.
23/07/2014 23:36 BST
The Queen
HRH declares the Games open to huge applause and of course, we have fireworks. Lots of fireworks
The Queen officially opens the Commonwealth Games https://t.co/4iYNcdpg9F

— Elliot Wagland (@elliotwagland) July 23, 2014
And Primal Scream.. yep, more great tunes.Let the party begin!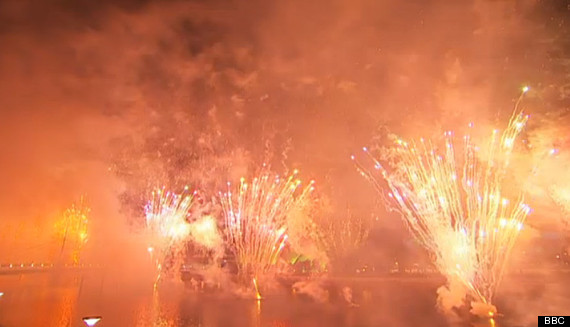 23/07/2014 23:32 BST
It's Chris again
Sir Chris Hoy is actually Scotland himself, isn't he. He's everywhere. And thankfully he's saved the day as he manages to get the Queen's message out of the baton which has been most of the way around the world and is stuck.
23/07/2014 23:25 BST
Rod's got his pants off
I never thought I'd be able to stand in the Celtic Board Room in front of the trophy case. . . with no pants. pic.twitter.com/FClLZZm0ke

— Rod Stewart (@rodstewart) July 23, 2014
23/07/2014 23:22 BST
Welcome to Scotland!
After which he welcomes all the athletes - and the world - to Scotland. Was that extra emphasis on 'Scotland'? We reckon so.. and why not!
23/07/2014 23:20 BST
Victims of flight MH17 honoured
First minister Alex Salmond calls for a minute's silence for all those who died in the Malaysian Airlines flight MH17 crash last week. Perfectly observed.
23/07/2014 23:18 BST
Billy Connolly and Nelson Mandela
The Big Yin talks about the city's relationship with Nelson Mandela and the fight against apartheid before introducing the song Freedom Come All Ye
23/07/2014 23:06 BST
And here are those astronauts
From space to Celtic Park, not bad at all!
23/07/2014 23:04 BST
Blimey, the Commonwealth reaches orbit
That's impressive. We've got a live message from the guys at the space station. No Space Oddity though, shame.
SUBSCRIBE TO & FOLLOW UK DAILY BRIEF