As disgusting as it is, we all know that when you go swimming there's a high chance that somebody's relieved themselves in the pool. Yack.
Now a new study has found that urine could be the least of your worries, as more harmful chemicals could be floating around in your local swimming haunt including insect repellant, caffeine and flame retardants.
All of these have the potential to be ingested by swimmers and pose a hazard to their health.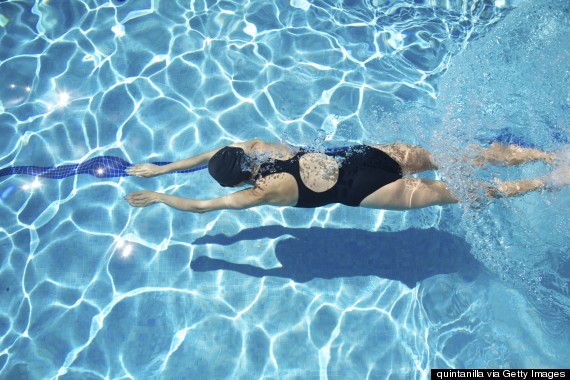 Previous research has shown that urine in pools can react with chlorine to create potentially hazardous chemicals.
Now, a study by Purdue University has revealed that chlorine could be reacting with body care products to create a similar effect.
Professor Ernest Blatchley from the Division of Environmental and Ecological Engineering said: "The motivation for examining pharmaceuticals and personal care products is that there is this unknown potential for them to bring about undesired or unexpected effects in an exposed population."
"There are literally thousands of chemicals from pharmaceuticals and personal care products that could be getting into swimming pool water."
Samples of water were taken from a variety of indoor swimming pools in the US.
Using a technique, which was developed by professor Ching-Hua Huang, of Georgia Institute of Technology, they were able to identify and quantify 32 pharmaceuticals and personal care products in water.
Out of the 32 chemicals investigated, researchers found that there were three which showed up more regularly.
These included Deet (which is found in insect repellants), caffeine and tri(2-chloroethyl)-phosphate (TCEP) - a type of flame retardant.
LIKE HUFFPOST UK LIFESTYLE ON FACEBOOK | FOLLOW US ON TWITTER | WE'RE ALSO ON INSTAGRAM
"Swimmers are exposed to chemicals through three different routes: You can inhale, you can ingest and it can go through your skin. So the exposure you receive in a swimming pool setting is potentially much more extensive than the exposure you would receive by just one route alone," Blatchley added:
He noted that he's unsure of what the consequences of this are for the human body.
The study is published in the journal Environmental Science and Technology Letters.
We don't know about you, but we're thinking it's time to ditch the swimming pool in favour of one of these...
11 Natural Swimming Spots Around The World
Cheapflights.com takes the first plunge in Mexico. Originally known as a cavernous sinkhole for Mayan human sacrifice to a rain god, Ik Kil in Cenote, Mexico, is recognized today as a must-do experience for visitors to the Yucatan Peninsula. The 130-foot-deep all-natural pit (formed by a cave collapsing), is a popular stopover for those traveling to the ancient Mayan city Chichen Itza. Travelers say it can get a bit crowded, so make it an early stop for the most serene dip.

Once again, Iceland defies its name with steamy waters in the popular Blue Lagoon, located in Grindavik, Iceland. The man-made Lagoon was created in the late 1970s, and is now composed of 1.5 million gallons of geothermal seawater from deep inside the Earth (yep, that's why it's so warm). The waters are thought to have a "healing quality," and are chock-full of minerals like silica and sulfur. Visitors can frolic in the water, or lounge in an on-site sauna or steam bath.

If you think Texas is just big hats and fancy boots, you're sorely mistaken. It's also home to some of the most beautiful swimming holes in the States -- and they get all the more popular during hot Texan summers. The Hamilton Pool (about 30 miles from Austin, Texas) is an impressive natural pool hidden away in a cavernous space. You'll see a 50-foot waterfall from Hamilton Creek above leading into the shaded waters.

There are plenty of places to laze on the beach and lounge poolside with a drink in your hand on the sunny islands of Jamaica, but don't miss the Blue Hole on the White River. Travelers like to pair a visit to the hole with a bus ride to Dunn Rivers Fall. For the adventurous: Take the plunge from the Tarzan Rope swing overhead into the more-than-30-foot hole. For scared-y cats: Floating in the waters while inching your way in is OK, too.

Join others in the 12-mile-long Little River Canyon, surrounded by cliffs and gigantic sandstone jump-off points jutting from the waters. Most of the water runs along the top of Lookout Mountain from northwestern Georgia to the river's end in Fort Payne, Ala., making it one of the longest mountaintop rivers in the U.S. Leap into the waters from one of three rope swings outside the hole.

Avoid the sweltering city heat and head into upstate New York. Just outside Ithaca, you can visit the Robert H. Treman Park and all the falls that come with it. While the main attraction may be the 115-foot Lucifer Waterfall, the lesser-known Enfield (or Lower) Falls is just as beautiful. Take a walk around the reservation and park to see about a dozen waterfalls in all before splashing in at the foot of Enfield Falls.

We're not sure anything truly magical happens when you enter the lakes and waterfalls of the so-called "fairy pools" on the Isle of Skye, but a visit to the blue- and pink-hued waters does conjure mental images of a storybook setting. You'll find these mystical pools underneath the Black Cullins, but swimmers, take note: the waters are known to be frigid.

Situated halfway between Nashville and Knoxville, this swimming hole is not for amateurs. Visitors will have to hike, wade and climb to get to the rope that walks you down to the water's edge. The waterfall reigns high above its visitors at 75 feet high. Though the hike is only 2.5 miles, the level of activity makes it one for adventure seekers.

Talk about stunning. Seven waterfalls, one on top of the other, give way to pools with easy access for swimming in western Thailand. On foot, it will take a little less than four hours to visit the entire site, named for Erawan, a three-headed white elephant featured in a Hindu legend. Take your time lounging in the waters that teem with fish, and venture to explore the accompanying caves.

Devil's Pool sits atop Victoria Falls. The natural swimming hole gives way to a 360-foot drop off. It's only "open" during the drier months of the year – May through October – when the water level of Victoria Falls is low enough for the pool to appear. From farther away, travelers can see the "Smoke that Thunders," the name given to the fall's cascading waters, which are the largest in the world. But not to worry, guides are on hand to ensure travelers' safety and you're encouraged to bring a (waterproof!) camera to document the plunge.

Cyprus Lake Grotto in Ontario is a stunning, turquoise-colored watering hole surrounded by a large cave. Hikers love it — it's by far the most popular attraction in Bruce Peninsula National Park, which sees thousands of visitors a year and spreads out over 60 miles. The cave was formed by waves breaking along the rock formation from nearby Georgian Bay over the course of time. In addition to swimming, try your hand at kayaking or visit another traveler favorite, Indian Head Cove.
[H/T Daily Mail]