The news is that Alan Rickman has got married in New York to his longtime partner Rima.
But never mind that - the bigger news is that the 'Harry Potter' star and his girlfriend had been together for 50 YEARS before they decided to tie the knot in the US city earlier this year.
The couple met when Alan was 19 and she was 18, and have lived together in London ever since.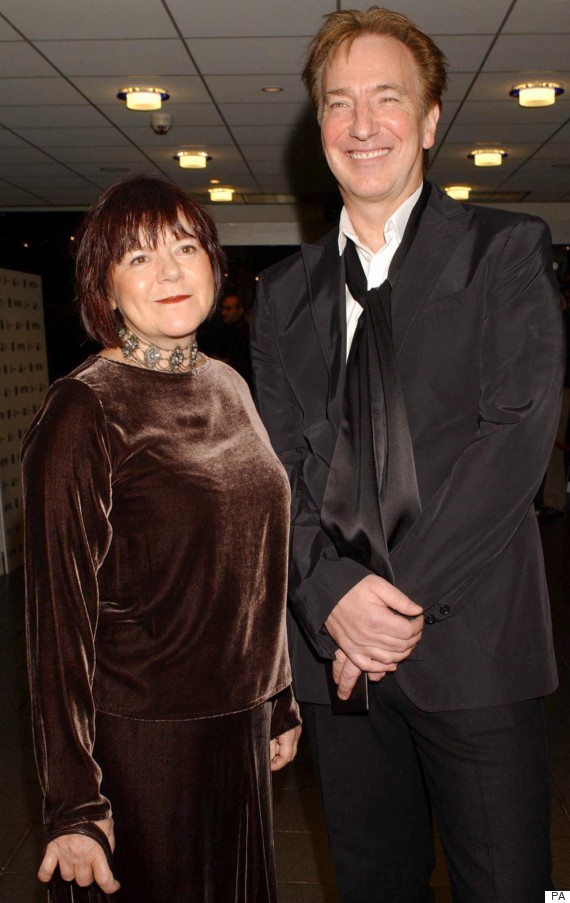 Alan Rickman and Rima Horton have been together for half a century, and secretly tied the knot
Alan, who recently directed 'A Little Chaos' starring Kate Winslet, revealed the secret nuptials in an interview with Germany's Bild newspaper, saying: "We are married. Just recently. It was great, because no one was there. After the wedding in New York we walked across the Brooklyn Bridge and ate Lunch."
And he revealed that he had spent 190 Euros on a wedding ring for Rima, even though "she never wears it".
Alan became a household name in the 1980s with his TV performance as Obadiah Slope in 'The Barchester Chronicles', before his performance as the villain in 'Die Hard' brought him to a global audience. Daniel Radcliffe, who played Harry Potter in all the eight films, credits growing up alongside the likes of actors like Alan Rickman for keeping him grounded throughout the years of Potter-mania.
Rima Horton is an active member of the Labour Party, and has served as a councillor in the London Borough of Kensington and Chelsea, and worked as an economics lecturer at Kingston-upon-Thames University.
Celebrity Couples Who Married In Secret
The latest additions to the 'Secret Wedding' club, Brad and Angelina finally tied the knot after nine years together in a secret ceremony in August 2014.

No one saw it coming when Cheryl broke the news that she and her French beau had tied the knot, uploading a picture of her brand new spangly wedding ring to her Instagram page in July 2014. The couple wed on the remote island of Mustique with just four guests in attendance, including both of their mums and Jean-Bernard's best man.

The reigning King and Queen of secret weddings, the most powerful - and private - couple in music tied the knot in 2008 with absolutely no fanfare, to the extent no one knew for ages they'd even done it.

Another private couple, Rachel and Daniel's New York was also attended by just four guests, including his daughter and her son, with virtually no other details about their wedding known.

After meeting on the set of the Green Day video 'Wake Me Up Before September Ends', this pair wed in a hush hush ceremony in October 2012, but ultimately announced their split in 2014.

Constantly referred to as Britain's answer to Kieran Hayler and Katie Price, no one would have thought that when this couple headed on "their holidays" to the Bahamas in 2013, that they'd come back married. They now have a son and a daughter together.

Ryan is no stranger to a secret wedding, having previously tied the knot with Scarlett Johansson in private. After they split, he and 'Gossip Girl' Blake Lively married with no fuss in September 2012.

No one even knew that this famously private couple were engaged when they married in 2010. They now have a three-year-old son and one-year-old daughter together.

After meeting on the set of Mariah's 'Bye Bye' music video, she and Nick Cannon announced in April 2008 that they had married at her private estate in the Bahamas, with no prior announcement about their nuptials. However, it's been recently reported that they are having marital difficulties, with Nick confirming to the press in August that they're living in separate houses.

Kate Winslet and Ned Rocknroll (born Ned Abel Smith, which is slightly less exciting) married in secret in 2012. But truthfully if we'd vowed to spend the rest of our lives with someone whose surname was literally 'Rocknroll' we're not sure we'd be shouting it from the rooftops either...

Having been engaged for four years, Megan and Brian finally married privately in Maui in 2010, going on to have two children together.

Just a month after revealing their engagement, Orlando married the Victoria's Secret model in July 2010. Sadly, three years later they revealed that they were no longer together, but continued to have a close relationship.

Although a source was insistent that her July 2013 split with George Clooney had nothing to do with wanting to get married, Stacey Keibler married her close friend Jared Pobre less than a year later, giving birth to their first child together in August 2014.

No one - including their wedding guests - had any idea that Britney and Kevin were planning to get hitched. The Kaballah ceremony reportedly saw the guests wearing custom-made valuer tracksuits and served mini cheeseburgers as a wedding feast. Surprisingly, with such a great start to their wedded bliss, it didn't work out for the pair. Shame.