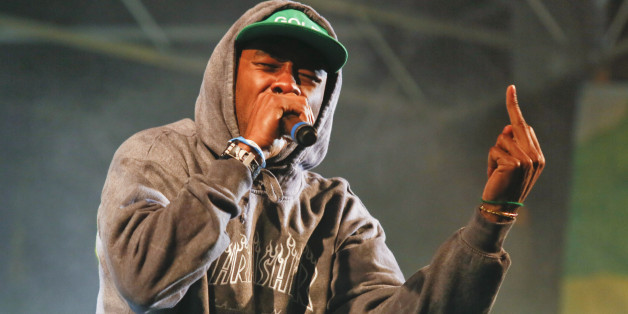 US rapper Tyler the Creator has been forced to cancel four dates, including Reading and Leeds festivals, after being banned from the UK for his violent lyrics.
His manager, Christian Clancy, said that they received a letter from the Home Office, which specifically cited lyrics that Tyler had written up to seven years ago.
Clancy posted on his Tumblr: "Highlights from the letter include that Tyler's work 'encourages violence and intolerance of homosexuality' and 'fosters hatred with views that seek to provoke others to terrorist acts.'"
BASED ON LYRICS FROM 2009 I AM NOT ALLOWED IN THE UK FOR 3-5 YEARS ( although i was there 8 weeks ago) THAT IS WHY THE SHOWS WERE CANCELLED.
THE CANCELING OF THE SHOWS ARE BEYOND MY CONTROL. AGAIN, IM NOT THE TYPE TO CANCEL SHOWS. ONLY WHEN ITS LEGIT NOT POSSIBLE, SORRY AGAIN =(
People are taking to Twitter to question Tyler's ban, with many referring to Eminem's use of violent lyrics. Eminem sold out two shows at Wembley Stadium last year, without the Home Office batting an eyelid.
For reference, here are seven of Eminem's most offensive lyrics...
Eminem's Most Violent Lyrics
The ever-outspoken Azealia Banks was quick to Tyler's defence, also stating that there are other artists whose lyrics could be deemed more offensive:
So if the UK is banning Tyler the creator for some old lyrics about harming women they should ban Eminem too?
Eminem has OLD ASS LYRICS that lean towards harming women.. So if they're bringing up old shit... They gotta bring out all the old shit
Oh yeah that's right... Eminem is white so he gets the courtesy of being forgiven in the public eye....
Tyler is just a nerd who is not going to harm anyone. I think banning him from the UK is very very unfair.
Society just needs to be consistent with its outrage.
However, not everyone thought that Tyler's ban was a bad thing...
Can we ban Tyler the Creator from the U.S. too? Is that possible?
Isn't the question here "why was a misogynist, homophobic rape apologist booked in the first place?" http://t.co/JXEgSvAisz
tyler the creator is a misogynist sexist homophobe who glorifies rape, murder and abuse against women in his raps
Fans' Favorite Eminem Lyrics
SUBSCRIBE TO & FOLLOW UK DAILY BRIEF