A revealing social experiment in Holland has judged people's responses to Christian Bible passages when they're presented as being part of the Quran.
In an effort to highlight the extent to which we generalise our perceptions of Islam whilst being ignorant to the extremities of Christianity, the duo behind viral Youtube channel Dit Is Normaal hid Old Testament passages in a book labelled "Holy Quran".
Sacha Harland and Alexander Spoor placed a false cover on a newly-purchased bible and read out some of the text's most extreme lines.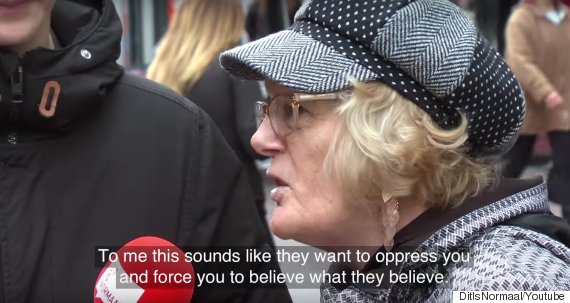 People reacted to Bible scripture presented as the Quran
SEE ALSO: #YouAintNoMuslimBruv Becomes Very British Response To Leytonstone Attack
"If two men sleep with each other they will both have to be killed," taken from Leviticus 20:13, provoked an especially fearsome reaction from those hearing the passages.
As well as Timothy 2:12's: "I do not allow a woman to teach" and Deuteronomy 25:12's "You shall cut off her hand."
"If you reject my commands and abhor my laws you will eat the flesh of your own sons... and the flesh of your own daughters," another passage read.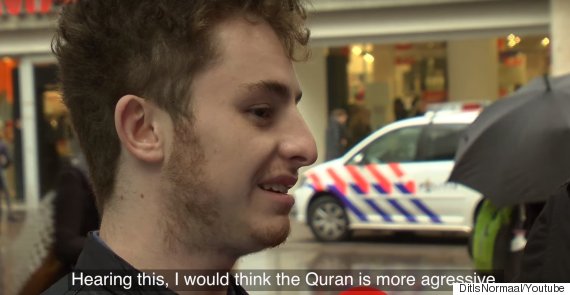 The revelation surprised people
Upon being told that the phrases came from the Christian Bible and not the Holy Quran, those taking part in the informal experiment reacted with surprise.
"It's all just prejudice really, I always try not to be prejudiced myself but apparently I already am," one man said.
While one woman reflected: "Of course I've heard Bible stories when I was young and I went to a Christian school, but I really had no idea this was in there."
Watch the video in full above.
Religion and Contemporary Art
Santella: "My sculptural work draws on the ritual woodcarving of medieval Europe, Africa and Pacific Northwest indigenous culture to explore modern dreams and nightmares. In adapting these forms to modern figures and concerns I want to challenge the viewer to see their daily decisions and trials in epic religious terms. I view creating intricate figures from storm downed trees and discarded materials as both an environmental statement and an act of resurrection."

Verwer: "My protest art installation "Tightrope," based on the concept of the eruv, was created in partnership with the local community to raise questions regarding the role of women in Judaism. "Israel" means "to wrestle with God"; my art reflects my daily engagement with my creator."

Bellucci: "Although my work is not 'about' religion, as such, it can have a decidedly religious aesthetic. For instance this particular piece could be reminiscent of a certain kind of religious souvenir, ex voto, or devotional object."

Lawrence: "Here Lawrence tests the pressure of Envy's penis with a sphygmomanometer on the altar, while two other performers kiss and cuddle and another does Yoga moves, all wearing Rastafarian motif socks as a part of his idealogy Ras-pan-Afro-Homo-Sapien. (Image: Daniel Talonia for Lawrence Graham-Brown experiments)

Hope: "This piece explores the influence of objects, images and creative processes on religious sensibility. It was done in collaboration with the Hebrew school students of Temple Adas Israel on Long Island, NY."

Hitchcock: "This image of the Lamentation of Christ, one of Christianity's darkest hours, is made from letters cut from the Koran. It expresses the urgent need to reach beyond our traditional concepts of religion, and embrace interfaith tolerance and compassion."

McBee: "By some accounts, the forefather Abraham returns to live out his life with the woman who gave birth to his first son, Ishmael. As depicted, she is the quintessential survivor of a troubled family. Determined, strong; she is a powerful Black Woman."