NEW YORK -- Barack Obama used his final State of the Union address on Tuesday to mock Americans that still deny climate change, while railing against the xenophobia peddled by Republican presidential candidate Donald Trump.
"If anybody still wants to dispute the science around climate change… you'll be pretty lonely," Obama told the joint session of Congress in Washington.
Looking towards the Republicans in the chamber, the president said climate change deniers are "debating our military, most of America's business leaders, the majority of the American people, almost the entire scientific community, and 200 nations around the world who agree it's a problem and intend to solve it."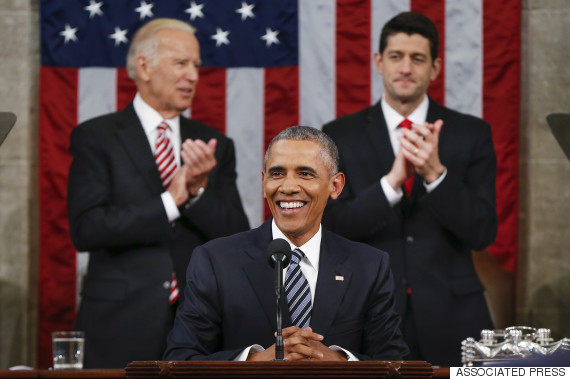 Vice President Joe Biden and House Speaker Paul Ryan applaud President Obama during the State of the Union address on Capitol Hill in Washington, Tuesday, Jan. 12, 2016
Talking about innovation, the president invoked the Cold War space race to highlight the opportunities for building a clean energy future. "Sixty years ago, when the Russians beat us into space, we didn't deny Sputnik was up there," he said. "We didn't argue about the science, or shrink our research and development budget. We built a space program almost overnight, and twelve years later, we were walking on the moon."
During his hour-long speech, Obama also repudiated those accusing his administration of being soft on terrorism. Using another term for the members of the Islamic State group, he warned: "ISIL will learn the same lessons as terrorists before them. If you doubt America's commitment -- or mine -- to see that justice is done, ask Osama bin Laden."
"Ask the leader of al Qaeda in Yemen, who was taken out last year, or the perpetrator of the Benghazi attacks, who sits in a prison cell," he added. "When you come after Americans, we go after you. It may take time, but we have long memories, and our reach has no limit."
"Just ask Osama bin Laden" #SOTU pic.twitter.com/GjRhXDdvjh

— Amanda Terkel (@aterkel) January 13, 2016
The address was made against the backdrop of the 2016 election race, and the spectre of Donald Trump's populist campaign. In a rebuke to the nativism preached by the New York property mogul, who in December called for Muslims to be banned from the US, Obama said voters must "reject any politics that targets people because of race or religion."
"When politicians insult Muslims, when a mosque is vandalised, or a kid bullied, that doesn't make us safer," he added. "That's not telling it like it is. It's just wrong. It diminishes us in the eyes of the world. It makes it harder to achieve our goals. And it betrays who we are as a country."
"As frustration grows, there will be voices urging us to fall back into our respective tribes, to scapegoat fellow citizens who don't look like us, or pray like us, or vote like we do or share the same background," Obama continued. "We can't afford to go down that path."
Trump responded to the speech with his standard dismissal:
The #SOTU speech is really boring, slow, lethargic - very hard to watch!

— Donald J. Trump (@realDonaldTrump) January 13, 2016
More surprising was the Republican Party's immediate response to the address, which this year was delivered by South Carolina Republican Governor Nikki Haley, widely tipped as a potential vice-presidential candidate.
Amid the standard rebukes of the president's message, Haley also gave an unsubtle admonishment to Trump. "During anxious times, it can be tempting to follow the siren call of the angriest voices," said the governor, who is the daughter of Indian immigrants. "We must resist that temptation. No one who is willing to work hard, abide by our laws, and love our traditions should ever feel unwelcome in this country."
.@nikkihaley: We must welcome vetted immigrants, regardless of "race or religion" #SOTU https://t.co/vvTu8OkbQ4 https://t.co/o28WUYt4eI

— CNN Politics (@CNNPolitics) January 13, 2016
For context, that's the Republican Party using their response to the president's address to lambast their own party's presidential frontrunner. Trump supporters responded swiftly and with bluster:
Trump should deport Nikki Haley.

— Ann Coulter (@AnnCoulter) January 13, 2016
The country is lit up w/ a populist fever & the GOP responds by digging in, criticizing the GOP candidates dominating polls?! NOT SMART.

— Laura Ingraham (@IngrahamAngle) January 13, 2016
Share +
Rep. Mario Diaz-Balart (R-Fla.) delivered a Spanish-language Republican response to the State of the Union address, and referenced a population others left out: undocumented immigrants.
Diaz-Balart's remarks were largely similar to South Carolina Gov. Nikki Haley's rebuttal -- including calls for inclusion of immigrants and other minorities. Haley talked about being the daughter of Indian immigrants; Diaz-Balart noted he is the son of Cuban exiles. Both said their stories are similar to those of many others who sought the American dream.
Both also said the U.S. needs to fix its immigration system. But Diaz-Balart, unlike Haley, specifically mentioned undocumented immigrants. He said the U.S. must find a humane way to address them, along with other immigration reform efforts. Diaz-Balart is a longtime supporter of immigration reform, including allowing certain undocumented immigrants who are already in the U.S. to stay.
""Es imprescindible que encontremos una solución legislativa para proteger a nuestra nación, defender nuestras fronteras, ofrecer una solución permanente y humana a los que viven en las sombras, respetar el Estado de Derecho, modernizar el sistema de visas, e impulsar la economía," he said.
Haley didn't talk about undocumented immigrants at all.
"We must fix our broken immigration system," she said. "That means stopping illegal immigration. And it means welcoming properly vetted legal immigrants, regardless of their race or religion. Just like we have for centuries."
Check out Diaz-Balart's full remarks in Spanish here.
-- Elise Foley