NEW YORK -- Barack Obama used his final State of the Union address on Tuesday to mock Americans that still deny climate change, while railing against the xenophobia peddled by Republican presidential candidate Donald Trump.
"If anybody still wants to dispute the science around climate change… you'll be pretty lonely," Obama told the joint session of Congress in Washington.
Looking towards the Republicans in the chamber, the president said climate change deniers are "debating our military, most of America's business leaders, the majority of the American people, almost the entire scientific community, and 200 nations around the world who agree it's a problem and intend to solve it."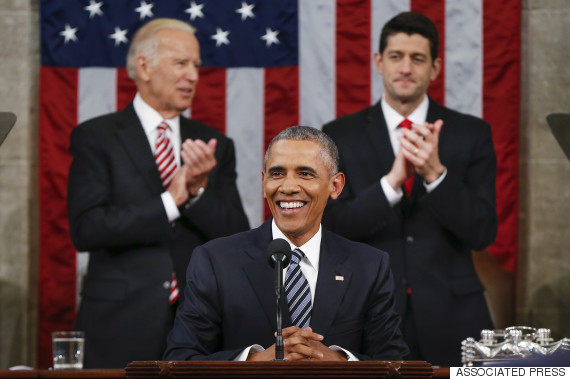 Vice President Joe Biden and House Speaker Paul Ryan applaud President Obama during the State of the Union address on Capitol Hill in Washington, Tuesday, Jan. 12, 2016
Talking about innovation, the president invoked the Cold War space race to highlight the opportunities for building a clean energy future. "Sixty years ago, when the Russians beat us into space, we didn't deny Sputnik was up there," he said. "We didn't argue about the science, or shrink our research and development budget. We built a space program almost overnight, and twelve years later, we were walking on the moon."
During his hour-long speech, Obama also repudiated those accusing his administration of being soft on terrorism. Using another term for the members of the Islamic State group, he warned: "ISIL will learn the same lessons as terrorists before them. If you doubt America's commitment -- or mine -- to see that justice is done, ask Osama bin Laden."
"Ask the leader of al Qaeda in Yemen, who was taken out last year, or the perpetrator of the Benghazi attacks, who sits in a prison cell," he added. "When you come after Americans, we go after you. It may take time, but we have long memories, and our reach has no limit."
"Just ask Osama bin Laden" #SOTU pic.twitter.com/GjRhXDdvjh

— Amanda Terkel (@aterkel) January 13, 2016
The address was made against the backdrop of the 2016 election race, and the spectre of Donald Trump's populist campaign. In a rebuke to the nativism preached by the New York property mogul, who in December called for Muslims to be banned from the US, Obama said voters must "reject any politics that targets people because of race or religion."
"When politicians insult Muslims, when a mosque is vandalised, or a kid bullied, that doesn't make us safer," he added. "That's not telling it like it is. It's just wrong. It diminishes us in the eyes of the world. It makes it harder to achieve our goals. And it betrays who we are as a country."
"As frustration grows, there will be voices urging us to fall back into our respective tribes, to scapegoat fellow citizens who don't look like us, or pray like us, or vote like we do or share the same background," Obama continued. "We can't afford to go down that path."
Trump responded to the speech with his standard dismissal:
The #SOTU speech is really boring, slow, lethargic - very hard to watch!

— Donald J. Trump (@realDonaldTrump) January 13, 2016
More surprising was the Republican Party's immediate response to the address, which this year was delivered by South Carolina Republican Governor Nikki Haley, widely tipped as a potential vice-presidential candidate.
Amid the standard rebukes of the president's message, Haley also gave an unsubtle admonishment to Trump. "During anxious times, it can be tempting to follow the siren call of the angriest voices," said the governor, who is the daughter of Indian immigrants. "We must resist that temptation. No one who is willing to work hard, abide by our laws, and love our traditions should ever feel unwelcome in this country."
.@nikkihaley: We must welcome vetted immigrants, regardless of "race or religion" #SOTU https://t.co/vvTu8OkbQ4 https://t.co/o28WUYt4eI

— CNN Politics (@CNNPolitics) January 13, 2016
For context, that's the Republican Party using their response to the president's address to lambast their own party's presidential frontrunner. Trump supporters responded swiftly and with bluster:
Trump should deport Nikki Haley.

— Ann Coulter (@AnnCoulter) January 13, 2016
The country is lit up w/ a populist fever & the GOP responds by digging in, criticizing the GOP candidates dominating polls?! NOT SMART.

— Laura Ingraham (@IngrahamAngle) January 13, 2016
01/12/2016 11:24 PM EST
2016 GOP Candidates Really Didn't Like Obama's Speech
HuffPost's Igor Bobic reports:
Republican presidential hopefuls responded to President Barack Obama's final State of the Union address Tuesday with objections to just about everything: from his policy proposals at home and abroad to his record in office and even the length of time the president spoke.

But most of all, the men and woman who hope to succeed him in the White House in 2017 were grateful he would soon be vacating it.
01/12/2016 11:07 PM EST
Obama Calls For Realistic Conversation About ISIS Threat
HuffPost's Jessica Schulberg reports:
WASHINGTON -- In his first joint address to Congress in 2009, President Barack Obama pledged to responsibly end the Iraq War. Seven years later, the president finds himself on the verge of passing another war in Iraq to his successor as his critics accuse him of overseeing a decline in American leadership in the Middle East that could lead to global instability.

In his final State of the Union address on Tuesday, Obama sought to appropriately convey the threat posed by the Islamic State group in Iraq and Syria.
01/12/2016 11:01 PM EST
GOP's Spanish-Language Rebuttal Was A Little Different Than The English One On Immigration
Rep. Mario Diaz-Balart (R-Fla.) delivered a Spanish-language Republican response to the State of the Union address, and referenced a population others left out: undocumented immigrants.
Diaz-Balart's remarks were largely similar to South Carolina Gov. Nikki Haley's rebuttal -- including calls for inclusion of immigrants and other minorities. Haley talked about being the daughter of Indian immigrants; Diaz-Balart noted he is the son of Cuban exiles. Both said their stories are similar to those of many others who sought the American dream.
Both also said the U.S. needs to fix its immigration system. But Diaz-Balart, unlike Haley, specifically mentioned undocumented immigrants. He said the U.S. must find a humane way to address them, along with other immigration reform efforts. Diaz-Balart is a longtime supporter of immigration reform, including allowing certain undocumented immigrants who are already in the U.S. to stay.
""Es imprescindible que encontremos una solución legislativa para proteger a nuestra nación, defender nuestras fronteras, ofrecer una solución permanente y humana a los que viven en las sombras, respetar el Estado de Derecho, modernizar el sistema de visas, e impulsar la economía," he said.
Haley didn't talk about undocumented immigrants at all.
"We must fix our broken immigration system," she said. "That means stopping illegal immigration. And it means welcoming properly vetted legal immigrants, regardless of their race or religion. Just like we have for centuries."
Check out Diaz-Balart's full remarks in Spanish here.
-- Elise Foley
01/12/2016 10:33 PM EST
After Address, Obama Gets A Little Nostalgic
Even though he's the leader of the free world, President Barack Obama isn't above a bit of nostalgia.
Just before he exited the House chamber after delivering his address, he paused one final time, turned to face the House floor and said that he wanted to take the scene in.
"Let me look at this thing one last time, I always like to take it in," he said. "It's kinda cool."
-- Sam Levine
01/12/2016 10:20 PM EST
Obama Emphasizes Malaria In State of the Union, But Not This Way Deadlier Disease
President Barack Obama highlighted the ability of the U.S. to stop malaria and HIV/AIDS, but left out tuberculosis, less than a month after proposing an ambitious White House plan to combat the world's top infectious killer.
The president on Tuesday promised to help African countries to "stop the next pandemic before it reaches our shores," but failed to mention tuberculosis at all in his speech.
-- Lauren Weber
01/12/2016 10:18 PM EST
Bernie Weighs In
"It was a very good speech" @SenSanders tells HuffPost in an extensive interview. (That was all of it, basically)

— Ryan Grim (@ryangrim) January 13, 2016
01/12/2016 10:12 PM EST
Who Runs The World?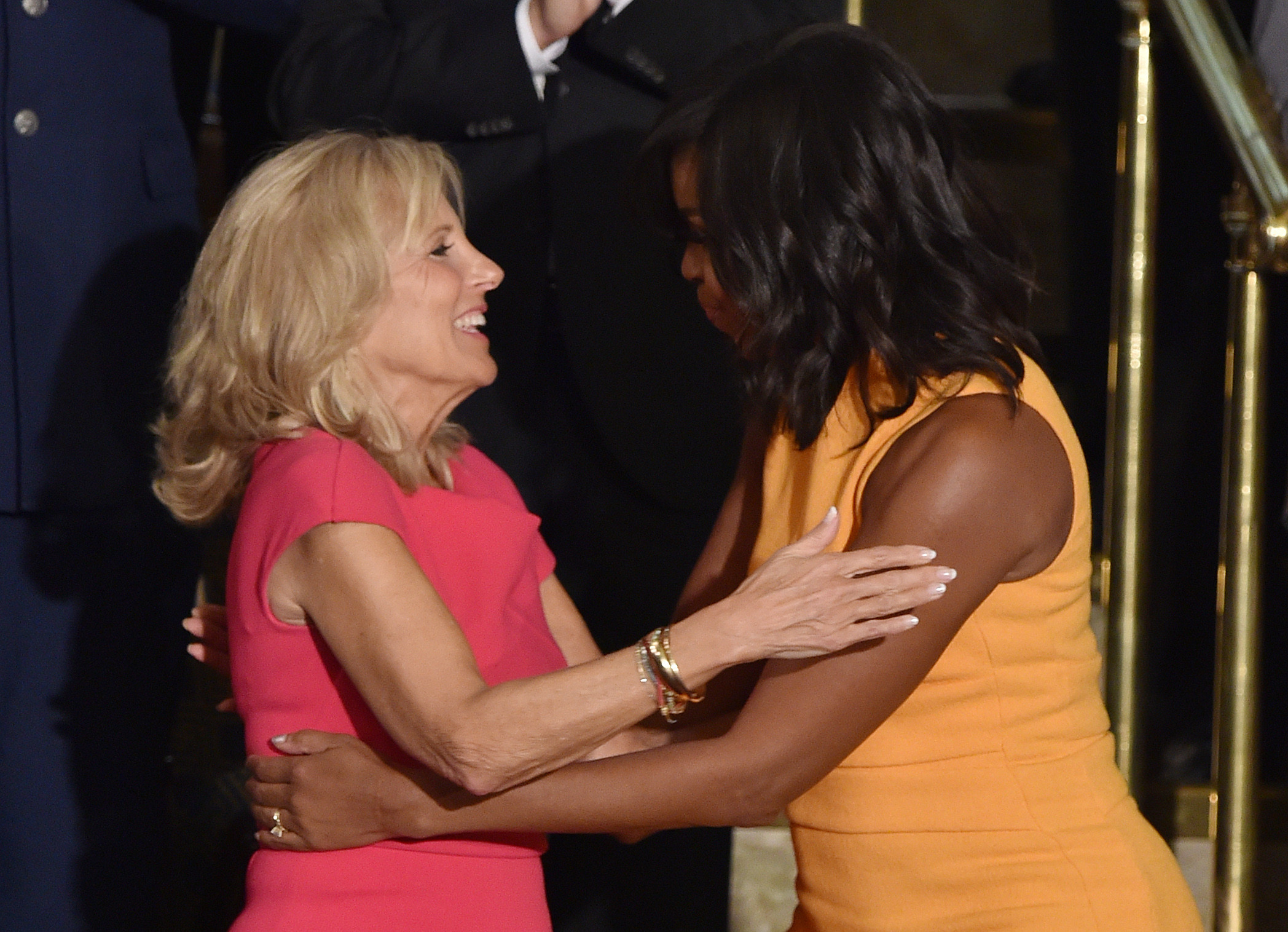 First Lady Michelle Obama hugs Jill Biden, wife of Vice President Joe Biden, before the arrival of President Barack Obama for the State of the Union at the U.S. Capitol in Washington, D.C., on January 12, 2016. (NICHOLAS KAMM/AFP/Getty Images)
01/12/2016 10:10 PM EST
Yes, Obama And Paul Ryan Could Actually Partner On Anti-Poverty Legislation
President Barack Obama said Tuesday he was determined to find ways of working with Republicans. And while he acknowledged that common ground has been hard to find during his presidency, he did pinpoint one area with genuine potential for bipartisanship.
Ironically, it would involve a Republican that many consider Obama's ideological antithesis: House Speaker Paul Ryan (R-Wis.).
The idea is to expand the Earned Income Tax Credit, an anti-poverty program that dates back to the 1970s. It basically adds as a wage booster, giving extra money to people who work and file tax returns. ​The value of the tax credit falls as income rises, eventually phasing out altogether.​ The idea is to help people in very low-income jobs -- think parking lot attendants, food servers, custodians and warehouse workers -- make enough money to cover basic expenses.
It's a "refundable" credit, which means that people get the value of the tax credit even if it's greater than how much they pay in income taxes -- or if they pay no income taxes at all.
Many experts consider the EITC a model program. Studies have shown it encourages people to work, because it makes work more rewarding. According to the Center on Budget and Policy Priorities, the EITC lifted 6.2 million people out of poverty in 2013. More than half of them were children.
But the EITC has a major gap. It provides little benefit to childless workers -- and no benefits at all to workers under 25 -- even though members of both groups frequently need the help.
Obama has proposed changing that, by allowing younger workers to claim the credit, and changing the formula so it's more generous for childless workers.
Ryan has also proposed changing the EITC, in almost the exact same way.
Like any such initiative, the sticking point would probably be financing. Giving money to low-income workers means taking money out of the federal Treasury. That money has to come from somewhere.
But as with any such proposal, it could be scaled up or down. And if there's one area in which the two parties sometimes find agreement these days, it's on tax breaks.
-- Jonathan Cohn
01/12/2016 10:07 PM EST
Obama Once Again Pledges Effort To Shut Down Gitmo
President Barack Obama said once again that he'd work to shut down the military detention facility at Guantanamo Bay, calling it expensive and unnecessary and saying it "only serves as a recruitment brochure for our enemies."
The number of detainees left in Guantanamo will likely drop to below 100 before the end of the month. Military officials were reportedly planning on transferring 10 detainees this week.
The Obama administration is set to present an overdue plan to Congress on how to shut down the detention facility. Last month, the president wouldn't rule out taking executive action to close it.
-- Ryan J. Reilly
SUBSCRIBE TO & FOLLOW UK POLITICS