Tina Hobley has been forced to pull out of 'The Jump', after sustaining a serious injury while training for this week's show.
READ MORE:
The 'Holby City' actress was practising on a ski jump when she suffered a fall, dislocating her elbow.
Her fall is said to have been caused when crew members failed to vacate the area where she was practising, causing her to get distracted.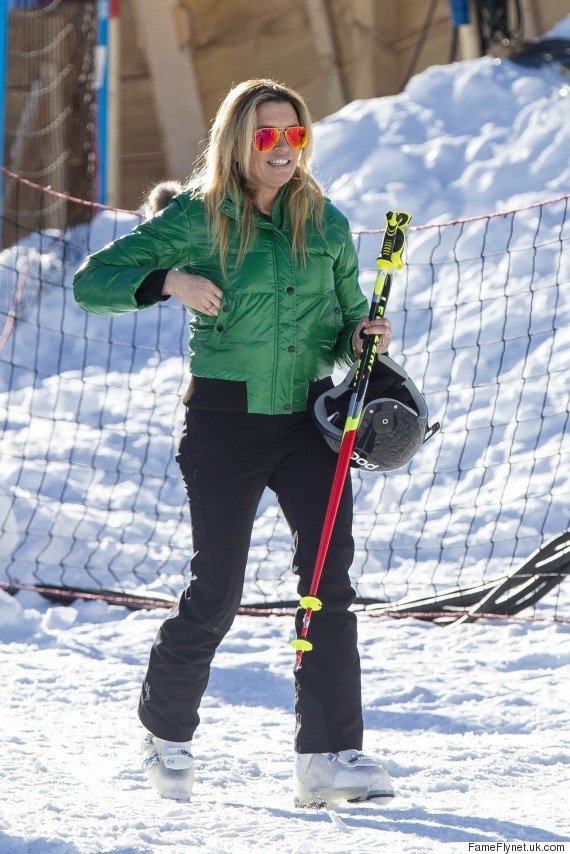 Tina Hobley in training
Channel 4 have since issued an apology for the error.
They said in a statement: "Tina's fall was caused by simple human error when members of the ground crew failed to clear the outrun. All those involved have been spoken to and extra procedures have now been put in place by the producers to ensure that this will not happen again.
"We're very sorry to lose Tina from the competition and wish her a very speedy recovery."
Speaking to The Mirror, Tina admitted she felt "frustrated" that her departure wasn't strictly her own fault, but says she hopes to return for next year's series.
She explained: "I am in a lot of pain and I'm very upset to be leaving in these circumstances. This fall wasn't my fault and as I was doing so well in the competition it's very frustrating.
"I've been invited back to compete next year and I really hope I can."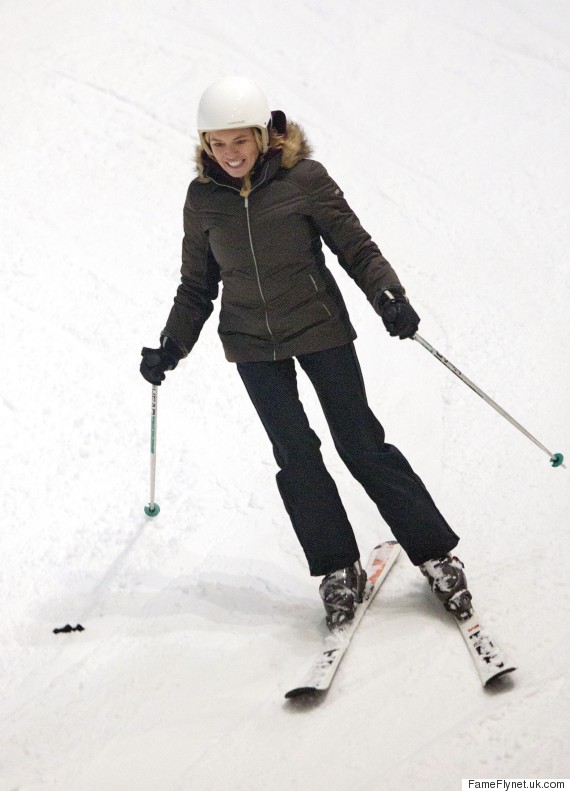 Tina on the slopes
Tina is now the first contestant to withdraw from the current series, though several other stars have been injured during the training process, including Rebecca Adlington, who took part in last week's show, despite suffering a dislocated shoulder during training.
Last year, Ola Jordan and Sally Bercow were both forced to pull out of the show before it had even begun filming, eventually being replaced by Chloe Madeley and Jodie Kidd.
This year, The Wanted singer Tom Parker and 'Hollyoaks' actress Gemma Merna were revealed to be on standby in case a contestant withdrew, though it's not yet known if either of them will replace Tina.
She lasted right till the end first time around, but at her second crack of the 'I'm A Celeb' whip, the Bushtucker Trials proved too much for Katie, who had returned to the jungle to get "closure" after splitting from Peter Andre.

Why anyone would want to spend less time with Jackie Stallone is beyond us, but when Sly's mum arrived in the house it pushed Germaine to walk out, in solidarity with her housemate, Brigitte Nielsen, who had previously been married to Jackie's famous son.

Gemma lasted just three days in the jungle, before telling her campmates she "loved herself too much" to put herself through the ordeal of being in the jungle.

However, if Gemma Collins thought she was the 'I'm A Celeb' campmate with the shortest ever stay in the series then she's wrong - Elaine Lordan lasted a matter of hours before fainting, and deciding not to return to the jungle.

After upsetting Nadia Almada with his transphobic comments, a 'mutual agreement' (*cough*) was made between Coolio and Big Brother that he should leave the house.

Jade Goody and Jackiey Budden's arrival in the 'CBB' house prompted the Towers of London frontman to scale a wall and remove himself from the show after just a few short days, claiming: "I'm not waiting hand on foot, on some f***ing moron and her family."

Days later, clearly inspired by Donny's act of rebellion, disco star Leo Sayer kicked off big-time and kicked open a fire escape before getting into a scrap with security because he didn't have any clean pants left, and Big Brother refused to supply him with any more. It later transpired he had spare underwear in his luggage.

Vincent walked away from the 'Celebrity Apprentice' in its fifth week, because he'd had enough of being near Piers Morgan. Enough said, really.

Lee lasted just three days on 'Hell's Kitchen', but walked away after objecting to Marco Pierre White's use of the offensive term 'pikey'.

After calling viewers a bunch of "f***ing c***s" live on air, the former Sex Pistols singer left 'I'm A Celeb' after 11 days in the jungle, claiming producers refused to tell him whether his wife had landed safely in Australia, and following several disagreements with Katie Price.

Long before the days of 'The Big Reunion' was 'Totally Boyband', an MTV series that tried to make an ultimate boyband out of former 90s stars. He walked away from the group after falling out with the other members of the band, including Dane Bowers and S Club 7's Bradley McIntosh.

Anne was criticised by her fellow 'Celebrity Fit Club' teammates after it emerged she had had a gastric band fitted. She later chose to leave the series, after being branded a "cheat" by fellow weight-loss competitor Carole Malone.

Let's face it, John Sergeant is a very impressive man, but he can not dance. We knew it, the judges knew it and even he knew it. That didn't stop the public voting for him week after week, until he eventually decided to leave of his own accord... but not before dragging Kristina Rihanoff along the floor behind him.

Poor old Ches never even got to the first week of 'Dancing On Ice', after an ankle injury left him unable to participate. You might say his good ankle was 'the one and only' functioning ankle he had left. Or... you might not.

This serious knee injury during a judo competition forced Sporty Spice to pull out of 'The Games'.

Claiming she was homesick and missed her kids, a tearful Danniella walked out of the 'I'm A Celeb' jungle, after hoping she would have been voted out in the first elimination.

Who'd have thought that sitting round the jungle with Gillian McKeith and Aggro Santos wouldn't be Nigel Havers' cup of tea, eh?

After Jade Goody and Rik Waller got into a massive row (ah, the early 2000s), Uri walked out for good, meaning he never got to see Ricardo's iconic smashing-up of the house kitchen.

The Boyzone singer was one of the stars of the second series of 'Celebrity Love Island' (which, by that time, had been renamed just 'Love Island'), delivering this bizarre speech where he revealed his heart "belonged to someone on the outside".

Gareth Thomas had been doing brilliantly in 2013's series of 'Dancing On Ice', until he was hit with a bout of motion sickness while performing a 'flying' routine and was advised to bow out of the contest.

After winning her series of 'Big Brother', Josie was invited to stay for 'Ultimate Big Brother', but grew upset by the celeb egos she was joined by. In a tearful Diary Room chat, she said "I'm not a celebrity... I'm just normal". She was obviously intimidated by being in the house with A-listers like John McCririck, Preston from The Ordinary Boys and Makosi. She later made a break for it so she could get a snog from John-James, although if we had a David Beckham lookalike waiting for us on the outside, we'd probably have done the same.