But many will question the London mayor's motives given that he has repeatedly expressed support for remaining part of the union and rejecting "Brexit".
Even before his announcement at an impromptu press conference this afternoon, some made clear they thought he was not a true believer - including Tory MP Nicholas Soames, the grandson of Winston Churchill.
Whatever my great friend Boris decides to do I know that he is NOT an outer .
On more than one occasion, Tory MP Johnson, whose move many think will put him in pole position to succeed David Cameron as party leader, has said he supports staying in, and warned against the negative impacts of coming out.
"The trouble is, I am not an 'outer'."
Reports had suggested he was poised to lead the eurosceptic campaign, but not only did he meet them to say he did not want to be the frontman, he went even further. It was reported: "It is understood he said: "The trouble is, I am not an 'outer'."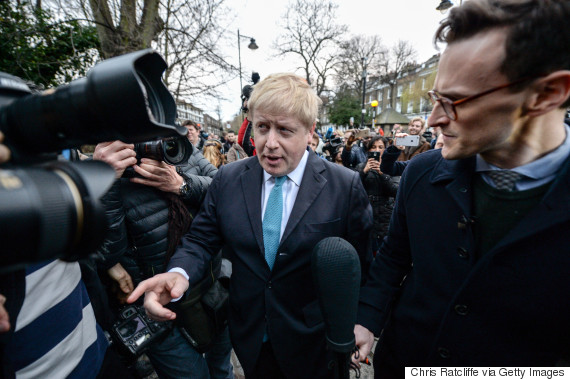 Boris Johnson announces that he will be backing the 'Leave EU' campaign whilst speaking to the press outside his London home
"I would be well up for trying to make the positive case."
Leaving "would cause at least some business uncertainty"
Here's the quote, from his Daily Telegraph column just two weeks ago, in full.
"It is also true that the single market is of considerable value to many UK companies and consumers, and that leaving would cause at least some business uncertainty, while embroiling the Government for several years in a fiddly process of negotiating new arrangements, so diverting energy from the real problems of this country – low skills, low social mobility, low investment etc – that have nothing to do with Europe."
The UK would "face some penalties"
He admitted Britain was at risk of losing influence and would "face some penalties", telling the German Der Spiegel newspaper of "several disadvantages": "First, we wouldn't be able to stick up for what we believe in. Secondly, we would face some penalties."
It "is in Britain's geo-strategic interests" to remain
He has argued the choice is "really quite simple": "In favour of staying, it is in Britain's geo-strategic interests to be pretty intimately engaged in the doings of a continent that has a grim 20th-century history, and whose agonies have caused millions of Britons to lose their lives."
SEE ALSO:
A source from the "remain" campaign to stay in said: "This is the most nakedly self-serving piece of political positioning in years.

"Everybody in Westminster knows that Boris doesn't really believe in Out. He's putting his personal ambition before the national interest.

"It says a lot about Boris's priorities that his last act as Mayor of London is to betray this great city by turning his back on the needs of the City of London and the views of the majority of Londoners."
Lord Heseltine, the former Tory deputy Prime Minister, said: "Given that Boris has spent so long agonising over this decision his decision is illogical.
"If it takes you this long to make up your mind about something so fundamental and you still have questions, then surely the right option is to stay with what you know rather than risk our economy and security with a leap in the dark.
"If he were to be successful in his ambition to cut us off from Europe, the flags would fly in Frankfurt and Paris in his honour.
"At a stroke, he would have blown away the safeguards for our financial services industry that the Prime Minister has just secured.
"That is to risk countless jobs across our country from Edinburgh in the north to Bournemouth in the south and, of course, London itself."
SUBSCRIBE TO & FOLLOW UK POLITICS