Tony Blackburn says he has been sacked by the BBC over his evidence to the Jimmy Savile sex abuse review.
The veteran DJ has pledged to take legal action against the corporation, which he claims is making him a "scapegoat" for the "cover-up" of abuse of an under-age girl.
His shock departure comes ahead of the publication on Thursday of a report into the BBC's culture and practices during the years Jimmy Savile and fellow shamed presenter Stuart Hall worked at the corporation by former Court of Appeal judge Dame Janet Smith.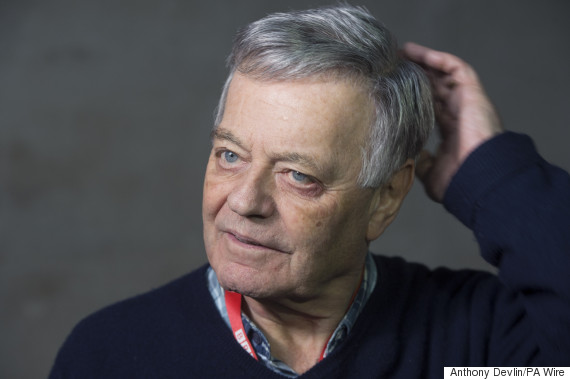 Veteran DJ, Tony Blackburn, 73
Blackburn, 73, claims that "all relationships" he had with the BBC were "terminated with immediate effect" this week because his evidence to the review over an investigation in 1971 contradicts the BBC's version of events in relation to an allegation of assault by the mother of a 15-year-old who later committed suicide.
He says he was never interviewed over the incident but claims the BBC says he was interviewed twice, reports Press Association.
In a statement he said: "Sadly what is happening to me now seems to be entirely in keeping with the past BBC culture of whitewash and cover-up.
"Naturally, I am now left with no choice but to take legal action against the BBC. They have taken away a career I love and I will not allow them to destroy my reputation."
Listings for Blackburn's two upcoming BBC Radio London shows on the BBC website say that fellow DJs Jaki Graham and Lemar will be sitting in for him.
Information for his scheduled Radio 2 vintage chart Pick Of The Pops still states he will be presenting.
The BBC declined to comment.
Blackburn's full statement reads: "This week, two days before the publication of the Dame Janet Smith Report , the BBC informed me that all relationships I had with them were being terminated with immediate effect.
"I am told that the decision was taken, personally, by the Director General. Quite naturally, I am devastated.
"The reasons for the BBC taking this decision are that my evidence to Dame Janet Smith shows, I believe, that a cover up took place - one that I had no knowledge of.
"This goes against what the BBC believe.
Story continues after slideshow...
Jimmy Savile Abuse Timeline
Jimmy Savile in 1961 around the time he was working for Radio Luxembourg. He is at London Airport with Pan American stewardess Birgit Johansson with two gold discs; one is for American singer Elvis Presley for having sold one million copies of "It's Now or Never" in the UK, and the other is for Presley's manager, Colonel Tom Parker

Cilla Black and Jimmy Savile before a Variety Club Luncheon at the Savoy Hotel. Taken in 1964, the year Savile became the first presenter of Top of the Pops

Two women have come forward with allegations from the 1960s, one who was 14 and another who was a teenager when she claims Savile sexually abused her in Scarborough

Savile in 1969 with Physically Handicapped and Able-Bodied (PHAB) member Erika Mentz from Germany and other PHAB members at a dance at Devonshire House

1969 also saw Savile begin volunteering at the Stoke Mandeville Hospital for specialist spinal injuries. He would later be given a room there

Jimmy Savile presenting a cheque to children on behalf of the NSPCC in 1969

The 1970s saw Savile start volunteering at Leeds General Infirmary and...

... Broadmoor secure high-security psychiatric hospital. Allegations by former patients have been made against Savile although ex-workers have disputed the idea that he could have been left alone with anyone whilst working there

The 70s also saw the start of Jim'll Fix It. Allegations from this period include Caroline Moore, a 13-year-old patient at Stoke Mandeville hospital in 1971, who says Savile "rammed his tongue" down her throat and another allegation accuses Savile of molesting a brain-damaged teenage patient at Leeds General Infirmary in 1972

The 1980s saw the continuation of Top of the Pops and Jim'll Fix It as Savile became a much loved household name. Two allegations relating to this time include one from a then-15-year-old girl (not pictured) who made a complaint of abuse by Savile in Lancashire. Pictured is 12-year-old Rebecca Heap

Savile at the Stoke Mandeville hospital with injured children from Beirut in 1987

Savile was knighted in 1990 and continued his charity work throughout the decade

Savile was questioned in 2007 by police about allegations of sexual abuse but the Crown Prosecution service says there is not enough evidence to warrant a prosecution

A 2008 police report into abuse at the Haut de Garenne children's home in Jersey names Savile, although this is never made public

Savile re-united with his Jim'll Fix It chair in 2009. The previous year Sussex police received a complaint of sexual assault but went on to say the victim was "unwilling to co-operate in any investigation"

Jimmy Savile is found dead at the age of 84 in October 2011. He is buried in Scarborough

In December 2011 the BBC drop an investigation by Newsnight into the allegations of sexual abuse by Jimmy Savile. Three tribute programmes are aired instead

ITV airs a documentary, 'Exposure, the Other Side of Jimmy Savile', in which a number of women claim they were abused by Savile as youngsters, including Karin Ward (pictured)

Within days of the documentary, many more allegations surface. By the 9 October Peter Spindler of the Metropolitan Police tells the BBC: "It is quite clear from what women are telling us that Savile was a predatory sex offender"

11 October 2012 and George Entwistle, Director General of the BBC, asks journalists why the Newsnight programme was dropped as police from Tayside, Greater Manchester, Lancashire and North Yorkshire police say they are investigating allegations going back to 1959

12 October and police reveal they have 340 potential lines of inquiry

15 October sees a man come forward alleging that Savile abused him when he was a nine-year-old boyscout

Savile's family removed his headstone from his grave and broke it up in the wake of the furore

A transgender man comes forward alleging that Jimmy Savile 'stuck his hand up his nightdress' while he was a 17-year-old teenage girl at Broadmoor in the 1970's. More here http://www.huffingtonpost.co.uk/2012/10/15/jimmy-savile-timeline-abuse-allegations_n_1966426.html?1350304573#slide=1641388
"In 1971 allegations were made by the mother of a 15 year old girl whose diary apparently contained suggestions that she had been seduced by celebrities including me.
"I am told that the mother told the BBC, a few weeks after her initial complaint, that her daughter had withdrawn the allegation against me.
"I have never seen the diary and neither has anyone at the BBC or the Dame Janet Review.
"That same year this seemingly troubled teenager, tragically took her own life.
"Dame Janet's report makes no suggestion that I was guilty 45 years ago of any misconduct whatsoever with this girl.
"Nor did a Coroner's inquest into her death or a subsequent police inquiry. The BBC have made clear that they are not terminating my relationship with them because of any misconduct.
"They are destroying my career and reputation because my version of events does not tally with theirs.
"I was not guilty of any inappropriate conduct; my lawyers will take immediate action against anyone suggesting that I was.
"According to BBC records seen by Dame Janet, I was allegedly interviewed about the girls' diary before her death in 1971 by a very senior figure at the BBC, Bill Cotton Jr.
"I was also, supposedly, interviewed by Brian Neill QC as part of his report in to the Payola scandal at the BBC.
"I have repeatedly told Dame Janet and the BBC I was never interviewed by either man in this context and the BBC records are either very vague or have, conveniently, disappeared.
"Regardless of these facts, the BBC is axing me after five decades of broadcasting.
"Sadly what is happening to me now seems to be entirely in keeping with the past BBC culture of whitewash and cover-up.
"In 1967, I proudly opened Radio 1 for the BBC.
"Over the past 49 years I have enjoyed my time working for them immensely and I am grateful to my millions of listeners for their continued support over the decades.
"Sadly, despite being aware of my evidence for many months, if not years, the BBC have decided to make me a scapegoat and have taken away any future opportunity I have to broadcast for them.
"Naturally, I am now left with no choice but to take legal action against the BBC.
"They have taken away a career I love and I will not allow them to destroy my reputation."