The Science Museum in London is among the most popular tourist attractions in the country, but on Monday 14 July it will be opening its doors to some of the biggest arms companies and most oppressive regimes in the world.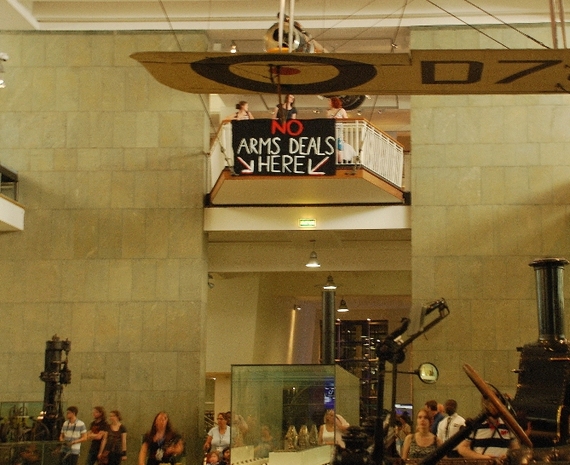 The Farnborough International Airshow might be best known for its flying displays and family entertainment, but in the days that lead up to the public event it will play host to an international arms fair, at which some of the world's biggest weapons manufacturers will woo military delegations from around the world.
Shows like Farnborough are the oil in the machinery of the international arms trade; they exist to bring arms buyers and sellers together to network and make deals. Nine of the world's top ten arms companies will be there, alongside military buyers from around the world.
The arms dealers and dictatorial regimes will celebrate their first day of business with a prestigious 'welcome reception' in the Science Museum. Science should be about promoting education and improving life, but this reception will be about one thing only: selling arms.
The organisers describe the reception as "THE most important event during Farnborough week" offering "an unparalleled opportunity for industry networking." But who are the networks that will be gracing the Science Museum with their presence?
The last Airshow, in 2012, included representatives from despotic dictatorships and oppressive regimes, such as those in Algeria, Bahrain, Indonesia, Libya and Saudi Arabia. They will be joined by arms companies such as BAE Systems, whose armoured vehicles were used to support the repression of democracy protests in Bahrain, and Chemring, whose gas canisters have been used by Egyptian security forces to repress pro-democracy protests in Egypt.
The Science Museum is a great museum, and its name carries a lot of prestige, so it's obvious why the arms fair organisers want to be associated with it. However, endorsements works both ways, and institutions like the Science Museum need to make choices about who they are happy to associate with.
Of course there are real funding problems for a number of museums and public institutions, but that doesn't make companies that profit from war and conflict any more compatible with their educational objectives. Taking money to promote a company is not a morally neutral act, and if dictatorships and arms companies are not considered beyond the pale then is there anyone these institutions would consider to be off-limits?
The move towards the use of public institutions is the latest step in the arms trade's attempts to gain a fig leaf of acceptability in the public sphere. Thankfully, not everyone wants to be associated with it.
Following a vocal and active campaign led by Campaign Against Arms Trade, the National Gallery ended its long-standing sponsorship arrangement with arms company Finmeccanica. For six years it had regularly hosted arms dealers, but the contract was ended one year early and just weeks before the next protest was planned. Similarly, Guildford Cathedral cancelled a Gala Dinner for the Security & Policing arms fair following concerns raised by CAAT.
The bottom line is that the arms fair organisers aren't hiring the Science Museum because they want to be nice or because they want to support education. They are doing it because it's good for their business. By agreeing to host them the museum is supporting the arms trade by giving practical support and a veneer of legitimacy to an industry that profits from war and repression.
Science and education are part of the fabric and future of our society, and are far too important to be used as promotional tools to normalise the arms trade. The Science Museum must reconsider whether or not it wants to allow its premises or its good name to be used to support such a deadly business.
Andrew Smith is a spokesperson for Campaign Against Arms Trade
SUBSCRIBE TO & FOLLOW UK POLITICS