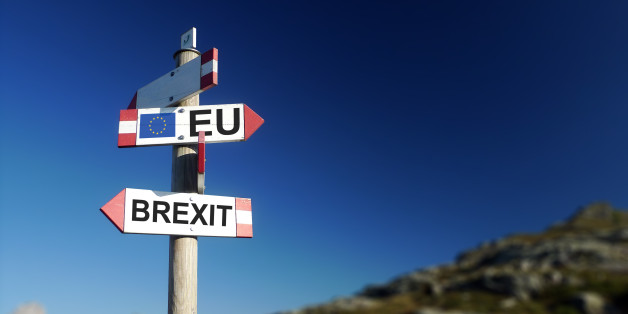 Darwel via Getty Images
Business leaders, charity bosses, council leaders and chief executives want to understand where the government of the day is heading.
For some, knowing this is of profound importance in terms of investment decisions. For others, it is an important input as they think through not only their strategy but also their lobbying activities. And for those trying to deliver good services for their locality it gives some clue as to where the national agenda is going.
It has not been easy to know what Theresa May's government is all about, especially in terms of domestic policy.
Of course, Brexit has shrouded everything else in uncertainty, and the row following May's offer of a state visit to the US President trumped even that for several days. But Mrs May came to office as a largely unknown character who had not had to spell out what she was all about either in a General Election or a Tory leadership election.
Like eager dogs to a bone we have had to pore over whatever thin scraps we have been thrown.
For a while it was the speech Mrs May made outside 10 Downing Street when she first got the job. We learned the JAMs (just about managing) would now matter more than anything else but not much beyond that.
The infamous 'Brexit means Brexit' line did not advance us much and her recent speech on the topic left us unclear if we were heading for a low tax, low public services Britain or something less radical. The vote to trigger Article 50 and the newly published white paper take us a step further but beyond the clear priority of getting control over immigration it's hard to know exactly where the other red lines might be.
But then, excitingly, we got a major speech, as Mrs May set out her domestic policy. A lot of it was about mental health. Nice, but it does not tell us much about her approach.
A little was even about charities, which caused some excitement in the sector (just grateful to be mentioned nicely by anyone these days), but did not say very much about her attitude toward them.
Then, to a muted drum roll, we learned she really stands for the 'Sharing Society'. This might be a great slogan or maybe one that will be quickly forgotten.
The speech does not reveal much of what it means except her brand of Conservatism looks to be more partial to those above the very poor (so above where charities tend to focus).
It is also keener, at least rhetorically, on government acting to help these people than a typical liberal Conservative would be (think Cameron and Osborne - if you can remember them). May's talk of a new industrial strategy potentially returns us to this theme as well.
It isn't much to go on. Nor does a frantic search for her 'favourite' think-tank get us very far. I have been told that Reform is her favourite, but others say she quite likes the Centre for Social Justice, despite its close connections to Iain Duncan Smith.
Others have told me Mrs May wants to neutralise any possible emerging centre left agenda, so keeps an eye on IPPR, RSA and other such organisations.
I suspect May's team would tell people to stop trying to work out what she is all about and just get on with it. Perhaps they would even say 'Theresa is Theresa'. But in my experience, both working in Whitehall and outside, these things have real effects which go beyond interesting gossip topics.
Even when there was the long-signalled transition from Tony Blair to Gordon Brown as PM, Whitehall stumbled for a bit until it got a feel for what the prime minister's instincts on issues were going to be.
Different public services froze for a while, trying to work out which of the Blair interests, and even phrases, Brown shared and which he did not. And local authorities, who have in some ways seen little of Mrs May up to now, are trying to work out how best to interact with her.
So Mrs May, I would suggest once you know what you really think, don't keep it to yourself, but rather, share more widely. Such sharing would indeed help your Sharing Society aims.
A version of this article was first published in The MJ.
Suggest a correction