It's a very worrying question, with an extremely worrying answer coming from some members of the police force and even more so from Police Community Support Officers. Having several friends in the police, I know for a fact that nowhere in their training does it state that officers should censor this country's free press.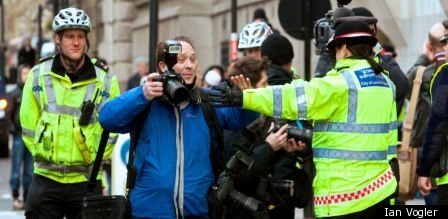 A Police Community Support Officer (PCSO) puts her hand up to cover the lens of Nicholas Razzell, stopping him from taking pictures. The Old Bailey. 4 January 2011.
As long as members of the press aren't breaking police cordons, or on private property after being asked to leave, the police (and I include PCSOs in this) have no power, nor rights to interfere with a photographer going about doing their job of gathering news. In fact, our country goes to war to help people being oppressed by various regimes, yet we find on occasion that we are being oppressed much closer to home, not by fundamentalists or dictators, but by our own police services up and down the county.
Sadly the court case at the Old Bailey, where two of the racist murderers of Stephen Lawrence were finally jailed, illustrated just how ill-informed some members of the police and PCSOs are. Just what is the motivation to stop a story like this being covered? Did these officers in question want to protect the racist murderers from the photographers' cameras or not allow the same cameras to record the dignified Lawrence family after the verdict? This behaviour is absolutely baffling.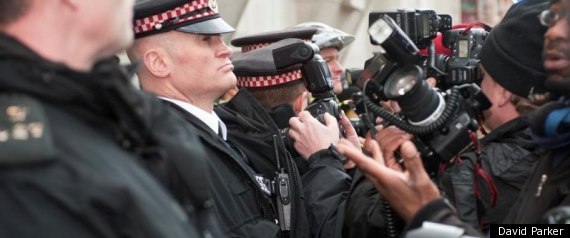 City of London police officers obstructing members of the press at the Old Bailey after the sentencing of David Norris and Gary Dobson for the murder of Stephen Lawrence. The Old Bailey. 4 January 2011.
Journalist, turned press photographer, Nicholas Razzell has been photographing high-profile criminal and civil court cases since 1999, including Jeffrey Archer, Paul Burrell, Kieran Fallon, Naomi Campbell, Paul McCartney, Charles Bronson, numerous murder and terrorism trials and more recently cases such as Julian Assange.
When asked about photographing these court cases, Nicholas says, "For most of the time the press and TV either self-police or on the odd occasion have had to work behind barriers. However, it is only in the last five years or so that I've found policemen and particularly PCSO's who have either no understanding of the law or it's enforcement, getting involved.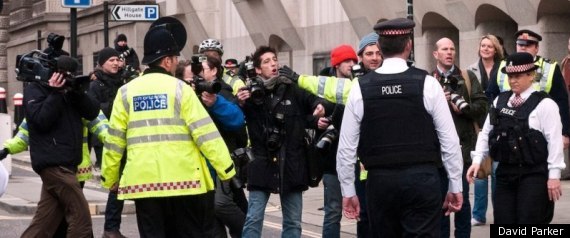 City of London police officers and PCSOs obstructing members of the press at the Old Bailey after the sentencing of David Norris and Gary Dobson for the murder of Stephen Lawrence. The Old Bailey. 4 January 2011.
"This came to head when Julian Assange was released from custody at the High Court in London when a Met Police Inspector (ably assisted by a Sky TV Producer) organised a 'pool', practically destroying any freelancers chance of getting a competitive picture."
"Last week (Stephen Lawrence case, the Old Bailey) was just another occasion where we were prevented from doing our job. As yet there is no right to privacy in the UK (thank god) and it certainly isn't up to uniformed and uninformed officers on the street, or PCSO's to decide what we can and cannot photograph. Physically preventing us from getting a picture is one step away from moral and political censorship".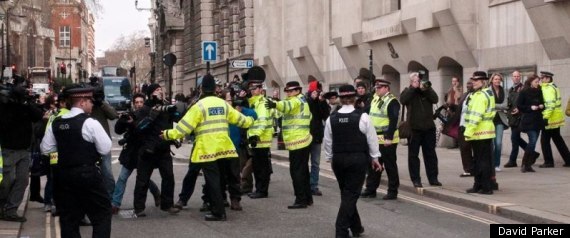 City of London police officers obstructing members of the press at the Old Bailey after the sentencing of David Norris and Gary Dobson for the murder of Stephen Lawrence. The Old Bailey. 4 January 2011.
Another photographer adds, " It was a complete joke. The police officers couldn't decide which side of the street to make us stand on. One officer said we couldn't stand under the scaffolding (open to the public) on kerb opposite because "the building company haven't given you permission" - to stand on a public street? Then they insisted we stand about 50 yards away (to do a car shot) and when the car arrived one officer followed me across the street to make sure he blocked my view. I asked another officer if this was still a public street? She refused to answer".
One thing is for sure; a member of the police force should not put up their hand to cover a photographer's lens and stop images being taken. These moments happen in a fraction of a second and are gone. Press photographers have a duty to bear witness, not only for the next day's newspapers and websites, but for historical reasons too.
For any members of the police force and PCSOs unclear about the rights of citizens (including members of the media, because we are after all, citizens too) who wish to photograph in public places, may I encourage you to read the official Met Police photography advice page? Whilst the Police in question on this particular incident were City of London Police, guidelines for all Police Forces across the country are pretty much the same.
The ACPO (Association of Chief Police Officers) guidance on dealing with the media states: "Members of the media have a duty to take photographs and film incidents and we have no legal power or moral responsibility to prevent or restrict what they record."
"It is a matter for their editors to control what is published or broadcast, not the police."
"Once images are recorded, we have no power to delete or confiscate them without a court order, even if we think they contain damaging or useful evidence."
It also states: "Members of the media do not need a permit to photograph or film in public places."

Any member of the media across the UK, regardless of if they are a member of the NUJ or not, can report any incidents with the police to the NUJ. Please make sure you have badge numbers and if possible, audio and/or video recordings. This will not only help the press to do our jobs properly, but will also help the police train their officers and PCSOs better.
Update: A City of London Police spokesperson said: We work closely with journalists and photographers at the Old Bailey to make sure they're able to do their job and the public are able to go about their business. We continue to liaise with journalists, photographers and the local community to ensure this is the case.
SUBSCRIBE AND FOLLOW
Get top stories and blog posts emailed to me each day. Newsletters may offer personalized content or advertisements.
Learn more