Angela Eagle is the "Empire Strikes Back" candidate for the Labour leadership because she voted for the Iraq War, according to Diane Abbott.
Eagle will today launch a leadership challenge against Jeremy Corbyn. The former shadow business secretary will say she hopes to offer the Labour Party a new hope of not being ripped apart by internal divisions.
Abbott, a close ally of Corbyn, said this morning it would be "contrary to all the rules of natural justice and fairness" if he is kept off the ballot.
The leader and his allies have insisted the Labour rulebook means he will automatically be on the ballot and any challenger will have to secure the names of 51 MPs to be nominated.
But opponents have interpreted the document to mean that Corbyn will also require the support of MPs to stand - something which is unlikely to happen.
Abbott told BBC Radio 4's Today programme: "As for Angela Eagle, she is a perfectly nice woman but what she is, is the Empire Strikes candidate, she voted for the Iraq War and more besides."
Former shadow cabinet minister Michael Dugher, a Corbyn critic, said the Eagle should be pleased by the Star Wars comparison.
In the wake of the Chilcot Inquiry Report, a group of MPs led by David Davis and Alex Salmond has called for a Commons vote into whether Tony Blair should be held in contempt of parliament for misleading MPs in the run-up to the war.
Corbyn told the BBC he "probably would" back the motion. The Labour leader has apologised on behalf of his party for the invasion.
Painting Eagle as pro-war could help shadow work and pensions secretary Owen Smith emerge as the anti-Corbyn candidate.
He was not an MP at the time the Commons voted for the Iraq War in 2003 and, unlike Eagle, voted against airstrikes in Syria.
Explaining why she is challenging Corbyn, Eagle told the Daily Mirror: "I just don't think we are communicating with our voters".
"We have got to rebuild hope together and I think the Labour Party - when it's working properly, when it's functioning - that's what it does and that's what I want to see it get back to.
She added: "The Labour Party needs to be saved - I'm stepping up to the plate to say it's about time that we did this so we can make the Labour Party relevant again and so we can contend for government."Smith is seeking crisis talks with Corbyn as he claimed the leader and his allies are prepared to split the party in order to remain in place.
In a further sign the party is on the verge of all-out civil war, Smith said that at a meeting with Corbyn he asked him three times whether he is prepared to see a split but "he offered no answer", while the leader's ally and shadow chancellor John McDonnell "shrugged his shoulders and said 'if that's what it takes'".
Smith said: "I am not prepared to stand by and see our party split." But McDonnell said Mr Smith's claim was "complete rubbish"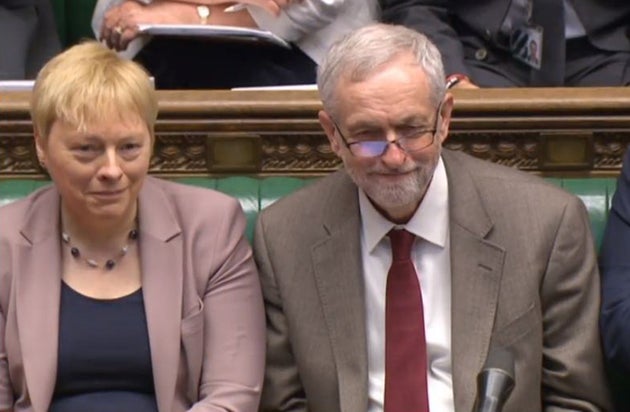 SUBSCRIBE AND FOLLOW
Get top stories and blog posts emailed to me each day. Newsletters may offer personalized content or advertisements.
Learn more