At least three people are reported dead.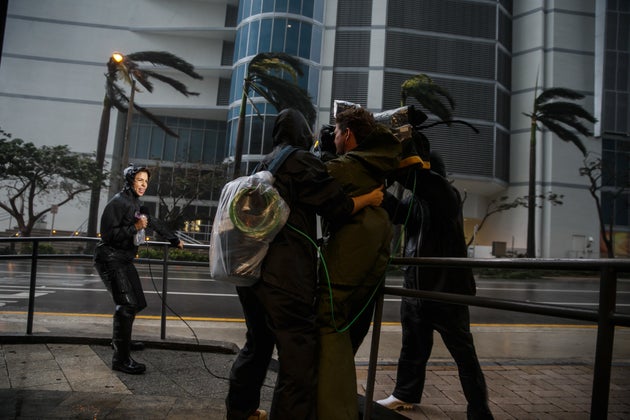 Viewers of the TV reports have also been critical of the networks and have voiced their concerns about the safety of reporters, including CNN's Kyung Lah who was almost hit by a falling street sign as she clung onto a railing to report from Miami Beach.
Similarly, when NBC News correspondent Miguel Almaguer physically attached himself to a building in order to stay on the ground while he reported through powerful winds in Florida City, people were angry that he'd been put there in the first place.
But it's likely that most of the reporters will share Lah's view that it's a risk, but an essential one: "We take a calculated risk because we want people to know ... what is coming your way."
Here are 8 times journalists went to extraordinary lengths to bring us the latest hurricane news:
1. This staggering reporter and video crew in Miami
2. This journo in Cuba battling with his clothing
3. This reporter struggling to see in Naples
4. This reporter trying to stay standing against the rain in Fort Myers
5. This journalist in Miami who didn't manage it
6. This journo who is lucky to have kept his cap
7. This NBC reporter desperately trying to hold his position
8. This local reporter going up against the wind in Barbuda
SUBSCRIBE TO & FOLLOW UK DAILY BRIEF