Dozens of people have died after Ecuador was hit by the strongest earthquake in decades - and the death toll is continuing to rise.
The quake is believed to have had a magnitude of 7.8 and there were at least 36 aftershocks following afterwards, with authorities warning residents to brace themselves for more in the coming hours and days.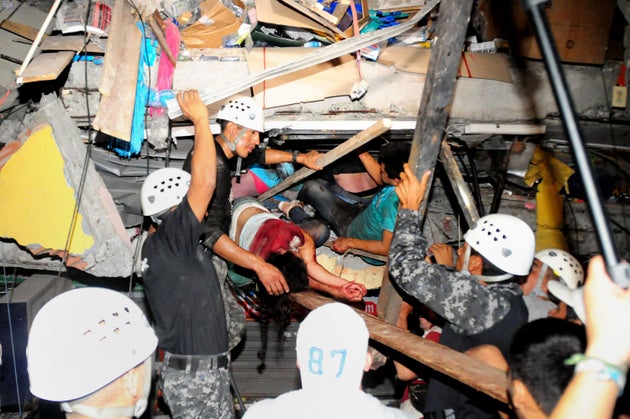 By Sunday afternoon, the death toll had risen to 233.
Glas said that the quake was the strongest to hit Ecuador since 1979.
He added that more than 10,000 security forces were being mobilised to provide assistance but accessing the disaster zone was difficult due to landslides.
President Rafael Correa signed a decree declaring a national emergency and urged Ecuadoreans to stay strong while authorities handle the disaster.
Correa, who was in Rome attending at Vatican conference when the quake struck, said he hoped to be back in the country by Sunday afternoon.
In the capital city of Quito, people fled into the streets in fear as the quake shook their buildings. It knocked out electricity in several neighbourhoods and six homes collapsed but after a few hours power was being restored, Quito's Mayor Mauricio Rodas said.
In Manta, the airport was closed after the control tower collapsed, injuring an air traffic control worker and a security guard.
The Pacific Tsunami Warning Center said hazardous tsunami waves were possible for some coasts. While the government hadn't issued a tsunami alert, towns near the epicenter were evacuated as a precautionary measure.
This latest earthquake follows two other deadly ones across the Pacific, in the southernmost of Japan's four main islands. A magnitude-6.5 earthquake struck Thursday near Kumamoto, followed by a magnitude-7.3 earthquake just 28 hours later. The quakes have killed 41 people and injured about 1,500, flattened houses and triggered major landslides.
SUBSCRIBE AND FOLLOW
Get top stories and blog posts emailed to me each day. Newsletters may offer personalized content or advertisements.
Learn more