"For me waking up every day feeling sad and going on stage is just very hard to describe," she said, via Facetime.
"There's a lot of shame attached to mental illness, you feel like something's wrong with you. And in my life I go 'oh my goodness, look at all these beautiful and wonderful things that I have, and I should be so happy'.
"But you can't help it if in the morning when you wake up, you are so tired, you are so sad and you are so full of anxiety and the shakes that you can barely think."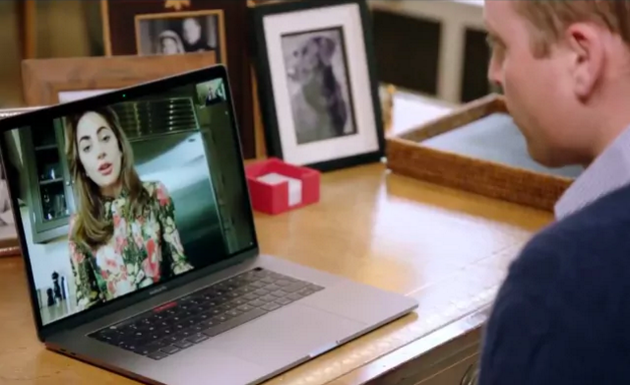 Gaga praised William's #itsokaytosay Heads Together campaign, which he spearheads alongside his wife the Duchess of Cambridge and brother Prince Harry. 
She said the recently-released videos where people reveal the first time they spoke to another person about their mental health, impacted her greatly. 
"It reminded me how much my mental health changing, changed my life," she said. 
"It is a daily effort for me, even during this album cycle, to regulate my nervous system so that I don't panic over circumstances that to many would seem like normal life situations," she wrote at the time. "Examples are leaving the house or being touched by strangers who simply want to share their enthusiasm for my music."
She said she also struggles with triggers from memories of the past and experiences dissociation, where her mind doesn't want to relive the pain so she glazes over. 
Referring back to her open letter, William said Gaga was very "brave" to share something so personal. He then asked her how speaking out about her mental health made her feel.
She said that speaking about her experience and sharing it with others was the "best thing" to come out of her mental illness. 
William concluded: "It's time that everyone speaks up and really feels very normal about mental health, it's the same as physical health.
"Everybody has mental health and we shouldn't be ashamed of it and just having a conversation with a friend or family member can really make such a difference."
Hobbies That Improve Mental Health
SUBSCRIBE TO & FOLLOW UK LIFESTYLE