Just in case you were concerned that things on Earth were getting a little tense recently, a giant asteroid has decided to get really close to our planet next week to make us feel a little less on edge.
Asteroid Florence is the largest ever asteroid to pass this close to Earth since NASA first started tracking the movement of fiery space rocks back in 1998.
But the space agency are quick to reassure humans that it will leave us unscathed on this occasion.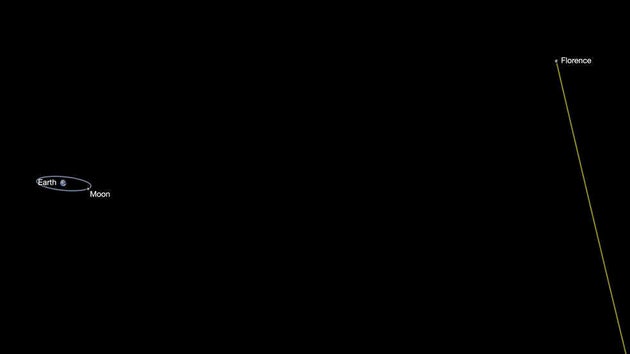 Asteroid Florence, which was named after Florence Nightingale when it was first discovered in 1981, will pass safely by on 1 September at a distance of approximately 4.4 million miles.
Although they might sound like a long way to us, it is the closest any asteroid of this size (it is approximately 2.7 miles wide) has come in recorded history.
"Florence is the largest asteroid to pass by our planet this close since the NASA program to detect and track near-Earth asteroids began."
And the last time Asteroid Florence even got remotely close was in 1890, and she won't be in our neighbourhood again until at least 2500, according to the experts.
In fact it will be passing so closely next Friday, that scientists located on the ground in California and Puerto Rico, will be able to study its surface and get a better idea of its precise dimensions, which are currently only an estimate.
And it will also be visible in small telescopes for several nights, as it moves through the constellations Piscis Austrinus, Capricornus, Aquarius and Delphinus.
Despite the NASA planetary defence office having been established – with the aim to observe the skies for possible asteroid strikes – this will supposedly not give us a large enough window to begin a preventative mission.
Admittedly there is a very low chance of an earth impact in the next 100 years, approximately 0.01% according to NASA themselves, but Nuth said: "On the other hand they are the extinction-level events, things like dinosaur killers, they're 50 to 60 million years apart, essentially.
"You could say, of course, we're due, but it's a random course at that point."
SUBSCRIBE TO & FOLLOW UK DAILY BRIEF