In the latest episode of everyday objects you could choose to spend your life savings on, may we present you with the Prada paperclip.
The luxury fashion house has decided to bring the world a polished sterling silver paperclip worth $185 USD (approximately £145).
And at only six centimetres in length, that is a tasty £24 per centimetre of Italian handcrafted clip, or excellent value for money.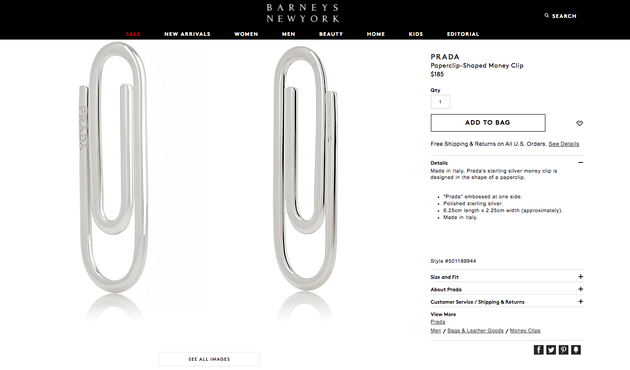 The 'Prada Paperclip-shaped Money Clip' (which has a longer title than most people) isn't made for clipping together your peasant papers. 
Instead it is designed for holding together the huge quantity of cash you will definitely no longer have after buying it.
And with the 'Prada' brand name embossed neatly down the side your colleagues will all know that you're being paid way too much money and to avoid you at the pub on Friday. 
But don't worry they're not the only ones who hate you, the internet is pretty miffed too. 
Oh well, at least the delivery is free.
SUBSCRIBE TO & FOLLOW UK STYLE