Whether you agree or not, the concerns have got under the organisation's skin, and a dig in the archives shows they even extend to people working at the BBC today.
A letter to the BBC's internal magazine Ariel reveals that one staff member actually raised concerns about the "character assassination" of Corbyn before he even became Labour leader, but the complaint was dismissed, in part, because the matter was "not in General Election territory".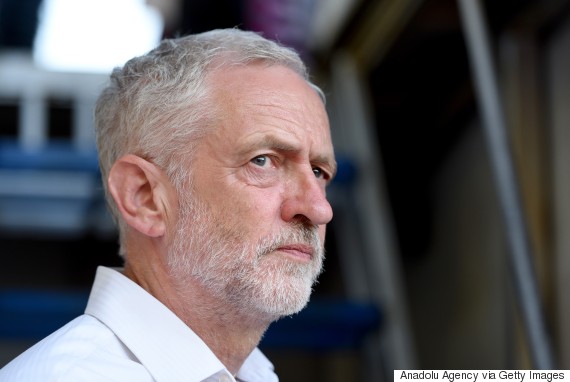 The letter, published days before Corbyn was elected in September last year, claimed "many" people were worried about the broadcaster's impartiality after the Panorama programme Jeremy Corbyn: Labour's Earthquake. It was shown five days before the Labour leadership election and was called a "hatchet job" by the Labour Party.
The letter-writer was Eddie Pitman, senior studio director of BBC 5 Live, who questioned why the BBC hadn't made similar programmes about the other Labour leadership candidates "for the sake of balance".
His letter, published on 9 September 2015, said: "The Panorama on Jeremy Corbyn, broadcast just days before the new Labour leader was elected, was seen by many as a character assassination of just one of the four candidates for the post of leader of the Labour party.
"For the sake of balance did the BBC plan to run similar Panoramas on the other three candidates before the votes have to be returned by 10th September?"
A reply from Panorama's editor Ceri Thomas defended the programme and said the BBC was "not in general election territory" while covering the leadership contest, as "roughly speaking only 1% of the population" had a vote in it.
This raises an important point - while the The BBC Trust had to ensure it acts with "due impartiality" across all programmes, there are no special rules around party leadership elections like there are around General Elections and referenda.
Thomas - a very experienced journalist who is also the former editor of Radio 4's Today programme - also said in his reply to the Ariel letter: "Our focus was on the man who has been the story of the leadership campaign, Jeremy Corbyn. There have been plenty of policy comparisons between all the candidates and four-way hustings across the BBC, but we're not in general election territory - roughly speaking only 1% of the population has a vote in the Labour leadership - so the important question is whether Panorama was fair to Mr Corbyn. We think it was."
The BBC is not disputing the findings of a Media Reform Coalition study, which found it gave twice as much airtime to Corbyn's critics than to his supporters on some bulletins during the mass shadow cabinet resignations in June. Instead, it said it was "confident" that it had been impartial.
It could have defended itself far better about the airtime given to Corbyn's enemies - impartiality is a complex concept, and it doesn't always mean handing out the same amount of airtime to both sides of a debate. The BBC's own guidelines state that "Due impartiality is often more than a simple matter of 'balance' between opposing viewpoints. Equally, it does not require absolute neutrality on every issue or detachment from fundamental democratic principles."
In Corbyn's case, the vast majority of his MPs were against him during the resignations, so at least in terms of interviewing MPs, it would be perfectly reasonable for the BBC to give more airtime to those critical of him than those who supported - it would have been a balanced reflection of the situation.
But the BBC hasn't chosen to raise this point, it just says it is "confident" its reporting was balanced. The Ariel letter is a rare glimpse into why and how it considers itself to be impartial. More recent cases show that people trying to find out more about its decisions around Corbyn are denied information.
It also rejected FOI requests in September and October 2015 to reveal the number of complaints it received over the Panorama, and another in September asking it to reveal the brief for the programme and whether impartiality was considered when it was made.
For all of these rejections, it stated the same, valid exemption from the FOI Act - information held "for the purposes of journalism" does not have to be revealed, and the BBC and other broadcasters have the right to freedom of expression.
According to the broadcaster, complaints that are resolved at this '1b' stage (there are three stages in total) are "trivial, misconceived, hypothetical, repetitious or otherwise vexatious".

The BBC's complaints framework
Complaints shut down at this stage in October 2015, the first month Corbyn was Labour leader, included "a high number of detailed complaints alleging bias in reports from the party conferences, complaints about reports of aspects of Jeremy Corbyn's leadership of the Labour Party."
Complaints from October were overwhelmingly related to impartiality, though we can't tell if that is connected to the Corbyn complaints.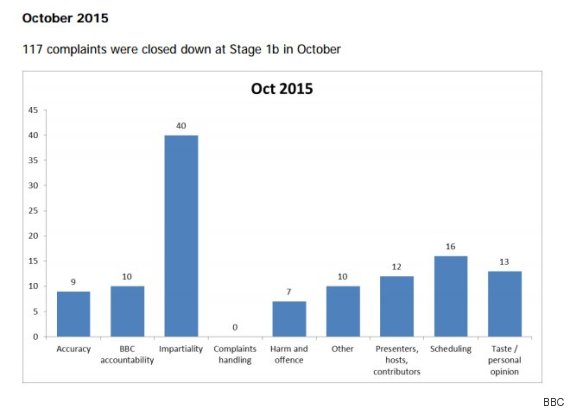 Complaints ended at the '1b' stage in October
But what does any of this prove? Does it mean that the BBC is biased, or simply that a considerable number of people think it is?
I tracked down Eddie Pitman, the writer of the Ariel letter, who still works at 5 Live. His is a technical role rather than an editorial one, but he works with big-name BBC journalists and lesser-known ones. He made clear that he's seen no evidence of bias from any of them. Nor did he see a groundswell of support from other BBC staff when his letter was published in Ariel. Those he works with "strive to abide with the law and editorial guidance given to them," he told me.
Likewise, when I covered the research suggesting the broadcaster was biased towards Corbyn, a BBC spokesperson told me: "We are confident our coverage of Labour's unprecedented en masse frontbench resignation was impartial and we continue to air views from both sides of the party's ongoing divisions."
But these kinds of assured but evidence-free statements are unlikely to placate anyone who believes the BBC is biased. And even for those who don't, it's hard to see how they explain away the concerns. As long as the BBC continues to avoid explaining publicly how it ensures impartiality, the stalemate looks likely to continue.
SUBSCRIBE AND FOLLOW
Get top stories and blog posts emailed to me each day. Newsletters may offer personalized content or advertisements.
Learn more