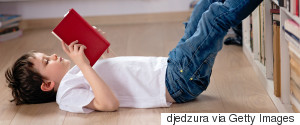 Having read a book called Freedom after the sharks by Geoff Hudson-Searle, I became curious to find out about the author of the book and to learn what...
Books are a window into another world, whether real or imaginary. They give us the opportunity to imagine life in someone else's shoes, to understand their hopes, dreams, perspectives and cultures. As Ian McEwan puts it so beautifully, "Imagining what it is like to be someone other than yourself is at the core of our humanity...
The book is peppered in pages filled with pace. Staying true to Luceno's style, the action is throughout, yet he is able to carefully weave his characters to life through his command of details.
When this summer's SATs results revealed a sharp decline in 11-year-olds reading at the expected level for their age (from 80% in 2015 to 66% in 2016)...
As a Welshman living in London, people like to remind me of their experience of Welsh things. It is a strange state of affairs, but I enjoy it nonethe...