Roald Dahl believed in taking practical steps to improve the lives of those around him and his creativity and determination even helped to develop pioneering medical treatments such as the Wade-Dahl-Till valve, which benefited children across the world.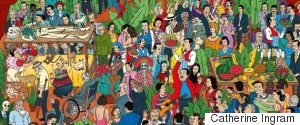 Where's Wally is a classic that's fun and tempting to play with. With Where's Warhol, we were lucky: the formula seemed made for him. Warhol's name begins with W, providing that essential alliteration in the title. Then there's Warhol's branded look of jeans, stripy jumper and dark glasses, which is uncannily similar to Wally's wardrobe.
Benjamin Sullivan's recent BP Award-nominated portrait of Hugo Williams is a powerful thing. It stirs memories in me of my experiences with the poet's work, and the poet himself, and how both have changed irreversibly in the past decade.
On the feast day of Saint Constantine and Elena, tourists gather in the villages of southeastern Bulgaria to watch the centuries-old tradition of fire...
I'm fairly certain that everyone who has ever written a tale involving strong female characters -in particular a lead character - has been asked some variation of, 'Why did you make your women so strong?', and/or, 'Why did you make your hero a woman?' I find it mildly ridiculous, but sadly not surprising, that this still happens.