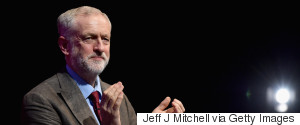 As it is, the official policy of Labour is to support the renewal. So again, Corbyn could be forced to rebel against his own party. Not that he is unused to that, but rebelling as leader? That would be something special. If he tries to force his Shadow Cabinet to vote against renewal, or even backs a free vote, people will walk. The blocks will fall. Corbyn will be left with a very small Jenga tower indeed...
The latest episode of Jeremy Corbyn's criticism comes in the form of his controversial Shadow Cabinet reshuffle. MPs who have publicly disagreed with Corbyn on issues like Trident and airstrikes in Syria have claimed they are being unfairly dropped in an attempt to seek revenge for their opposition to the party leader.
Labour's plan for rural Britain is based on a simple truth: that Britain only succeeds when working families succeed. By raising living standards, tackling low pay and empowering people in rural areas to make decisions about their future the next Labour Government will build a new kind of economy...
The rise of food banks in 21st Century Britain is nothing short of a disgrace. Today's figures from the Trussell Trust confirm that in David Cameron's Britain more than a million people have to rely on food banks each year. This is the Tory plan that David Cameron says is working.
The fundamental truth that runs through Labour's manifesto and the Green Plan we publish today is that Britain succeeds when working people succeed. Our economic success cannot be built by eroding our natural environment any more than it can by eroding wages or living standards.
Under this Tory-led Government our environment has seen non-stop degradation and decline. David Cameron told us that he would lead the 'greenest Government ever' but like so much else with this Government all we have are broken promises.
This week heralded an all too familiar event in the UK Parliament - a House of Commons debate on the badger cull. With the second year of culling having very recently completed, politicians and animal lovers alike are eagerly awaiting the news of just how many badgers were killed over the last six weeks in Gloucestershire and Somerset.
I believe that if politics is about anything, it should be about improving people's lives and bequeathing something better to our children than we ourselves inherited. If internationalism is about anything, it is about doing that for people around the world regardless of where they live. That's what environmentalism and sustainability mean to me.
Maria Eagle's call to effectively renationalise the rail network is so dangerous and backward-looking. Her view is based on phoney economics and is a brazen attempt to rewrite history. She has ignored the facts about the failing, worn out nationalised railway of yesterday and the modern, growing and successful railway of today.