It is only a 28 day trip, but the diversity of ground covered during the South American Eco Trail Adventure will last you a life time. In four weeks you will be experiencing a unique array of historic landscapes and geographic wonders not limited to famous colonial architecture, ancient sacred ruins, relaxing beaches, cosmopolitan cities, high deserts, and geologically remarkable islands. The range of activities is equally diverse and customizable - you will have opportunities to do extreme adventure tours, relax in thermal hot springs, learn about local cuisine and crafts, and explore museums and native cultures. Best of all, you will be in great company and sharing your adventure with new friends along the way.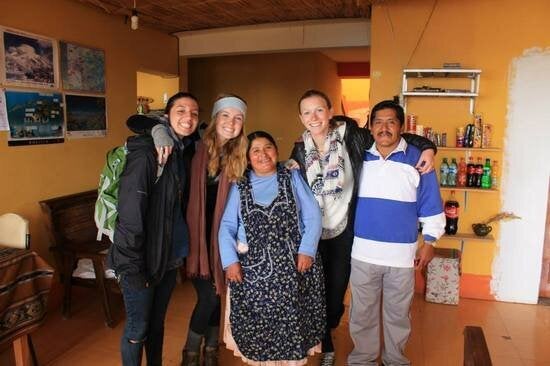 Our group met in Quito, Ecuador at the start of the trip. It was a great place to get acquainted with each other as well as set a more firm agenda based on everyone's expressed interests. We had an amazing group of volunteers who were flexible and willing to try new things. Friendships quickly ensued. Ecuador was a perfect place to begin our journey... At Mitad Del Mundo, we jumped from the Northern Hemisphere to the Southern Hemisphere and continued our journey south by way of biking around active volcanoes in Banos, dancing salsa in Cuenca, and finally reaching the border of Peru.
Our journey in Peru began on the beach of Máncora. Here we cruised the town in motorcycle taxis, sunbathed on the beach, and enjoyed fresh ceviche. Continuing south by bus, we landed in the Miraflores distric of Lima. This was the perfect place to recharge before heading up into the Andes Mountains.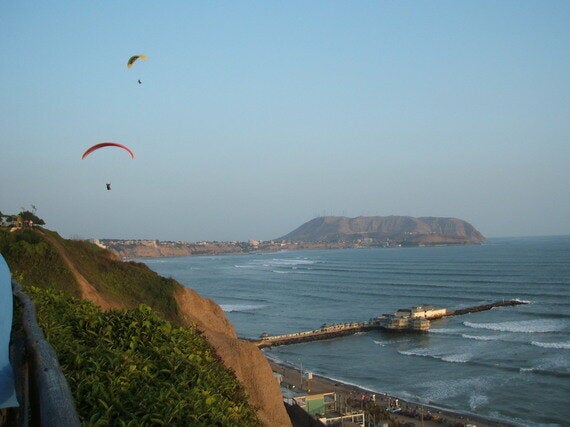 Arriving into Cusco required a bit of time to acclimate to the altitude. Our first day, we relaxed and sipped coca tea to help prepare for the three day venture to Machu Picchu. The Inka Jungle tour provided a tour guide who took us through the towns of Santa Theresa and Agua Calientes before arriving to the famous Inkan ruins in Machu Picchu. Really, only pictures can describe this wonder... and there were plenty of opportunities to take them.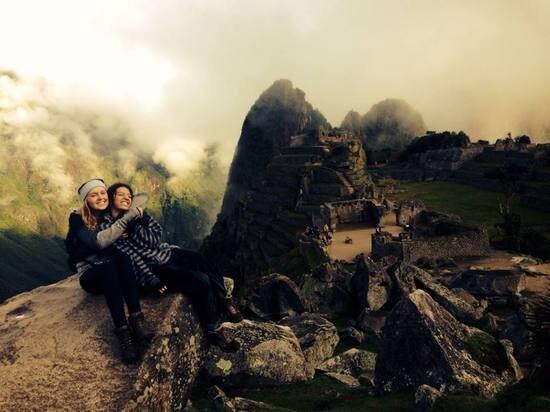 Back to Cusco, where as a group we ventured to buy alpaca sweaters, visit the chocolate museum, and learned how to make a proper Pisco Sour, the typical drink of Peru.
Continuing south, we arrived in Puno where we toured the floating islands in Lake Titicaca and learned about Aymaran culture. Following the lake around, we crossed into Bolivia were we experienced the resort town of Copacabana. A hour ferry ride away was the Isla Del Sol... the birthplace of the Sun God according to Incan legend. Here we hiked around the entire island and ate fresh trout from the lake before heading to our final destinations of La Paz and the Salar de Uyuni.
A long bus ride brought us to the high desert town of Uyuni - the jumping off point to the world's largest salt flat known as Salar de Uyuni. Again, only pictures can really describe this extra-terrestrial looking landscape. At over 10,000 square kilometres, the Salar is home to a unique array of geologic and biologic wonders including pools of lithium and pink flamingos. A three day jeep caravan took us across the Salar and we eventually arrived in La Paz for the last few days of our trip.
Our timing could not be better... we arrived in La Paz during the weekend of Carnival. The streets were a non-stop party with water balloon and foam fights, parades, costumes, and music. There was not a dry person among us. We were able to find temporary refuge in the local market where we sampled some of the best and most inexpensive food in our journey. Fresh fruit smoothies, soups, and pastries refuelled us as we made our way through the craziness that was La Paz during the week of Carnival.
As we headed to the airport in La Paz, it was hard to believe that the group of us had only met 28 days earlier. What a journey to experience together. It was hard to say our goodbyes, so we did not say them... just an "hasta la proxima adventura!"
Author Roberta Korcz took part in Frontier's South America Ethical Adventure Trail . Frontier is an international, nonprofit volunteering NGO with over 300 dedicated conservation, community development and adventure projects worldwide.