I decided to take part in the Volunteer Abroad Journalism project because, having graduated from university in June, I wanted to have something in the pipeline that would incorporate travel AND work experience. I wanted a taster of journalism to see if it is something I would like to pursue back in the UK and the project enabled me to participate in a lot more than the internships on offer at home.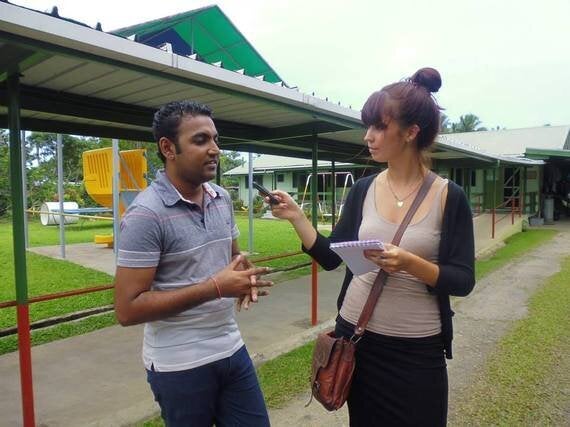 Image courtesy of Phoebe Amato-Pace
During the project I was pretty much plunged in the deep end, researching and writing articles from day one. This was a great way to get stuck in though! I was able to shadow other journalists in their work, conduct my own interviews and use the transfer vehicles to make sure that these could be done in person as well as on the phone. I attended morning briefing with the rest of the Fiji Times team and was placed in the News department.
I think that my involvement in the paper had a positive impact because I was able to contribute a different viewpoint to the rest of the articles printed. I wrote a number of "feature" articles, which were specifically about a non Fijian view of the island and this was at the request of the editors. The project has had a great impact on me and my views of journalism too. It has made me realise just how many obstacles the press face in countries such as Fiji and as a result, made me appreciate the freedom of press that we take for granted in the UK.
Life on the project was a great experience. I was living in a home stay with a group of volunteers and was looked after brilliantly by "Mama", "Master" and the rest of their family. I arrived in Fiji very open minded about where I would be staying and even though there were a number of differences to life back at home, including the food and facilities, they were all a big part of making my trip something new and memorable. The people I lived with were all great and I am so glad I chose to stay in a homestay. Life was particularly laid back in Fiji (both at home and work) and this was a nice change from England! While "Fiji Time" could sometimes be frustrating, I soon settled in to the relaxed way of life.
My daily routine consisted of waking up at around half past seven, getting ready for work and having breakfast, which was prepared by my host family. I then had a 30 minute walk to the office where I began my day at 9am with the morning briefing. I usually had a couple of journeys out of the office to conduct interviews, returning to transcribe them and write up my stories. On a usual day, I left the office at around 5, but this could vary depending on workload. I then made my way home (often via the food market!) where I met with the rest of the volunteers for an evening meal. Some evenings we decided to eat out, might make a trip to the cinema or just relax at home. At the weekends however, we often went further afield, visiting eco parks, taking boat trips to some of Fijis many beautiful islands and generally doing lots sight seeing!
The best part of my internship was the opportunity to meet new people. Everyone at the Fiji Times was really friendly, they trusted me to carry out a lot of independent work, which was really beneficial and they were very supportive throughout. The family I lived with were fantastic and being welcomed into their home was a great experience. I was able to learn a lot about Fijian culture through them and feel I have returned to the UK with a real taste of what life is really like in Fiji.
I would definitely encourage other people to take part in similar internships. It's a great way to get in some travelling, meet new people, but gain experience at the same time. It's a win-win situation really. I do however think it is important that anyone considering taking part does so with an open mind. There are always going to be cultural differences, which might be difficult to adapt to, but these soon seem insignificant once you have settled in!
I definitely gained a great deal of confidence during my project, which will be really helpful now I am home. I feel I have a lot of hands on experience that will serve me well in not only journalism work, but any field of work where writing, and people skills are needed, along with time management and professionalism in general. Equally, the travel aspect of my Frontier project has been highly valuable. I believe I have gained a lot of independence and this has put me in a good position now that I have left university.
Author Phoebe Amato-Pace 's adventure, the Fiji Journalism Internship was organised by Frontier, an international non-profit volunteering NGO that runs 320 conservation, community, and adventure projects in 57 countries across the globe. You can read more volunteer stories on Frontier's Gap Year Blog and get the latest project and volunteering news from the Frontier Official Facebook page.