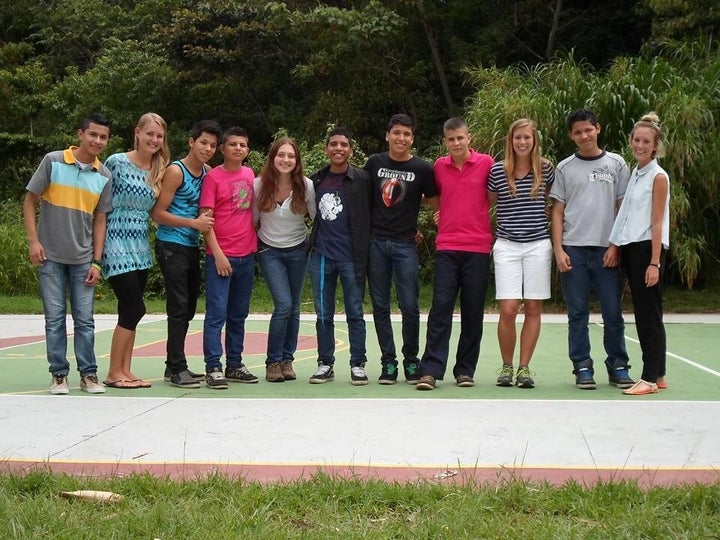 Image courtesy of Erin Christiansen, Frontier volunteer
My last week at the school went beyond English lessons, playing soccer, and teaching the students how to play Knockout. A few students opened up and shared their stories with Valerie and me. Their stories were full of disappointment, life realizations, changing circumstances, and faith. Some stories brought tears to our eyes while others left us speechless. A great level of trust existed between the boys and us in order for them to have the confidence to share parts of their lives that they usually don't speak about. Although I was ecstatic that this trust had been built, I didn't want to abandon my students. I didn't want to be just another person extending a helping hand then revoking it as soon as they began to accept the help.
At the beginning of my time on the project, I told the boys that I wouldn't accept their friend requests on Facebook. I was only a few years older than some of the boys, and I wanted to protect my teacher image as an authority figure at the school. I needed to draw that line. However, as my time continued, I realized that I was more than just a teacher to the boys. I was someone that they could talk to, someone who could offer positive words of advice. During my last week at school, I told the boys to add me on Facebook, and, since then, my inbox has been flooded. Some students have said they miss me, others talked about problems they are experiencing during their vacation at home, and one said he wants to try to learn English via Facebook messaging.
I couldn't abandon my students. I hope to be the light that some of them need to get through the hard times in their life. I realize that my light will eventually fade, but to some people, it only takes one experience to influence a passion. If you think back to what you chose to study in college or why you have the hobbies that you have, most of these interests are related to a significant person or event that you have encountered. I hope, through my passion for serving others, that I have ignited a passion in one of my students. Whether that passion is to learn English, to be a sports coach, or to become the next player for Real Madrid is not important.
Frontier is an international non-profit volunteering NGO, established in 1989, that runs 320 conservation, community, and adventure projects in 57 countries across the globe.You can read more volunteer stories on Frontier's Gap Year Blog and get the latest project and volunteering new from the Frontier Official Facebook page.