Joelle Eversdijk is the Dive Officer on the Madagascar Marine Conservation & Diving project. Joelle talks about the PADI open watercourse, and goes into great detail about what to expect on a day to day basis, providing you with a real insight into the Madagascar diving experience.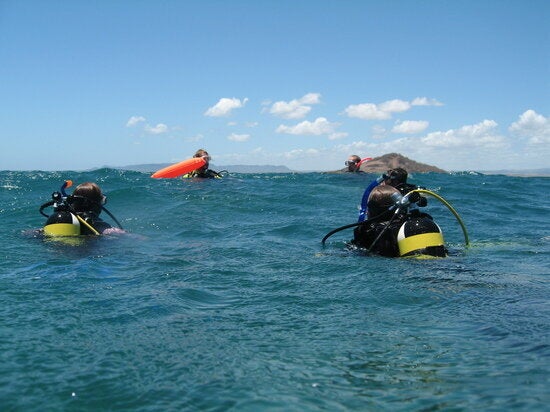 Welcome to the waters of Madagascar, or even more so the waters of Nosy Be. An area which has barley been touched by humans, where reefs are full of colours, the fish swim, the turtles eat, and dolphins sing. There is honestly no other place quite like it. The PADI open watercourse is a great opportunity to explore these untouched places. Given the chance out here is definitely an opportunity that should not be given up.
The PADI course is stretched over four days. Where the first day is really easy which just involves watching the PADI open water video. It may not be the most exciting thing but it help give an idea of what the open water course entails.
The second day we are ready to get into the water where we will cover the basics skills, from regulators, to mask, to emergency and finally a few buoyancy skills. All these skills are there to help you feel more confident and comfortable underwater. Training you to be a very competent diver. Once the confined session is over, we have lunch and relax a little. After lunch and a shower we get onto the theory side of scuba diving. This is where the basics of diving are explained. We go though each of the questions explaining or elaborating on thing that may be unclear or answering questions that may have risen though the knowledge reviews. After all five knowledge reviews there are quizzes on each chapter and a final exam. All the quizzes and the final exam are in multiple-choice format. So it is nothing to get completely stressed over!
The next day we finally get to go scuba diving! We head out to one of our amazing dive sites on the boat. We kit up and do our pre dive safety check. BWRAF, or how some people remember it "Bruce Willis Ruins All Films" or "Blue Whales Really Are Fast". Than we do a backwards roll into the ocean. We go done into the blue and soon we are swimming among angelfish, butterfly fish, spotted rays and you might be lucky enough to spot a turtle! We come up and do a surface interval full of great chat, about the dive, then we slowly get ready to do our second dive of the open water course! This dive has a few skills we practiced, skills that you'll be 100% comfortable doing. After a few minutes doing the skills we are back with fish!
The final day of the open watercourse! Just two more dives and you are a fully qualified scuba diver! We do the same as before we kit up, buddy check, and roll in. On these dive you can feel yourself become much more confident in the water, you know what you are doing - absolutely weightless. You become more curious to what you can find looking inside the corals, trying to spot some nudibranchs or flatworms. It's like being a kid in a candy store, all the colours and different species just everywhere!
The oceans cover seventy per cent of the Earth's surface and coral reefs are one of the most diverse ecosystems on the planet. If you have never wanted to fully explore the ocean, doing it here in the tropical warm waters of Nosy Be is definitely the best place you could possible do it! Dive on in!
Author Joelle Eversdijk is the Dive Officer for Frontier, an international non-profit volunteering NGO that runs 320 conservation, community, and adventure projects in 57 countries across the globe, on the Madagascar Marine Conservation & Diving project. You can also read more volunteer stories on Frontier's Gap Year Blog and get the latest project and volunteering news from the Frontier Official Facebook page.
Related