Harry Potter, the most successful film franchise of all time, has kept fans thrilled for decades and now Hogwarts is set to open its doors to the millions of Muggles who want a piece of the magic, by way of an authentic studio tour.
For a first look at what it will be like, The Huffington Post UK were invited to the place where JK Rowling's phenomenal books were brought to life - Warner Brothers' Leavesden Studios, just outside Watford.
This is where all eight Harry Potter films were made, plus the place the young stars grew up with their characters.
We met Tom Felton (Draco Malfoy), Rupert Grint (Ron Weasley), Bonnie Wright (Ginny Weasley), James and Oliver Phelps (Fred and George Weasley) in their previous on-set classroom. With them were their older co-stars Warwick Davis (who played both Professor Flitwick and Griphook), Nat Tena (Nymphadora Tonks) and Mark Williams (Arthur Weasley), to talk about the making of the films and how they feel about the studios turning into a world famous attraction.
Over 100 million pounds has been invested in turning the studios into a place capable of receiving the millions of visitors who want to see a piece of magical movie history. And some of the most memorable sets from the films will be on show, including Dumbledore's office (home of the Sorting Hat and the Sword of Gryffindor), the boys' dormitory (where the child actors outgrew their beds and could only be filmed sitting up in them in the last films), the Cupboard under the Stairs at 4 Privet Drive and the Great Hall.
All of the sets have been painstakingly moved across from old buildings on the site, including the Great Hall, with its heavy wooden doors, statues, and real York stone floor, which had to be un-laid and pieced back together, like a jigsaw.
However, the studio at present is still very much a building site, so with a hardhat and high-vis jacket adorned, we made our way around cautiously. But even when the building work is finished, visitors shouldn't expect to enter the world of Harry Potter as it appeared on screen.
"You only usually see what the camera shows in the films and people assume what's behind the camera is the same thing, but it's not. It's usually a bunch of people drinking tea and coffee and this tour paints that whole picture, which I think is really important", explained Felton, who at the age of 24 knows more about film-making than most adults.
The studio tour plans to be a gritty, realistic behind-the-scenes look at the scale and detail of the sets, costumes, animatronics, special effects and props used in all eight films. The scaffolding will be left up and the prop cages won't be hidden, plus there will be green-screens and rigs to show how Quidditch was really played.
If you thought the pupils at Hogwarts could fly, you might find yourself a little disappointed.
Talking about the labour that went into creating the sets, Davis said: "There's things people will have never seen having watched the film, but if you come down to the studio tour here you can actually see stuff up close, like the parchments actually have things written on them."
Davis was right. Walking around Dumbledore's office, we learned that the old, intelligent-looking books lining his walls had great detail on them, even if they had been made from old phone books, as our guide explained.
Felton, who is thankfully very unlike his nasty character, said: "Even things they knew for a fact would never be seen on camera would be detailed, the designers were so passionate that they wouldn't leave it, they would do it for their own satisfaction."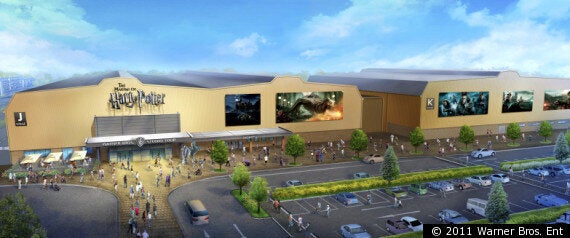 Praising the people behind the film, who made it possible for the young inexperienced actors to feel like they were in a magical world, even if they didn't get the same red carpet adoration as the franchise stars, Davis said: "A lot of the time it's like real magic, the set is built and then these people come in and dress it and transform it and we walk in to film on a set like that and it's all there in place.
"They're the unsung heroes and I think that's what the studio tour is all about, this is their time to show off their work."
For the Potter actors at the press launch it was the first time they'd been back at Leavesden since the final film's wrap party.
One-half of the cheeky Weasley twins, James Phelps, said: "The last scene we filmed here had the bulldozers waiting outside to get started and when we came in today it's totally unrecognisable."
Although the buildings and the layout of the studios have changed, Felton reassured us: "The sets are just as I remember them."
Tickets to the tour will cost about the average for a theme park, at 28 pounds for adults and 21 pounds for children. However, there won't be adrenaline-packed rides to match, so what do the cast think is the most impressive part of the tour?
For James Phelps it's the Great Hall. "That's the part that people always think of in Harry Potter," he explained. "When we walked in there today it was really surreal, I remember going in there one day and thinking that they were knocking it down and that was it, it's still really impressive."
Davis agreed: "The Great Hall is so impressive and for me, who has worked on the film, there's a lot of memories there. But for people like yourself who've grown up with the film it's kind of iconic, you think of Hogwarts you think of the Great Hall, so many things have happened there, from the feasts, the sorting hat, a funeral, the Yule ball. In the last film you see it partially destroyed, so it's quiet nice for us going back in there and seeing it restored."
Grint, who, along with Daniel Radcliffe and Emma Watson, worked across most of the sets in the studios, said: "The ministry of magic is really impressive too, you get the sense of the size."
Wright, who played red-haired Ginny Weasley, Harry Potter's love interest and the envy of plenty of teenage girls globally, added: "We've only seen a bit of what's being created they've still got to put in our kitchen and there's going to be a room celebrating all the things that creature effects and the art department did."
Returning to the place where fantasy became reality must bring back some great memories for the cast?
"I remember the first time I walked into the Great Hall and it was all floating candles, I think Dan actually hyperventilated," mused Grint.
Williams, best known as the Weasley's father Arthur, confirmed the young actors' amazement: "You could see it on their faces when they were little, there were plenty of times, particularly on the big sets, where they weren't acting. They came in and you could see them go 'wow, we're in this film' on their faces."
For Felton, being back on set reminds him of his Potter family, "I think everyone assumes that it was a fed Warner Bros. line, us saying we're all a family and get on very well, because it sounds like something they would tell us to say.
"But in my experience it's very true and I really think fans will feel that when they come here. It wasn't just a place where the films were made, it was a real place of joy and happiness for the 500 people that got to work here everyday."
A more skeptical mind might think Warner Bros. are creating this studio tour purely for financial reasons - they know they are going to make millions from visitors for years, if not decades, to come. However, the cast all seem extremely pleased with the venture and see it as a place for all the fantastic things that were achieved over the ten years of Harry Potter production to be sealed in history.
"This as an extraordinary piece of investment and commitment from Warner Bros. and it's right and proper, considering what the Harry Potter franchise has done for them. It has happened very quickly and has needed no prompting, so that's a very heartening thing. There's no bad feeling there," Williams reassured us.
Harry, Ron and Hermione's magical story might have come to an end on the big screen, but the fans' experience of Hogwarts is only just beginning, as Felton explained: "The kids faces are going to be priceless."
Related