The first lady of Turkey, Hayrunnisa Gul, dazzled Queen Elizabeth II with six-inch platform boots as she visited Buckingham Palace with President Gul.
The Queen gave more than just a cursory glance to the staggeringly high light grey leather boots Hayrunnisa Gul was wearing, as she navigated the red carpeted stairs up to Buckingham Palace to greet the monarch.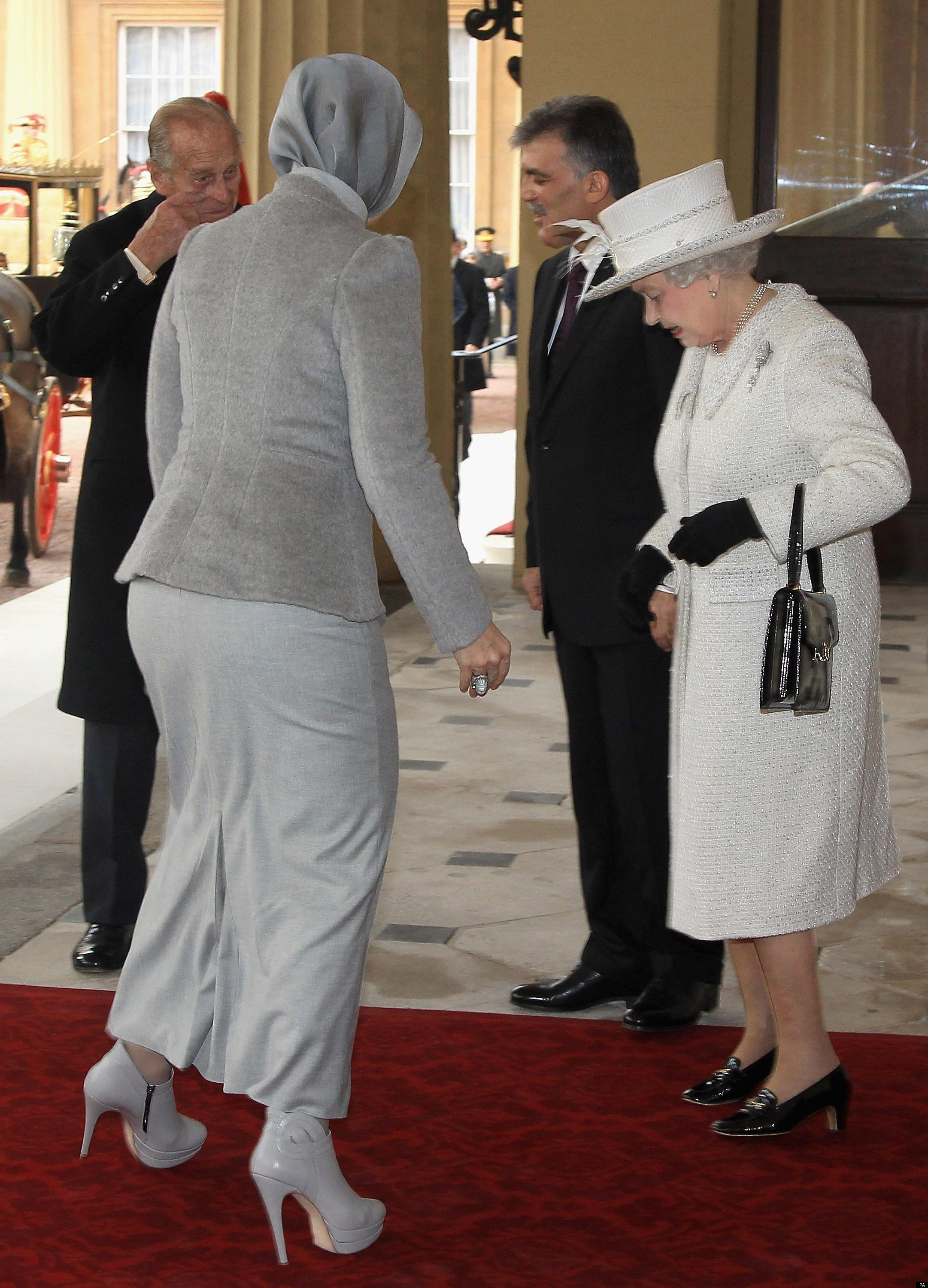 It was an all-out grey look for the official visit, as the president's wife donned a long straight skirt in an oyster shade. The matching wool jacket was finished with a lightning bolt flourish, its vertical point directing attention to her boots.
As well as impressive footwear, her accessories included a grey patent bag with a silver clasp, and an arresting diamond cocktail ring.
Her headscarf, selected in the same shade of slate grey, toned down her garb. Choosing to wear the hijab has caused controversy amongst secularists in Turkey who see it as an unconcealed Islamic symbol.
The Queen also wore silver, with a matching white wool dress and coat by Angela Kelly. Her black patent sensible court shoes and matching bag were more conventional than Mrs Gul's ensemble.
Mrs Gul is something of a stiletto expert. In September she braved the cobbles at Berlin's Brandenburg Gate in five-inch heels and October saw her treading carefully in six-inch platforms at the presidential palace in Ankara.
The two heads of state shook hands warmly as the Queen and Prince Philip laid on the traditional grandeur in a central London ceremony, with a 41-gun royal salute fired and President Gul inspecting lines of Coldstream Guards in their grey greatcoats. After lunch the Queen treated the Guls to an exhibition of Turkish themed antiquities.
Britain hopes the visit will bring about stronger ties with Turkey, a growing economic power and an increasingly important trade partner straddling Europe and the Middle East.
President Gul's visit will see him attend a state banquet and meet political leaders, while on Wednesday he will deliver a foreign policy speech about the Arab Spring, and especially Turkey's recently strained relations with Syria.
He will also tour the Olympic Park in east London and visit parliament.