She's the girl with a staggering shoe collection of 2,000, but Cheryl Cole this week added 12 more pairs to her stash, with the launch of her debut range. Here, in an exclusive interview with Grazia magazine, she reveals her new job, new body and brand new start.
Grazia's Christmas cover girl has come through the toughest and most humiliating year of her life stronger, happier and with a great big smile on her face. And - thank the Lord - one dress size bigger.
It is clear that a four-month break away from the spotlight has transformed the star.
In the short weeks before Cowell fired her from her much-hyped American break as judge on American X Factor in August, even the thick mask of make-up and uber-bouffed hair couldn't hide that pencil-thin frame and the haunted expression in her eyes. And those fashion choices she made (she was publicly mauled for the bizarre size six purple trousers and orange frilly top she wore to the first day of auditions) must surely have been the sign of a woman who had lost her identity.
SEE OUR SLIDESHOW OF CHERYL COLE'S CHANGING LOOKS OVER THE LAST YEAR BELOW
She shakes her head. "All of us girls can get so confused. I think women look best when they are happy. The greatest, sexiest thing is just being comfortable with you. The real beauty of a woman is about just being confident and comfortable in you - whatever you put on."
In black jeans (she is now size eight after putting on seven pounds in the last six months) and an over-sized black and white mohair jumper, Cheryl looks totally, as the French say, bien dans sa peau. But it's when she tries on her first choice of outfit - a skintight, slashed to the navel, super-sexy, black, glittery Jenny Packham catsuit - that you realise how much better she looks. She's gone from stick thin to Jessica Rabbit and she's never looked more powerful and beautiful.
"The curves are back, well and truly," she laughs in her North East sing-song voice. "I've got my boobs and bum back and, yeah, I like it. I think it's sexy."
Aside from the way she looks, you can see Cheryl has changed in the way she behaves. This is a girl who has learnt she has to protect herself at all costs. Cheryl does not want to go backwards, she does not want to whine or wallow, she wants to focus on her future. "It's all onwards and upwards," she says. "This right now is a happy time."
After a decade of non-stop slog up the ladder of fame, Cheryl has given herself time to chill. She watched the royal wedding in her PJs with Kimberley Walsh ("I made scones, she made banana bread and cried all the way through," recalls Kimberley); she hung out with her old band mates to plan a Girls Aloud reunion, and she cooked ("I am actually pretty good. I like baking. I can do a full Christmas dinner. I find it quite therapeutic.")
She also threw herself into something completely different, creating her first very own shoe collection for Stylistpick.com. Underpinning every single one of Cheryl's big moments in life, has been a very carefully chosen pair of shoes.
"I've always, always loved shoes but over the past few years I've definitely developed a proper fetish. I actually own about two thousand pairs of shoes - and that's after giving quite a few away. I'm a bit weird with them. There are shoes I don't wear any more but I just can't part with them.
I hoard them all over the house, in cupboards in the kitchen, in the bathroom, every room. There is a big chance when you open the fridge in my house there will be a pair of shoes at the bottom. My absolute favourites are a lace pair of Louboutins. I wore them the first ever time I went to Cannes, two years ago. For me, all shoes have memories - wearing them on a certain occasion like that means the shoe gets that memory. If I can't wear them again, I also can't get rid of them because they are so linked to that emotion. I'm probably a bit bonkers like that."
The first 12 went on sale this week at www.stylistpick.com and Cheryl will continue to add to the collection, with a new season in March and throughout next year.
"I absolutely love it," she says. "The whole idea was like a breath of fresh air, something totally different but still creative. I love learning, I love creating. There was nothing scary about it. I thoroughly enjoyed the whole experience."
She added: "My absolute aim is killer shoes that don't kill your feet. I can walk in heels of any height and I can dance in them because I've just been doing this for so long," she says.
"As a kid I was a ballet dancer and I always had really sore toes. I had to have them broken and re-straightened, which sorted them out, but because I'm quite small, to me, getting dressed is all about the heels. I have another pair of Louboutins that are so cripplingly painful but I'm trying to ease myself into them gently, wearing them for a few minutes every now and again."
The fact Cheryl has gained seven pounds and a dress size is again, something she refuses to obsess over. For a girl who was dancing at the age of four, she has taken the view that she will not allow herself to be dragged into the arena of weight.
"When I'm really thin is normally when I am working nonstop. I don't put any emphasis on thinking, 'Oh, I'm thin at the moment.' Right now I've got my curves back because I've had time off, I'm at home cooking, I'm more relaxed. I'm not defined by being seven pounds heavier than I was two months ago - I think it is really unhealthy to go there."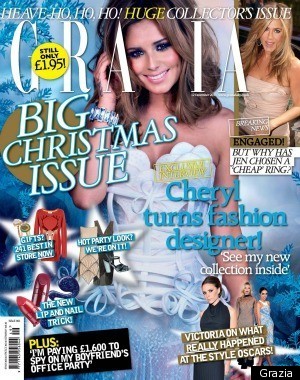 The full interview appears in this week's Grazia Magazine, on sale now. Shop the entire range at www.stylistpick.com.See our Slideshow of Cheryl's changing looks over the last few months below...