Katherine Heigl may look like a blonde bombshell of Hollywood yester-year, but every time the star of Grey's Anatomy, Knocked Up and 27 Dresses opens her mouth, she gives herself away as a woman of very independent thought, miles away from the studio-controlled knockouts of the past.
Heigl is typically outspoken in the January issue of Cosmopolitan magazine. In her candid interview, she discusses the adoption of her daughter from South Korea, her marriage to country musician Josh Kelley, and her life as an outsider in the Hollywood hills. Here are some titbits below:
On one night stands:


"I don't like them. I've never met a single woman who has ever walked away from a one-night stand and been like, 'That was awesome! Oh, my god! Best ever!'"



On forgiving her husband if he had an affair:


"I've been debating this lately. Josh and I always said that cheating would be a deal breaker; there is no second chance. But I've seen friends and acquaintances go through it and they've found a way back to the relationship, and a way to forgive each other. And as much as I would kill him if he cheated because it would destroy me, I have started to question whether, if a mistake were to be made and it was a one-time thing, I would forgive him. Because look at the life we've built together. We have history, we have a child...But at the same time, it would be really hard to ever fully trust that person again."



On not being a stereotypical Hollywood actress:


"Hollywood likes to label everyone so you're easier to identify. I didn't mind it; I got mouthy, the way a child does when you celebrate them for something. The mouthier I got, the more I'd be celebrated. I was like, 'You think that's outspoken? How about this...' Then it bit me in the hand."



On body pressures in Hollywood:


"I was 20lbs heavier and wanted to look like those girls with fantastically beautiful bodies like Jennifer Aniston or Jessica Alba, but I just couldn't lose the weight. It's only now that I realise how hard those girls work for their bodies, and what level of commitment they make to do that. I'm too lazy and I like food and I like my free time too much to spend it working out!"



On adopting her daughter Naleigh from South Korea:


"I just knew I was going to do it. I addressed it with Josh before we were even engaged. He's such an amicable, good guy and he was like, 'Yeah sure, Why not?' So, after we'd been married for about two years, we started the process."



On bonding with Naleigh:


"The first few days we were shell-shocked and terrified of messing up. I felt a need to protect her - that's just a mothers instinct - but I was also intimidated by her, and nervous that she wouldn't love me. She'd just flown across the world and we were speaking a different language, we were in a different time zone, we looked different... plus she'd been in a really loving, wonderful foster home. For the first three weeks, we couldn't get her to giggle. I was like, 'Oh no, she hates us.'"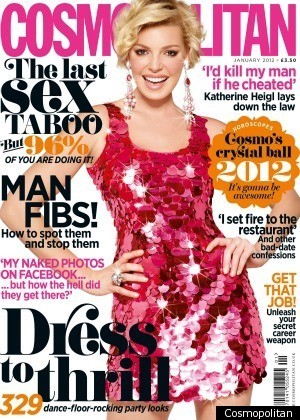 The full interview appears in the January issue of Cosmopolitan, on sale Thursday 8th December.