A row has broken out on social networking site Twitter after the BBC named a panda called Sweetie as the "pioneering" female face of December in their round up of Women: Faces Of The Year 2011.
Tian Tian, the "celebrity" panda settling into Edinburgh zoo was nominated alongside the US congresswoman Gabrielle Giffords who survived being shot in the head in January and Hackney mother of four Pauline Pearce who stood up to looters during the August riots.
Pippa Middleton, Adele and Libyan Eman al-Obeidi who burst in on a press conference to tell foreign media that she had been gang raped by Gaddafi's military officials also made the list.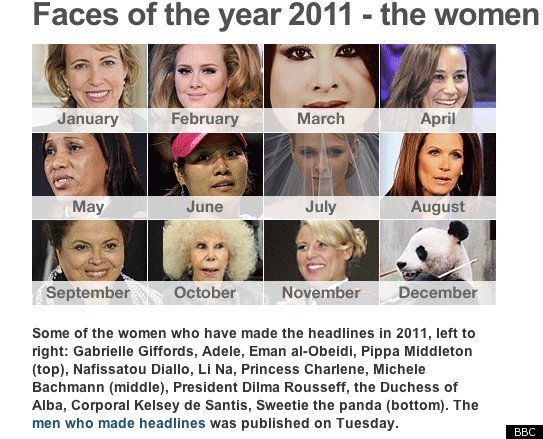 The Faces Of The Year 2011 article on the BBC website which has prompted #pandagate to trend on twitter
Can bamboo-chomping panda Sweetie really sit alongside these human women to be one of 2011 female faces?
The outcry comes in the wake of controversy over the BBC failing to include a woman in their Sports personality of the year.
Many are wondering if the BBC could not think of a human female from December's headlines to fill their 12 faces: what about Aung San Suu Kyi who in December finally registered her political party in a dramatic return to Burmese politics?
The male faces of 2011 have no animals among its distinguished nominees.
Bob Chaundy whose byline features on the piece tweeted: