Winston Churchill, Britain's finest wartime leader, one of history's greatest orators - and a dab hand with a paint brush - is the subject of a unique new art exhibition opening in London this week.
Churchill famously used painting as a relief from depression – or the 'black dog' as he called it – and nowhere inspired him more than the dusty souks and winding Atlas mountains of Marrakech, Morocco.
Meetings in Marrakech: the paintings of Hassan El Glaoui and Winston Churchill features nine paintings of the city by Churchill, along with 15 works by Hassan El Glaouim, the revered Moroccan painter who owes his career to meeting Churchill as a young Berber tribesman in 1943.
During a visit to the country, Churchill happened upon some paintings by the young El Glaoui, who belongs to one of the oldest Berber families in Morocco. He was so impressed he found the young artist's father and convinced him to let his son follow his talents - despite art being seen as an unworthy pursuit for a tribesman.
El Glaoui went on to become one of most celebrated Moroccan painters of modern times, whose work is among the most sought after – and expensive – contemporary North African art in the world.
"I often realise that without that fateful meeting with Winston Churchill in 1943 my parent's attitude to me painting might have prevented me enjoying such a wonderful and fulfilling life as an artist," said El Glaoui.
"It is a wonderful privilege to share this exhibition with the work of a man who not only is so historically significant, but with whom I share such a profound personal significance with as well."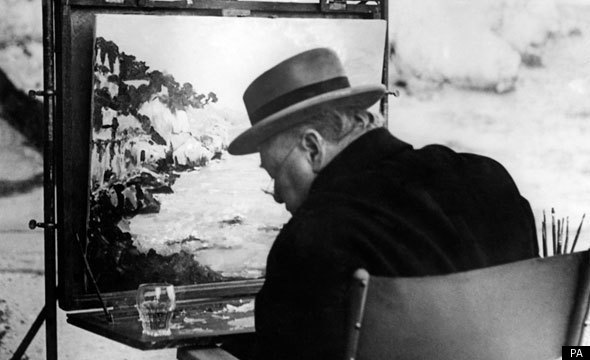 Churchill painting on holiday in 1949
For his part, Churchill was an avid and accomplished painter since the first World War when he was persuaded to take it up by Paul Maze, a friend who would go on to become his painting partner for many years.
Using holidays in France and Egypt as well as Morocco as inspiration, he worked mainly in oils and painted landscapes, although he also completed a few interior scenes and portraits.
Daniel Robbins, Director of Leighton House Museum said:
"We are extremely fortunate to have these unique collections here, not only because they are outstanding paintings but because they tell such a remarkable story,
"They reveal both a hitherto unseen glimpse into the private and artistic life of one of Britain's most significant figures, Winston Churchill, and the beautifully expressive work of one of Morocco's most significant painters, Hassan El Glaoui".
Churchill counted painting among several considerable gifts outside politics – including historical writing, for which he won the Nobel Prize for Literature in 1953.
Meetings in Marrakech: the paintings of Hassan El Glaoui and Winston Churchill will be showing at the Leighton House Museum from 20 January - 31 March 2012.