They say the way to a man's heart is through his stomach so why not spoil the object of your affections with this Valentine's Day an 'aphrodisiac' pie - complete with 'libido-boosting' bull testicles?
Online supermarket Ocado has teamed up with artisan ready-meal brand, Charlie Bigham, to create the "world's first lust-enhancing aphrodisiac pie", packed full of supposed "sexually stimulating ingredients".
The ingredients of the aptly named 'Cock and Bull Pie' include 'Mama Juana' liquor, a well-known aphrodisiac from the Dominican Republic (known as the 'liquid viagra' in some parts of the world) made of rum, red wine, bark and herbs.
However, the main ingredient of this £7.99 passion pie lies with the bull's testicles, which are marinated in the 'Mama Juana' with a hint of Ginseng. The pie's gravy is gently infused with slow-cooked bull juice.
Rich in testosterone, bull testicles are eaten in India, where people swear by its power to increase sexual vigour. In China, couples claim that bulls' balls are more powerful than Viagra when it comes to spicing things up in the bedroom.
Talking about his limited edition Valentine's pie, the brand's founder Charlie Bigham, says: "Having specialised in 'twosome' cuisine for over 15 years, we understand what it takes to bring partners closer together.
"After a busy day at work, couples are often too tired to cook, which is why we have developed the romantic Valentine's version of our popular pies, taking the stress out of cooking this Valentine's.
"The Cock and Bull pie will give partners the opportunity to ditch the asparagus and oysters this year and create that perfect 'twosomes' moment with our one-off passion inducing pie."
"The taste bud-tickling recipe is a sure fire way to rekindle feelings of desire across the nation. It got hearts racing with our taste testers, several of whom were so overcome with lust and amorous feelings they had to be sent home! Never before have we created a dish that has caused as much fervour."
'Cock and Bull' pies are available from Ocado from 11 February.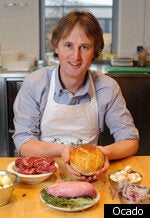 If you're looking for natural ways to boost your libido without having to tuck into this testicle pie, take a look at these aphrodisiac fueled foods.