A passenger aircraft carrying 175 people has been forced to make an emergency landing at Belfast International Airport.
Emergency crews were standing by close to the runway as the Thomas Cook Airbus A320 heading to Tenerife circled above ahead of the landing, authorities said.
The captain reported landing gear problems shortly after take off.
An airport spokeswoman said the airport was put on "full emergency standby".
However the plane landed safely at Belfast around 11.25 am on Tuesday.
Air traffic control company Nats said the plane touched down without incident.
Aircraft trackers showed the airliner, TCX25MR, circling above Lough Neagh ahead of the landing.
The plane spent more than an hour in the air so as to lose fuel before the emergency landing.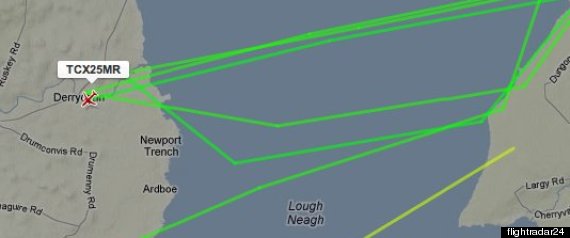 Above: the Thomas Cook plane circles above Belfast as it prepares to make its emergency landing, as shown on a tracking website.