To say that Yayoi Kusama captures people's imaginations is an understatement.
From her time as a performance art provocateur sticking dots on naked New Yorkers in the 1960s to the rumour that her Obliteration Room installation might be appearing in London trending on Twitter this year, the Japanese-born 82-year-old is one of those rare modern artists who inspires delight rather than derision in 'non-arty types'. For that reason alone, her new retrospective at the Tate Modern deserves to be a success.
The 14-room show certainly has it all: small paper paintings, huge acrylic canvasses, sculptures, video, photography slideshows and, of course, installations you can walk around.
Spanning her career as a promising new artist in the 1940s right up to her latest paintings, this is a rich show full of depth that will delight Kusama's fans - particularly anyone with an interest in seeing how her work has evolved, and at times regressed, throughout her experimentation with just about every conceivable medium.
The show starts with her early paintings; small, strange works on paper, full of fluorescent colours yet dark and oblique. Eggs, seeds or her trademark dots float around one another in space. They're other-worldly and peculiar, but it's difficult to see in them the genesis of a creative talent that would go on to have such an impact on modern art.
The subsequent Infinity New paintings are an early sign of how Kusama would lurch – often spectacularly – from one medium or approach to the next. Made during her early years in America in the mid 50s, she's no longer painting small and vivid but huge and bland – colour-zapped canvasses filled with endlessly repeating brushstrokes, the earliest manifestation of her enduring themes of obsession and compulsion.
The middle part of the exhibition brings us to more familiar Kusama territory. The sculptures from her Sex Obsession series - phallus-covered chairs, tables and boats – lead neatly into a look at her time in the 60s conspiring with hippies to make front page news in New York.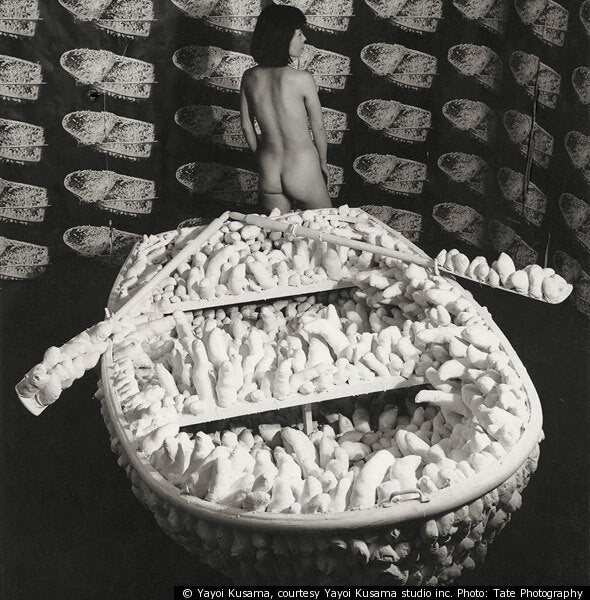 Aggregation: One Thousand Boats Show by Yayoi Kusama
Concluding with the wonderful, trippy video installation Self-Obliteration, the only duff note here is a contrived photo slide showing Kusama walking anguished and alone through the streets of New York in ceremonial Japanese garb.
Finally we arrived at Kusama's modern period, after she'd installed herself in the Japanese hospital she still calls home in the 70s. Having found relative tranquility after the crazy days in New York, she embarked on sculpting and painting with gusto. But it's her 1990s installations that many people will be paying a visit to see, and they form the climax of the show.
I'm Here, but Nothing is a swipe at bourgeois normality, both from the perspective of a radical artist who rejected it and a mental health sufferer who perhaps felt it was never truly available to her. A standard living room is adorned entirely with polka dots, representing, we're told, 'her own hallucinatory episodes'.
After that is Infinity Mirrored Room, a dark, narrow space in which small, multi-coloured lights dangle in front of mirrors, creating an endless reflection which, interestingly, is always obscured at the most crucial point by one's own body.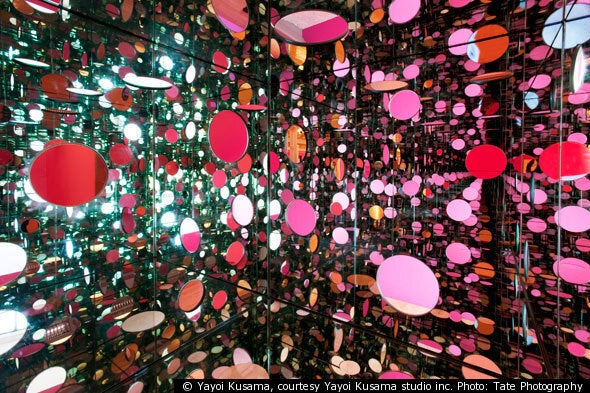 Infinity Mirrored Room by Yayoi Kusama
If anyone is hoping that the installations will be in any way disorientating or unsettling (as the exhibition notes claim) then prepare to be disappointed. What they are, like much of Kusama's work, is a lot of fun. It is the playful rather than the psychological aspects that will resonate most strongly with visitors to this show – which is no bad thing at all.