Three paintings from Hollywood star Elizabeth Taylor's art collection were sold for almost £14 million at auction in London.
The paintings by Van Gogh, Edgar Degas and Claude Pissarro fetched a combined £13,787,750 at the Christie's sale, more than double their pre-sale low estimate of £6.2 million.
Taylor's Van Gogh, titled Vue de l'asile et de la Chapelle de Saint-Remy, fetched the top price of the group last night at £10,121,250.
The picture shows a view of the asylum where the artist spent his last months. Taylor's father, the art dealer Francis Taylor, had bought the painting on her behalf at auction in 1963 for £92,000.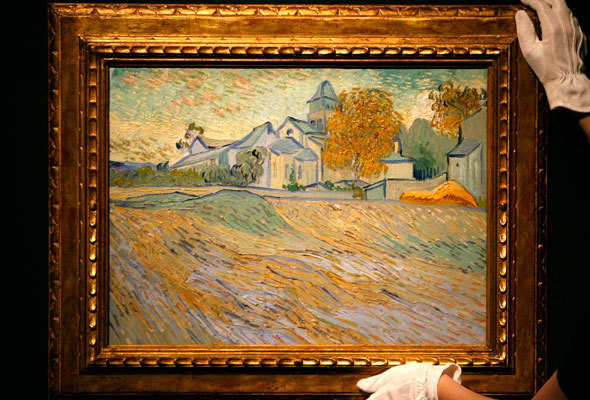 Van Gogh's Vue de l'asile et de la Chapelle de Saint-Remy sold for £10,121,250
Until her death, in March last year, it had hung in the living room of her Bel Air home.
This time round the Van Gogh was purchased by an anonymous bidder on the telephone after four minutes of competitive bidding by multiple clients.
The other two paintings - a youthful self-portrait by Edgar Degas (1834-1917) and a large-scale landscape by Claude Pissarro (1830-1903), called Pommiers a Eragny - sold for £713,250 and £2,953,250 respectively.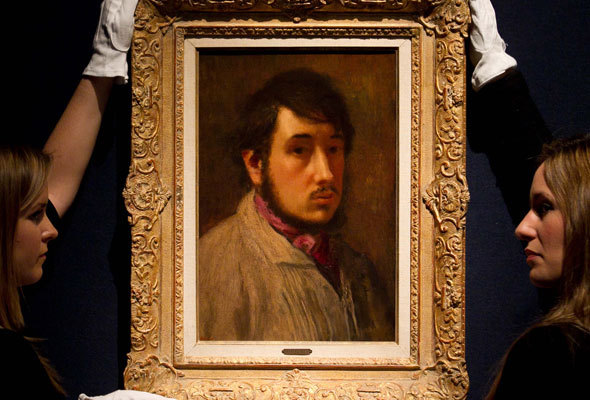 Self-Portrait by Edgar Degas (1834-1917) sold for £713,250
All prices included buyer's premium.
All three works featured prominently in the global tour of highlights from the Collection of Elizabeth Taylor, which was displayed in both New York and London last autumn.
Marc Porter, chairman of Christie's Americas, said: "The exceptional results for these three masterpieces by Van Gogh, Degas and Pissarro are further evidence of Elizabeth Taylor's skill and sophistication as a collector.
"As the crown jewel of her art collection, we are delighted with the price achieved for Van Gogh's Vue de l'asile, a profoundly beautiful work from one of the creative high points of the artist's career."
An additional 35 works from the film star's fine art collection will be offered for sale today as part of Christie's continuing sales series devoted to impressionist and modern art.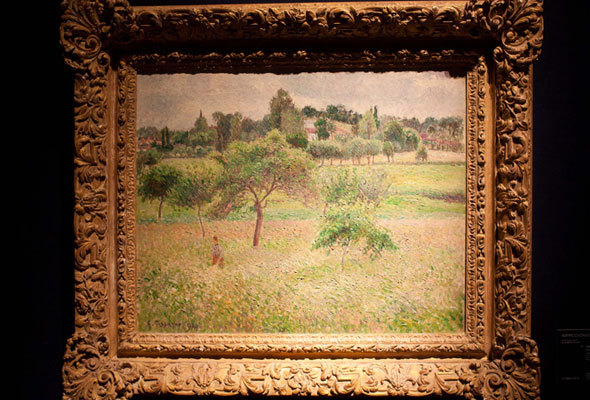 Pommiers a Eragny by Claude Pissarro (1830-1903): yours for £2,953,250
Speaking last night, Mr Porter added: "We look forward to more positive results tomorrow, when we offer the remainder of Miss Taylor's art collection, including works by Pierre-Auguste Renoir, Maurice Utrillo, and Kees Van Dongen, as well as an impressive selection of modern British paintings by Augustus John that she inherited from her father."
In December 2011, Christie's New York sold Taylor's collections of jewellery, fashion, decorative arts and memorabilia in a four-day marathon auction series.