If you're the kind of Star Wars fan who's been itching to take on Darth Vader in an intergalactic disco dance-off as well as a light sabre battle, this is your lucky day.
Microsoft and Lucas Arts have announced the release date for the long-awaited Kinect Star Wars game, and have unveiled a limited edition console to go with it.
Kinect Star Wars will hit stores on 3 April, and promises to allow fans to "become part of the films like never before".
Originally unveiled in July 2011, the game has been delayed since November but now looks ready to get Star Wars fans shooting, fighting and bopping to the beat of a galaxy far, far away.
Featuring five motion-tracking game modes, including podracing, a Jedi Destiny mode with space battles and landspeeder chases, and (of course) light sabre battles, Kinect Star Wars will also include a Galactic Dance Off feature "loaded with Star Wars-themed pop tunes".
Lucas Arts says you'll be able to bust a move "Solo style", whatever that means, and battle with Darth Vader for the groovy control of the dance floor universe.
(You can even dance as C-3PO, which sounds great until you remember the loveable gold robot can't really move his arms.)
Microsoft also announced a special-edition XBox and Kinect sensor to mark the game's release. The console (£349.99) will feature an R2-D2-style XBox machine, a gold-coloured C-3PO controller and a white Kinect sensor bar, which we suppose looks a bit like a stormtrooper.
"Star Wars fans of all ages will soon be able to bring the Star Wars universe home and become part of the films like never before with the power of Kinect for Xbox 360," Lucas Arts and Microsoft said.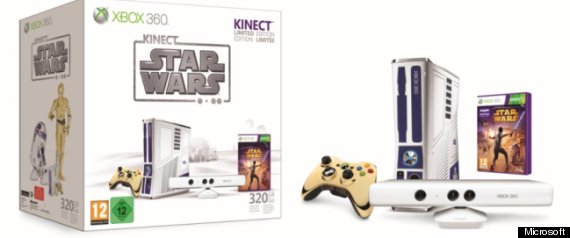 Unfortunately for you, it may b that defeating Darth Vader in a dance off is harder than you think. For evidence, take a look at his grooviest dark side moments, below: