An obese mum was shamed into shedding nine stone after getting so fat - she got wedged in the BATH.
Weighty Sharon Holden, 38, tipped the scales at 22 stone 10lbs after gorging on high-calorie sandwiches, crisps and greasy takeaways.
But she turned her life around after becoming stuck in her own white porcelain bath when taking a relaxing dip.
Her husband Jonathan, 39, then strained a muscle in his back during the ten-minute struggle to free her.
The determined teaching assistant lost a whopping nine stone after the bathroom blunder - transforming herself into a more svelte 13 stone 10lbs.
Mother-of-four Sharon said: "The incident in the bath was the tipping point really - I just realised that things had to change.
"But it was not the only problem my weight had caused. I didn't want to sit on the plastic garden chairs at other people's houses in case I broke them.
"I couldn't even take my kids to the fair on my own in case I could not fit in a ride's seat.
"I felt like I was a food addict - it took over my whole life.
"Now I can do all those things and I feel so much better. I can even have a relaxing bath and read my book without worrying now."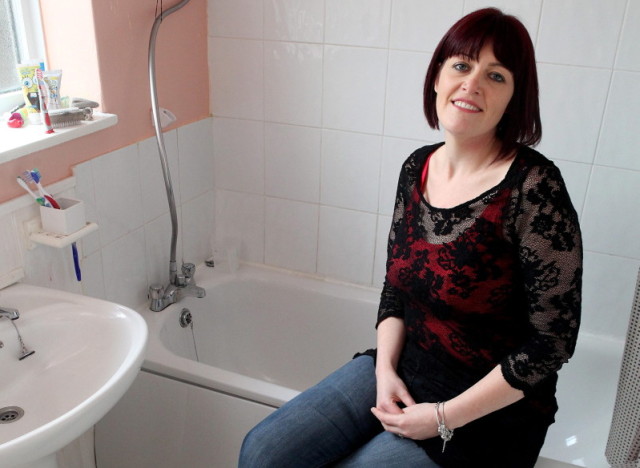 Sharon, from Gateshead, Tyne and Wear, began gaining weight as a child - ballooning to size 16 at the age of just 15.
She would consume five slices of white toast for breakfast before snacking on crisps during the morning and tucking into piles of cheese sandwiches for lunch.
For dinner she would mostly eat large plates of meat and potatoes before snacking on more crisps and cakes.
When her and logistics manager husband Jonathan decided to get a takeaway, they would splash out on rich Chinese noodles and chow mein.
Sharon had reached size 28 before squeezing herself into her bath for a soak four years ago.
She said: "I had always loved baths - I just wanted to lie there with my book.
"But when I had finished I just could not pull myself back out. My partner then put his back out trying to get me out.
"I was so mortified - I would not go in the bath again. That bath was a big factor in me losing weight.
"I was sick of thinking about what it was like to go somewhere or take a bath - I wanted to do it. So I changed an awful lot."
Sharon joined her local Weight Watchers group, where she learnt to cut down on the size of her portions as well as change her food.
She began eating Weight Watchers bread for her toast in the morning and began snacking on fruit instead of crisps.
For lunch she would cut out the sandwiches - sipping soup instead - before having vegetables with her smaller portions of meat and potatoes for tea.
Sharon, who works with children who have special needs, began dropping down dress sizes and continued her diet - even taking up walking.
She now has shed an incredible nine stone, weighing in at a slim-line 13-stone and fitting into size 14 dresses.
Sharon, who has children Chloe, 13, Jake, 11, Lara, nine, and Cody, six, said: "I really do feel great now.
"I really like my baths - I stay in them for about one-and-a-half hours. They are a real treat.
"The children have a trampoline in the garden and I even get on that sometimes too - it's great."